Sun., May 17, 2015
Saturday got lost in the shuffle a bit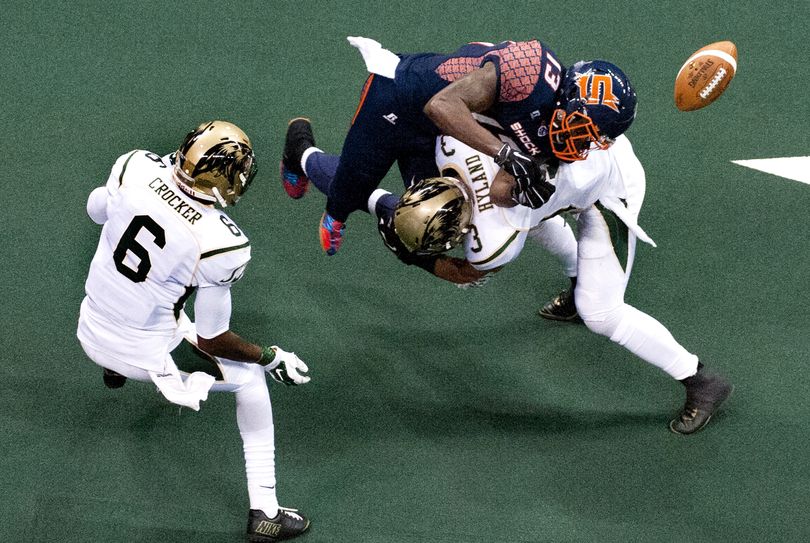 A GRIP ON SPORTS • If there ever is a lost Saturday, it was yesterday. Tucked between the weekend that hosts Mother's Day and the upcoming Memorial Day holiday, this is the forgotten weekend. And there are many who would like to forget yesterday. Read on.
•••
• Take Felix Hernandez for example. Handed a rare lead by the M's bats – OK, Brad Miller's bat – Hernandez couldn't hold it. For the first time this year the King lost, falling 4-2 to the Red Sox. Was his sore ankle a factor? He said no afterward but others were not so sure. Then there were the paradegoers downtown last night. Just as they were preparing to watch our biggest parade of the year, here comes some of the hardest rain showers of the month. The drops were bouncing off the pavement at a furious pace. It's hard to believe many folks caught in the squall downtown were able to stay dry. They were, however, probably less miserable than the 7,000 or so just north in the Arena. They had to sit through the Shock's worst defeat in their history, 83-28 against the rich kids from San Jose. Not only did the SaberCats embarrass Spokane, they beat them up as well, knocking star wide receiver Mike Washington out of the game. No wonder the Shock owner went off to our John Blanchette (see below). It's about time someone called out the hypocritical nature of the AFL's salary rules – and their (non)enforcement. All in all around here, other than the ability to get out do things in the morning and early afternoon hours, a lost weekend. Oh wait, I did get a bunch of yard work done. Great. Yep, everyone lost.
• Haven't seen many races run in the slop that was Pimlico yesterday. Kentucky Derby winner American Pharoah, the son of a mudder, didn't seem to mind the rain, wind and mud, pulling away in the stretch for a seven-length win in the Preakness. So once again we have a Triple Crown possibility for the Belmont. Sooner or later some horse has to break through, doesn't it? Why not this year? Why not this horse?
••••••••••
• WSU: As we told you earlier this week, the Cougars will induct 25 folks into their athletic hall of fame this year. ... They will also host a celebration of late baseball coach Bobo Brayton's life on May 30.
• Gonzaga: The Bulldogs are the best at women's rowing in the WCC.
• EWU: Eastern didn't reach its goals at the Big Sky track championships in Cheney, but some individuals did. Jim Allen has the story.
• Shock: What can you say about a 55-point defeat? Head coach Andy Olson basically said if it happens again, he should be fired. Jim Meehan also finds other words to say in this story. ... Blanchette's column not only describes the stinker of a game, it also tries to explain some of the reasons behind it. ... Portland earned a win last night. Of course, it was playing the L.A. Kiss.
• Indians: Do you know there has been professional baseball in Spokane since 1890? Even I'm not old enough to remember that. But you can now with this story.
• Preps: High school sports in Idaho are done for the school year, with titles decided in track and field and other sports. Greg Lee was in Boise for the track championships and he has a 5A/4A story and another on the other classifications. ... Coeur d'Alene battled through the loser's bracket but lost to Eagle again in the 5A softball title game. ... Shadle Park rallied but came up short against Southridge in the 3A baseball regional yesterday. Tom Clouse has the coverage. ... We also have a roundup of other playoffs in Washington.
• Seahawks: The Hawk news for today? Russell Wilson's contract situation. Now that's a surprise.
• Mariners: Felix did his best James Paxton imitation, walking three batters in the sixth, and it cost him in the 4-2 loss to Boston. He wasn't happy about it. ... Austin Jackson began his rehab stint in Tacoma. He'll be back in the majors soon. Who goes? ... Brad Miller, who some think should become an utilityman despite his youth, was back at shortstop in last night's lineup. Does that mean anything?
• Sounders: It might have been Seattle's best game ever. Or of the year. Or of May. Whatever, the Sounders went into Vancouver and did something they haven't done before, defeat the Whitecaps at B.C. Place. The 2-0 win was sparked by two Chad Barrett goals, filling in for the injured Obafemi Martins. ... The Sounders were really happy afterward. The Whitecaps weren't. ... Did the Timbers draw? Nope. ... Salt Lake City lost as well while San Jose defeated Columbus.
•••
• It's Sunday, which means I get to spend the day with my beautiful bride. Thirty-six years – let me do the math ... 1979 until ... ya, that's right – into our marriage and I can't think of another person I would rather spend the day with. Lucky, lucky, lucky. Until later ...
---
---