Wed., May 20, 2015
Kraft, Pats surrender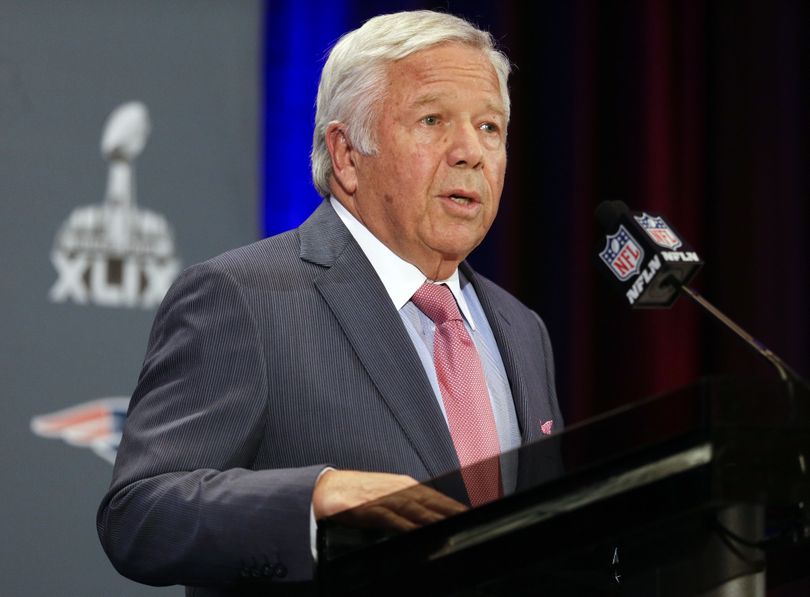 A GRIP ON SPORTS • There is sort of a "Game of Thrones" battle going on in the NFL these days, though Robert Kraft yesterday acted more like Tyrion Lannister than Jamie. Read on.
•••
• Yep, the New England Patriots' owner held up his hands and gave in on the whole "Deflategate" thing, accepting the NFL's punishment and meekly submitting to King Roger's will. Good for him. It's better to live to fight another day than to go down to defeat, hoisted on the petard of underinflated footballs. The Pats' reputation took another hit with this incident but not as much as it could have, especially if their fight had shown more complicity than we now know about. And that's why it's probably stupid for Tom Brady to go all Robb Stark on the NFL as well. That seems to be the case right now. But say Brady's appeal leads to a reduction in his suspension. And that's not good enough for Tom Terrific. Say he takes the NFL to court. Big mistake. Remember all those emails, text messages and phone records he kept from Ted Wells in the initial investigation? Nothing compelled him to have to turn those over. You sue the NFL and they will all be subject to discovery. You don't think the NFL's lawyers would search for every piece of evidence to link Brady to the balls being deflated – and they will have that right. Really, doesn't it seem logical if there were text messages between Brady and the other conspirators that cleared his name, he would have turned them over? If Brady persists in his threats of dragging the NFL into court over his suspension, then he could end up like the aforementioned Robb Stark following the Red Wedding. But, like Kraft, it's his choice. It will be interesting to see where he goes.
••••••••••
• WSU: The WSU women will be rowing in the national championships again. ... If you were hoping Washington State would be featured on this year's edition of "The Drive," you are out of luck. ... Who has the conference's best running backs? ... Coaches are beginning to weigh in on the proposed rule changes. ... Money matters in college sports and the Pac-12 is no different.
• EWU: There is a new football coach in the Big Sky and his recruiting approach is a bit different.
• CCS: The Sasquatch women ended Lane College's run as NWAC track and field champions. John Blanchette has the story.
• Preps: Speaking of endings, Garfield ended Mt. Spokane's improbable postseason run with a 4-0 soccer victory yesterday. Jim Allen was there and has this story. ... We also can pass along a roundup of other postseason action.
• Seahawks: The NFL is moving the PAT back to the 15-yard line. If you want to go for two, you still start at the 2. And if the defense can run either back, it can score two points, just like in college. ... Bob Condotta has some thoughts to share.
• Mariners: Four runs was the magic number last season for the M's. But it wasn't close to enough yesterday as Taijuan Walker looked a bit lost in a 9-4 loss at Baltimore. ... On the plus side, Nelson Cruz hit another home run. ... Now this move will change everything. The M's traded a middle reliever (on a day Danny Farquhar got roughed up again) for a backup catcher who is hitting .163. ... When is Robinson Cano going to begin to assert himself this season?
• Sounders: Chad Barrett made some noise about his playing time. Then he made some news on the field. He's also MLS player of the week. ... Obafemi Martins, the guy Barrett replaced, is still questionable for this weekend.
•••
• If you didn't notice yesterday, I paraphrased the Starks in my sign-off. I figured if the Game of Thrones television people can veer from the books – the jerks – I can too. I just hope it doesn't get me in as much trouble as it got them. Until later ...
---
---