Fri., May 22, 2015
There is plenty of blame to go around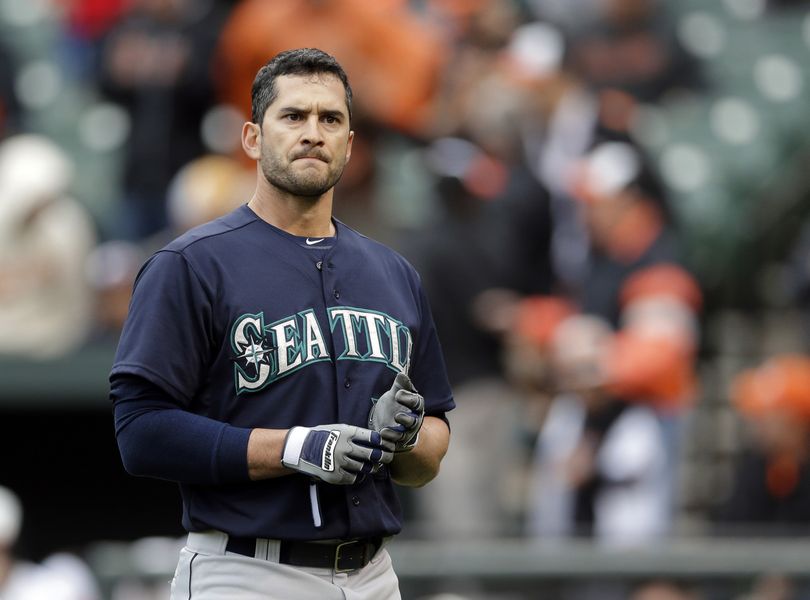 A GRIP ON SPORTS • The headline says one thing. I believe another. Read on.
•••
• I watched, or listened, to the M's game yesterday, despite the two-hour-plus rain delay. When I watched, I was a bit shocked to see umpire John Tumpane's strike zone. According to the pitch tracker, Tumpane, a Triple-A callup working the series, called pitches a couple inches outside strikes and pitches a couple inches over the inside part of the plate balls. Nothing wrong with that. He was consistent. That's all pitchers and hitters ask for: consistency. But there was a couple of inconsistencies that ended up costing the M's the 5-4 defeat. For one of the few times in my memory, a major league team got homered. If you are not familiar with that term, what it means is the home team is given all the key calls. It used to happen a lot in college baseball – Fresno, Las Vegas, San Luis Obispo, those places come to mind easily as spots where umpires, if they wanted to make the extra bucks that came with doing college games in one-school towns, made sure the home coach was happy – but seems to have abated these days with more centralized control. Such an experience should never happen in the bigs. However, yesterday, there were two levels of compassion displayed by Tumpane. The first was exhibited in the fourth inning when Alejandro De Aza was called out on strikes. The Oriole hitter stood at home plate for a while barking at Tumpane, then continued to harangue him all the way to the dugout. Others joined in. Finally, Tumpane stopped the game to tell the Orioles to cut it out. But no one was ejected. Then in the fifth, Kyle Seager early in his at-bat took a pitch a few inches off the outside corner for a strike. Nothing wrong with that. It had been called a strike all game. However, with the count 3-2 and Robinson Cano running from first, Seager took a fastball that the MLB tracker showed was barely on the inside corner. It was pitch Tumpane had called a ball for four-plus innings. Not this time. Strike three. A strike-em-out, throw-them-out double play. Seager was shocked. The super-slo-mo caught him questioning the call, disagreeing with it while dropping an F-bomb and telling Tumpane he missed two pitches in his at-bat. With that, Seager turned and walked away. And Tumpane tossed him. While Seager was walking back to the dugout, mouth closed. It was Seager's first ejection of his career. The M's five-hole hitter, one of their best at hitting with runners in scoring position, was now gone, replaced by Willie Bloomquist. Now everyone loves Willie, but no one will mistake him for Seager in a batter's box. But because a Triple-A umpire had made a huge mistake – he should have either ejected both players or not ejected either – the M's were saddled with another hole in their lineup. Of course it was going to hurt. And it did. At one point, with two outs and first base open, Oriole manager Buck Showalter had a right-hander walked Nelson Cruz to pitch to Bloomquist with the bases loaded. He may not have done that with Seager in the on-deck circle. At the very least he would have contemplated a pitching change. Bloomquist ended up hitting twice with the bases loaded. He failed both times. The M's lost 5-4. You tell me. Did they deserve all the blame? If they come up one game shy of the playoffs again, remember this game.
••••••••••
• WSU: A lot here today, what with Klay Thompson earning third-team all-NBA honors yesterday, the first Cougar ever to be named to an All-NBA team. Jacob Thorpe covers more ground in this blog post. ... Jon Wilner has a breakdown of the Pac-12's finances in this blog post. ... ESPN.com's Pac-12 blog ranks WSU's offensive line 11th in the conference. Sorry, but it is better than that. A lot better.
• Whitworth: A couple of Pirates had success at the NCAA Division III national track and field championships.
• Preps: District 8 determined its berths to the 4A and 3A state golf tournaments yesterday, with Jim Meehan having all the results in this story. ... Chris Derrick has an advance of regional softball play this weekend while Tom Clouse does the same with baseball.
• Seahawks: One of the oompa-loompas has pegged Pete Carroll brilliantly. ... How will Russell Wilson play of he doesn't get a contract extension?
• Mariners: Yes, the M's stranded seemingly hundreds of people in scoring position yesterday. They haven't been worth a darn in those situations all year. ... The rain delay basically cost J.A. Happ a start, as he went just a couple innings. He also seemed to have trouble locating with the not-so-dry baseball and yielded a couple walks and grand slam, both unusual for him. ... Seager's ejection left the M's puzzled. ... John McGrath is throwing down his glove in front of Jack Zduriencik.
• Sounders: There probably isn't a better rivalry in U.S. soccer than the one between Seattle and Portland's teams. And it seems that powers-that-be in U.S. soccer like to schedule games between the two cities' teams. ... Sigi Schmid has some thoughts on that. ... CenturyLink will be open to its full capacity four times this season.
•••
• A warning. We may not be here tomorrow morning. We may be sidelined by some personal obligations. Check. If the post is here, it's here. If not, you know why. Until later ...
---
---