Sat., May 23, 2015
At least the weather is nice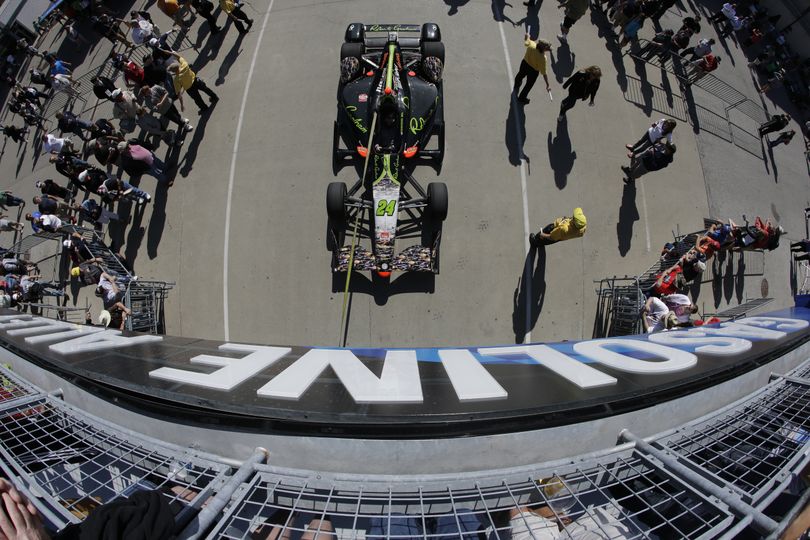 A GRIP ON SPORTS • Is this the poorest holiday weekend of the year for sports watching? It may just be. Read on.
•••
• But that's probably OK. After a winter of being stuck within your four walls, it's nice to not have something calling you back inside to watch. There's the Indianapolis 500 tomorrow of course, but that doesn't have the luster it once had. Otherwise, the NBA playoffs are on, which will draw a few people, as will the NHL conference finals. The usual suspects, baseball, golf and tennis, will catch a few looks. But without football or a golf major or a special NASCAR race, what is there that is really pulling you out of the sun? Heck, even Felix Hernandez pitched last night, meaning he left your weekend free. Enjoy it.
••••••••••
• WSU: There is more available on the Pac-12's recent financial report.
• Shock: With their recent blowout loss behind them, the Shock head to Las Vegas with hopes of picking up a victory. Jim Meehan has an advance.
• Golf: Jim also has his weekly column on two local college golfers trying to qualify for next month's U.S. Open.
• Chiefs: Spokane signed the second of its two first-round draft picks.
• Preps: The regional track meet got underway at SFCC, with Greg Lee documenting the competition. ... Lewis and Clark's boys tennis team may be the best in the school's recent history. ... A Mead school district assistant superintendent has reinstated Sean Carty as Mead High's football coach. Greg has more in this in-depth story.
• Seahawks: Jon Ryan is the Hawks' punter. He's also going to be a Ninja Warrior (or at least play one on TV). ... The Hawks are really popular with the public.
• Mariners: Felix did his usual thing – seven innings giving up one run. Nelson Cruz did his usual thing – a home run. And Fernando Rodney? He did his usual thing as well, almost blowing a three-run lead but securing the M's 4-3 victory over Toronto. ... A couple of former M's, Michael Saunders and Justin Smoak, were in Toronto to greet their former teammates. Well, at least one did. ... Brad Miller has been playing the outfield for a blink of the eye. Yesterday, he started in centerfield.
• Sounders: The Sounders play host to Sporting Kansas City tonight, following a three-match road trip. Kansas City will offer a physical presence in an attempt to counter the Sounders' talent level. ... Sigi Schmid thinks the U.S. Open Cup is missing the boat. ... The L.A. Galaxy snapped a long winless streak. ... Real Salt Lake's match today has some interesting back stories.
•••
• That's it for today. Tomorrow should be better. Until later ...
---
---