Sun., May 24, 2015
Cougars losing a key battle in baseball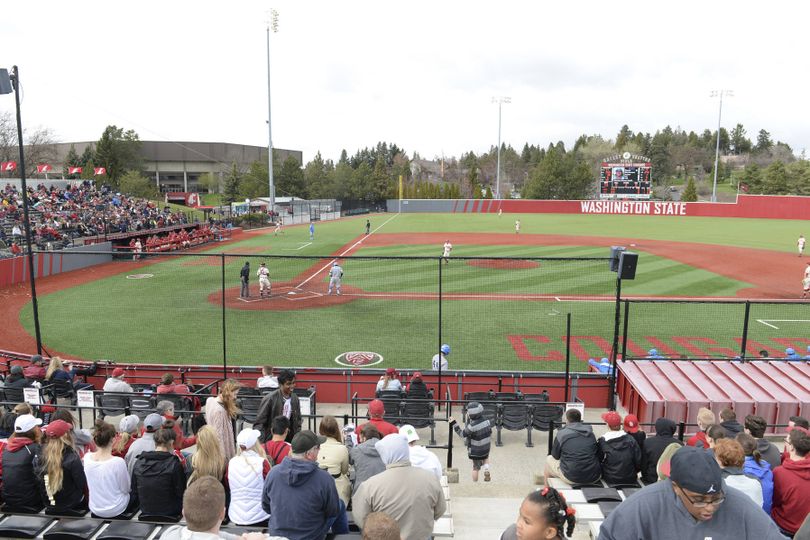 A GRIP ON SPORTS • Let's get right to it. You have places to be and things to do. So do we. It is a three-day weekend, of course. Read on.
•••
• If your holiday weekend includes plans to watch the final game of Washington State's baseball series with Stanford, you are in luck. The thunderstorms of last night – they were as impressive an electrical display as I've ever seen, including some summer days spent in the Midwest – have disappeared from the Palouse and probably won't reappear until late this evening. But between innings, make sure you take a look around at the Cougar facilities. Notice anything different than games you may have seen on TV from Washington, Oregon, Oregon State and, heck, Gonzaga? You will. While the playing surface at Bailey-Brayton Stadium is top-notch, the ancillary aspects of the stadium really aren't. Down the right-field line is a building that holds the coaches' offices and indoor batting cages. The one thing that is lacking? Locker rooms. That's a must these days in college baseball. A self-contained baseball facility. That wasn't the norm 20, 30 years ago but is now. The Cougars have been working toward a clubhouse for as long as I can remember, but have never been able to put the money together to build one. Now, as Jacob Thorpe's story in today's paper shows, baseball coach Donnie Marbut is going it alone. He's trying to raise the money through donations earmarked only to baseball, hoping to collect enough to avoid having to wait for the athletic department to have the funds. With the money invested in football, there is little else to go around, despite the financial windfall associated with expansion and new media deals. What was left over went to an even greater need, a soccer facility that's playing surface badly needed a makeover. So baseball, basketball – Beasley could certainly use a remodel – and others all wait their turn. Or they try to blaze their own fund-raising path. Marbut has chosen the latter.
••••••••••
• WSU: Besides the baseball story, we can offer a few other Pac-12-oriented stories, including another on the conference's television networks and their future. ... Bill Moos wrote a guest column for the S-R today on a former Reardan and Cougar athlete, Bob Simpson. Simpson died recently.
• Whitworth: The Pirates have an NCAA Division III track and field champion. ... Scott Brosius, who led Linfield to a national title, has stepped down as the school's baseball coach.
• Shock: A big lead is nice, but only if you hold on to it. The Shock did, barely, in Las Vegas last night, winning 63-56. ... Portland lost and lost its quarterback.
• Preps: It was a big Saturday for Central Valley High, as both the girls and boys won 4A regional track titles – Greg Lee has the story – and the soccer team moved into the state playoff's final four – Jim Allen has the story of the 1-0 overtime victory. ... North Central rallied twice to qualify for the State 3A softball tournament – Chris Derrick has the roundup – but Mt. Spokane came up a couple runs short in baseball – Tom Clouse has that story. ... U-Hi also lost in the 4A baseball playoffs. ... We also can offer a roundup of other action. ... The State Board of Education in Oregon has banned all Native American mascots.
• Seahawks: What type of effect will Jimmy Graham have on the offense? ... A salary-cap expert give his opinion on what's going on with Russell Wilson and his contract extension.
• Mariners: James Paxton has been on a roll. He was good again, after a tough first inning, in the M's 3-2 win over Toronto. ... Heck, even Fernando Rodney was perfect yesterday and Willie Bloomquist came through with a two-run double. ... Robinson Cano is struggling (for him) and he knows it. ... The M's top prospect is being shut down due to shoulder problems. ... It's Sunday, so we have some power rankings to pass along.
• Sounders: Sporting Kansas City didn't care about a win last night in Seattle. It just didn't want to lose. So it didn't. The scoreless draw was disappointing to the Sounders but just fine with Kansas City. ... Real Salt Lake won 2-0 at home over New York City FC.
•••
• Another nice day in the Inland Northwest is on tap. I hope you enjoy it. Until later ...
---
---