Thu., May 28, 2015
It's a world I wouldn't want to live in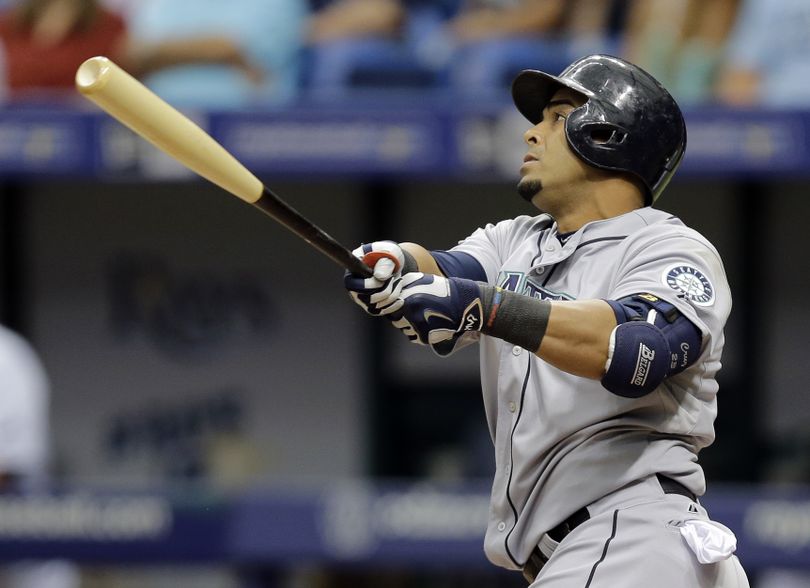 A GRIP ON SPORTS • Really, isn't that what we've all come to expect from Felix Hernandez and Nelson Cruz these days? OK, Wednesday's early afternoon performance was even a bit better than usual for Felix. And Cruz's game-clinching home run was a power display, even for him. Read on.
•••
• Imagine a world, a Mariner world, without Felix or Cruz. Ugly, isn't it? This season, already on the brink of disappointing, would have fallen over the edge long ago. Hernandez, pitching better than anyone in baseball right now, is 8-1. Cruz, hitting better than anyone in baseball right now, is a triple-crown candidate and has launched 18 home runs. It's not June 1st yet people. Felix not only matched Chris Archer – the Rays have a good one there – pitch-for-pitch, he went six pitches better, and that made all the difference. Archer had handcuffed the M's on two hits, striking out 12 in eight innings. But he threw 95 pitches and didn't answer the bell in the ninth. On came closer Brad Boxberger, who hadn't yielded a home run until Kyle Seager's game-winner on Tuesday. Two quick outs were followed by two patient walks – Seth Smith and Robinson Cano deserve credit for not biting on close pitches. Up stepped Cruz, the M's offense this season. He was again, launching a high draw into the ray tank in right-center field. And the M's get to come home at .500, 23-23 with Cleveland coming to town. But don't get too excited. Seattle is just 11-10 in Safeco and won't have Felix for a few days. One good thing, though. Cruz should be available every day.
••••••••••
• WSU: There was a real fear the Cougar men's basketball team would fall victim to the newest NCAA crime: a too-low APR score. If WSU's four-year average dropped below 930, the Cougs would face a season without postseason aspirations. But when the scores were released yesterday all was well, if only barely. Jacob Thorpe has the scores and an explanation in this blog post from Wednesday and this story in today's paper. ... Two Cougar baseball players earned All-Pac-12 honors. ... The Cougars' linebackers for next season are given pretty decent grades by ESPN.com's Pac-12 blog. ... No one in the conference last season was better gaining yards after catching a pass.
• Preps: The spring championships in Washington are under way, with golf taking center stage right now. Jim Meehan has the local coverage in this story. ... Track and field will be contested this weekend in Tacoma (4A, 3A and 2A) and Eastern (1A, 2B and 1B). Greg has previews of both meets plus area leaders and a feature on Gonzaga Prep's Nick Johnson (pictured) and another one on Odessa-Harrington's Sam Schafer.
• Seahawks: Kam Chancellor had an especially nice off-season. And he's ready to go this season. ... The Hawks practiced yesterday but the media wasn't allowed to cover it.
• Mariners: Is it any wonder that Felix was quoted as saying "I love that guy," when talking about Cruz? The home run yesterday in the 3-0 win was Cruz's sixth in a Hernandez start. ... Larry Stone wants Carson Smith to be the M's closer. But remember this. If Fernando Rodney is not your closer, he's not going to be any good anywhere else. He just won't be. That means you'll also now have to find an eighth-inning guy in a bullpen that only has six pitchers. It won't work. ... What will the M's do when they decide to expand the pen? And who will they call up?
• Sounders: The team with the best record in the MLS? Yep, that would be the Sounders after their 1-0 win over Colorado last night. Marco Pappa scored what turned out to be the game winner in the first half. ... Sigi Schmid is sure the Sounders can play better. ... Colorado's coach felt his team was tentative early and it cost them. ... Portland helped the Sounders out with a 1-0 win over DC United. ... The L.A. Galaxy seem to be heating up.
•••
• Once more into the breach. I'll join Dennis Patchin and Keith Osso on the radio today from 3 to 6, though I'll be ducking out a bit early. You can listen here if you like. Until then ...
---
---