Sat., May 30, 2015
Spokane-area alums making noise in the pro ranks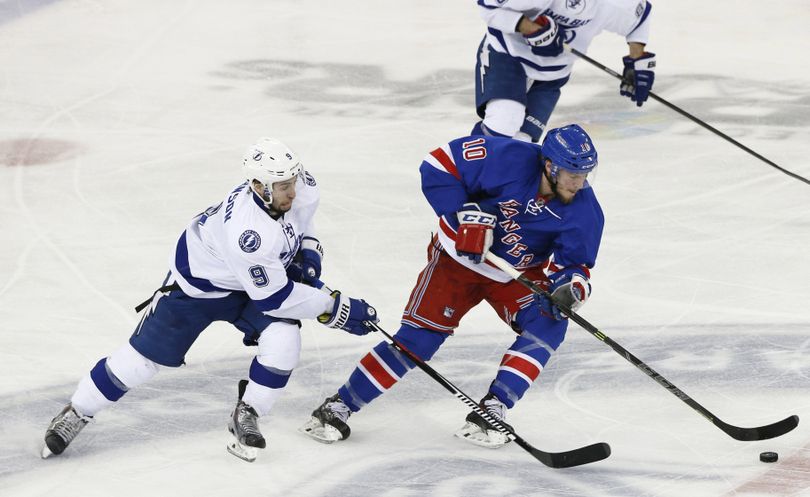 A GRIP ON SPORTS • It was an interesting day around here Friday for Spokane-area alums. Especially those playing professionally. Read on.
•••
• I really don't remember, maybe since the heyday of the golden trio – Mark Rypien, Ryne Sandberg and John Stockton – when their has been more professional news concerning Inland Northwest alums. And, back then, there was no Internet to keep you up-to-date. Let's start with the positive item, which takes us to the world of hockey. That's where Central Valley High and Spokane Chief alum Tyler Johnson helped the Tampa Bay Lightning upend the Rangers in New York 2-0 Friday night and earn a trip to the Stanley Cup finals. (As an aside, I hate New York teams. It has to do with my upbringing in Los Angeles, where New York teams were always the nemesis. It also has to do with the national media spending an inordinate amount of time on anything New York, from sports to politics to crime. So I was rooting for the Lightning last night.) Johnson had a beautiful pass for an assist and made some plays on the defensive end down the stretch that belied his size. A typical Spokane athlete, right? He plays bigger than he is. So that's the positive. The other two stories are not as happy ones. We'll start with Klay Thompson, the WSU alum who has helped the Golden State Warriors earn the favorite's role in the NBA championship series. But after taking a knee to the head in the Western Conference clincher, Klay has a concussion. As with all concussions, there is no timetable for his return. Will he be back when the series against Cleveland tips on June 4? We don't know. We can hope, but we don't know. Finally, the last piece of news is sad in a couple ways. Former Washington State quarterback Jeff Tuel was let go by the Buffalo Bills. Tuel has been on the Bills' practice squad the past couple years but was jettisoned by new coach Rex Ryan. Why? Ryan signed a guy who filled Tuel's role on the Jets when Ryan was in, wait for it, New York. (See, I hate New York's sports teams for good reason.) Even in the NFL, it seems, it's not what you know, it's who you know. I'm not worried about Tuel, however. He'll be fine, even if football isn't his future.
••••••••••
• Gonzaga: The Zags are losing a walk-on basketball player, not to another school but to another sport. Well, to play football, Connor Griffin will have to go to another school, but you know what I mean. ... BYU's Tyler Haws is looking forward to the next step in his career.
• Shock: Arizona, not sure of who its quarterback will be, visits the Arena tonight. Jim Meehan has the advance.
• Preps: Wow, talk about a crowded day. Most of the action occurred on the track, with Greg Lee covering the 4A, 3A and 2A state championships. ... Tom Clouse and Chris Derrick split up the smaller school championships, with Tom taking the boys and Chris the girls. ... The softball action included North Central's season coming to an end – Jacob Thorpe has the story – and ACH upending Colton and ending the Wildcats streak of state titles. ... Central Valley will play for the boys' 4A soccer title. ... Freeman's baseball season will not include a state title. ... The tennis state championships are also going on.
• Seahawks: Michael Bennett spoke honestly last night at a charity event. Yes, he wants a new contract. And, yes, he is staying away trying to force Seattle to give him one. ... New cornerback Cary Williams likes the Hawks' honest approach.
• Mariners: I missed the Fernando Rodney experience last night – it was probably better for my health to have done so – but I did experience Taijuan Walker's best start of the season – and possibly his career. Walker threw eight shutout innings in the M's 2-1 win. ... The start was needed especially considering the news starter James Paxton is on the disabled list with a bad tendon in his middle finger on his pitching hand. The M's don't yet know who will make his start in a few days.
• Sounders: Obafemi Martins went down after a collision with the goalkeeper the other day. Turns out he wasn't flopping. He had broken his nose. ... The Sounders play Sunday afternoon at Century Link. The M's play across the street, starting an hour earlier. The traffic could be, well, interesting.
•••
• The weekend. Even in semi-retirement, it holds allure. I've been looking forward to this one since, I don't know, Tuesday. And now it's here. Until later ...
---
---