Mon., Nov. 9, 2015
Looking back at WSU's win over ASU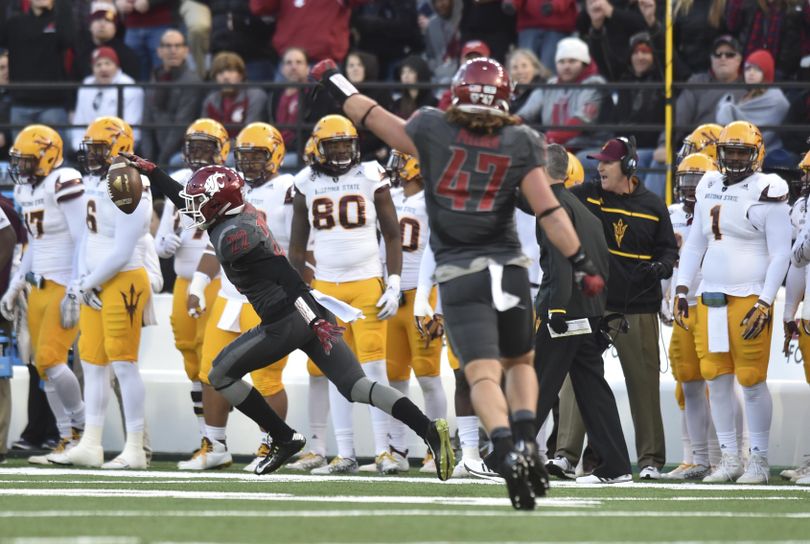 What did we learn this weekend? Washington State's depth is much improved. More on that, plus links, in today's post.

The WSU offensive line should be fine going forward: For reasons the coaching staff prefer we not divulge, left tackle Joe Dahl was absent from WSU's win over ASU which caused a fairly dramatic shift along of offensive line. That could have been scary not just because Dahl is one of WSU's best players (plugs Dahl profile here), and not just because the Cougars were going up against the Pac-12's sack-leading defense, but because the resulting fallout meant WSU's veteran offensive line suddenly had three players starting at their positions for the first time in 2015.

The result was ugly, at first. But by the second quarter the line was playing just fine, and in the second half it was quite good. The Cougars aren't out of the woods yet if this is what the offensive line will look like going forward. UCLA isn't very good at getting after quarterbacks, and Colorado is about average. But the line will be tested against Washington, which has defenders who cover receivers very well and pass rushers who take advantage of the extra time. But if the ASU game was any indication, and there's no earthly reason why it wouldn't be, the new-look offensive line should be up to the challenge.

Parker Henry is here to stay at nickel: Parker Henry became WSU's starting nickel when Isaac Dotson was unavailable and played so well that when Dotson returned to the field against the Sun Devils, it was as a safety. He certainly did nothing to lose the job on Saturday, leading the team with 14 tackles, four more than any other WSU defender; nine solo tackles, three more than any of his teammates, and sacking Mike Bercovici for good measure.

As with the offensive line's play, Henry's ascendance is an example of WSU's improved depth. For the first time in many years – a couple consecutive recruiting cycles, at least – WSU has backups who can fill in without missing a beat and maybe even outperform the previous starter.

Kyle Sweet showed up when needed: Speaking of improved depth, we finally got to see what the Cougars have behind River Cracraft at Y-receiver. Sweet played a bit at Arizona, but it wasn't until Cracraft left the ASU game with what appeared to be a foot or ankle injury that the true freshman really had a chance to show what he's capable of doing.

Sweet led the team with seven catches, totally 77 yards, and showed good speed and instincts on an important 36-yard reception that set up John Thompson's touchdown. The Cougars saw little drop-off with the backup Y-receiver in the game, again a departure from previous seasons.

Now here are some links:

-- WSU is going to a bowl game. I promise. We take a look at the postseason situation in this story.

-- Brian Floyd wrote about the team's improvement and his confidence in the Cougars.

-- The Seattle Times takes an early look at WSU's upcoming opponent.

-- A couple ESPN writers project the Cougars will end up in Las Vegas or El Paso.


---
---