Tue., Nov. 10, 2015
Getting the Air Raid off the ground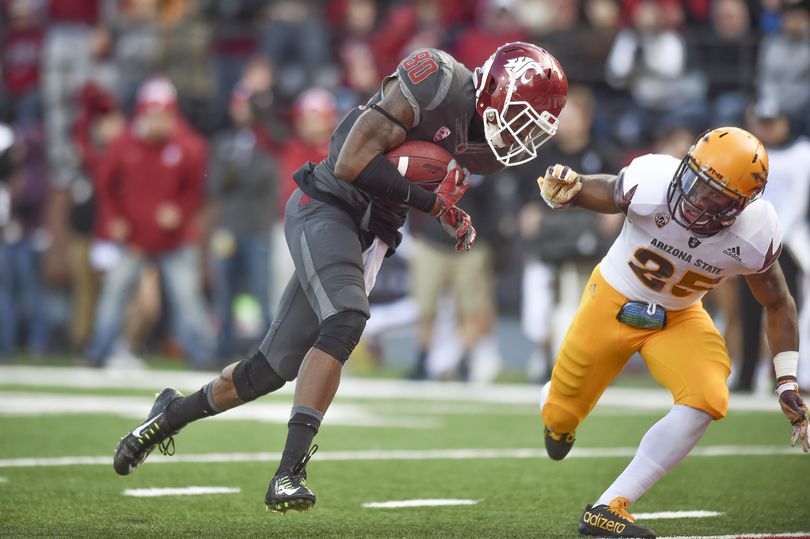 This week, our post-practice stories are going to examine how the Cougars turn high school recruits, many of whom have not played in similar systems before, into productive contributors in the Air Raid offense. Today, we'll examine the life of a receiver. Tomorrow, we'll take on the quarterbacks.

When incoming receiver recruits arrive at Washington State, they learn how to run in a straight line. Vertical routes and fades are among the first routes they learn, because the Cougars spend so much time in preseason or spring practices working on running forward.
Obviously, it's a lot more nuanced than that. In fact, vertical routes are some of the most challenging the players will practice during their time at WSU.

"Some people struggle with verticals," Mike Leach said. "There's a lot of technique to verticals, leaning into a defender, and then you have to transition your eyes from one side to the next and some guys struggle with transitioning their eyes. For most people horizontal catches are easier than vertical catches."
There's a lot going on in those vertical routes. Receivers can fake with any appendage, mix up their footwork or feint in a direction in order to confuse the defensive back. The coaches give the receivers a decent amount of leeway to get creative as long as it works.
"Once you get to the is level you can't just run by people with speed, as often, because people are better than other guys you've faced in the past," said outside receivers coach Graham Harrell. "We do that and sticking your routes, obviously, we think is very important. We think it creates separation and it communicates with the QB. So those are the two things we work on all the time, every day, as soon as they get in."

The young guys can learn some moves from Dom Williams, who Harrell calls, "probably the best vertical runner I've ever seen as far as using technique, trusting it's going to work and mastering it."

Williams says that he uses an internal count (one one-thousand, two one-thousand … ) to make sure he's at the right place at the right time. Of course, the Cougars also teach their receivers to run to open space rather than a specific mark on the field, so there's bound to be some confusion occasionally between the quarterback and the receiver, and Leach acknowledges that it takes slightly longer to get everyone on the same page than if they were teach them to run 20 yards, stop, and look for the ball.

"Occasionally in practice (Luke Falk is) like 'you're supposed to be here,' and I'm like 'c'mon, you have to wait for me,'" Williams said. "But it rarely happens. Me and Luke are on the same page most of the time."

Horizontal crossing routes are a little easier to run, which helps guys like River Cracraft and Kyle Sweet play as true freshmen. But those routes also require quick thinking and concentration, because they only work if the receiver is running really fast, quickly makes the catch and is able to read the defender and get past him in a hurry.

The Cougars also value figuring out where a receiver fits best and having him take reps for that position and on that side of the field, although they are flexible and have moved players back and forth across the field at times.

"You look for a guy that's just versatile enough to do it," Leach said. "It's almost you want kind of a relaxed guy. I don't think it's terribly hard, but there are guys that are seniors that don't have a knack for that and there's younger guys that do."

Leach and the coaching staff also value execution much more than play variety and by keeping things simple they are able to give the receivers more time in their careers to focus on minutiae and technique. For example, many programs have their receivers run different stuff versus varies types of coverage: run against man defense and sit in a space against zone.

The Cougars never really change it up much except to use different techniques to get release against press coverage or passive defensive backs. Because the Cougars run the same routes, using the same technique and concepts against both man and zone defenses, the receivers get twice as much practice executing their assignments against both.
---
---