Tue., Nov. 10, 2015
You want to put some pine tar on the ball? Think again
A GRIP ON SPORTS • The next time you think a league comes down too hard on someone for a violation of the law, just remember how the rest of the world does things. Read on.
••••••••••
• Heck, in Russia, you are practically encouraged to cheat. But in Nepal, you mess with the bear, you may get eaten. Yes, I know this is far afield, but when a nation's soccer players are charged with treason for a possible role in match-fixing, then it's hard to ignore. Treason. Brings up memories of Aaron Burr and that 11th-grade history test you struggled with, doesn't it? But this is no spying incident among unfriendly nations. This revolves around a whole bunch of money, some hinky match results during an eight-year stretch ending in 2011 (when the country failed to qualify for the World Cup) and five players on the national team, who government prosecutors allege accepted money to lose. The five, including the team captain and its goalkeeper, face life imprisonment charges. They were charged under a 1989 law that makes jeopardizing Nepal's "sovereignty, integrity or national unity" a form of treason. So these guys are being charged under the same law that would apply if they sold nuclear secrets – if Nepal had any – to Katmandu or Kazakhstan or somewhere. Just think of the possibilities in the U.S. The government here could have charged Barry Bonds with subversion for bringing disgrace to our nation due to his wearing a size 9 1/2 hat. The authorities could have dinged former 49er Aldon Smith for sedition for, well, a bunch of things. You think athletes would stay in line? Think anyone in the MLS would put a hard tackle on Clint Dempsey if they knew going over the line could end up in a 99-year jail term? (On the plus side, maybe Adam Sandler would play the offender in a new, soccer-based, "Longest Meter.") A bat flip? Forget about it. That's subversion. Run over a key member of our Olympic team at second base? No way, not with Joe Torre ready to talk with federal prosecutors. Dunk on LeBron? High treason – literally. I, for one, would welcome the change. As long as it only applies to members of teams I don't root for.
•••
• WSU: It may have taken an injury to left tackle Joe Dahl, but the offensive line's success is getting the attention it deserves. As Jacob Thorpe describes them today in his notebook, they are the engine of the Cougar offense. ... Jacob has a bunch of other stuff as well, including the first look at UCLA, video of interviews with Mike Leach, Dom Williams, Eduardo Middleton and Kache Palacio from Monday's press conferences, as well a morning post with links. ... Luke Falk was the Pac-12's offensive player of the week, again. He's also atop these quarterback ratings. And, hey, look who is on this Heisman watch-list. ... The Los Angeles-area newspapers either focus on the challenge of the Air Raid offense or WSU's attitude. ... For the fifth consecutive year the WSU soccer team is in the NCAA tournament. The Cougars will host Northwestern on Saturday. Jim Allen has more in this story.
• Gonzaga: No one received more votes for the Associated Press preseason All-American team than GU senior Kyle Wiltjer (shown at right). Jim Meehan has the story on his first-team selection. ... The NCAA sure has a funny way of seeding its tournaments sometimes.
• EWU: There may be a bit of a quarterback controversy in Cheney. Jim Allen relays coach Beau Baldwin's intention of possibly using two, Jordan West and Reilly Hennessey, this Saturday in Missoula. ... The loss at Northern Colorado was tough for Portland State's players to take.
• Idaho: The Vandals have dismissed wide receiver Dezmon Epps from the football team. This is the second time during his stint in Moscow that Epps, the Vandals' leading receiver this season, has been dismissed. Sean Kramer has a story and there is also a blog post.
• Whitworth: One Pirate women's coach was honored by the Northwest Conference yesterday while another decided to step down.
• Preps: An influx of young talent has helped Deer Park to a 14-1 record. Jim Allen has more on that as part of his state soccer playoff advance.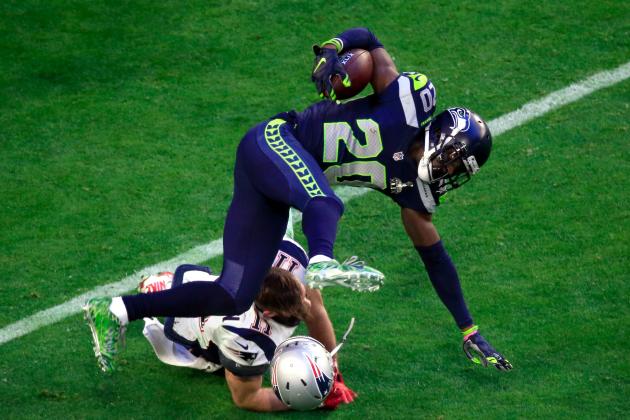 • Seahawks: Ricardo Lockette is back in Seattle, traveling home from Dallas in style. ... If you have to ask why, I feel sorry for you. ... Jeremy Lane (pictured) is back at practice, just a relatively short time after his gruesome Super Bowl injuries. ... Sometimes Michael Bennett says the darndest things.
• Mariners: It's almost time. The M's are assured of having a Hall of Famer come next July. Ken Griffey Jr. was on the ballot announced yesterday for the first time and he's getting in. ... The general managers are meeting this week. Will Jerry Dipoto continue to make moves? ... The M's have reportedly hired a new third-base coach.
• Sounders: So what happened to a Sounders season that seemed to be headed for greatness but ended so unceremoniously Sunday in Dallas? June 16 happened. It's a day that will live in Seattle soccer infamy.
•••
• Are you ready for winter? Whether you are or not, it is coming. And it won't be kind when it gets here, believe me. I feel it in my bones. Then again. at my age, I feel everything in my bones. Until later ...
---
---