Wed., Nov. 11, 2015
This time of year, there shouldn't be anything causing you to lose sleep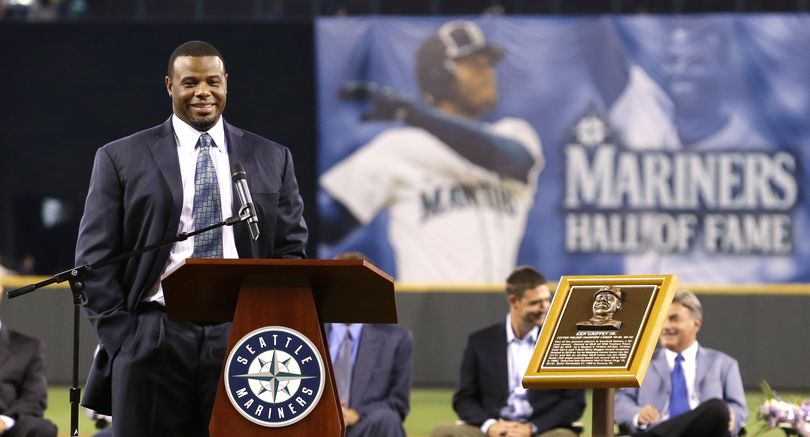 A GRIP ON SPORTS • Woke up in the middle of the night with a lot on the mind. Couldn't get back to sleep. The mind was rolling over and over. But you know what wasn't keeping me awake? The college football playoffs. Or Washington State's bowl fate. Or Junior's chance of being a unanimous Hall of Famer. Read on.
••••••••••
• Really, are playoff scenarios anything to lose sleep over on Veteran's Day? Nope. So much can happen in the next few weeks on – and off – the field that yesterday's top four – Clemson, Alabama, Ohio State and Notre Dame – probably will only make up about half of the four-team field. Unless the sky falls, Clemson should be in. The Tigers' remaining schedule wouldn't scare Mike Leach right now. But the other three have some hurdles to cross. The Crimson Tide is at No. 20 Mississippi State this Saturday and the easiest state to spell has already been unkind to its neighbor this year. Then there is the rivalry game at Auburn – never easy – and the SEC title matchup with Florida. An upset could happen. Ohio State has three consecutive weeks of heck, what with Michigan State, at rival Michigan – think Jim Harbaugh wouldn't like to cap his first season at UM with a win in that game? – and the Big Ten title matchup, more than likely with an undefeated Iowa team. And Notre Dame? The Irish, who have undergone more change due to injury than Wolverine, have just one tough game left. But that would be on Thanksgiving weekend at Stanford, the best hope of the Pac-12. So don't get too worked up about the rankings now. This committee has shown it's not above making a last-second change even if the season plays out pretty much as chalk.
• The Cougars are going bowling. That's a given. But where? With the New Mexico Bowl out of the picture these days, who cares? Of all the Pac-12 bowl tie-ins, the only spot that seems a bit – how should I put this? – bleeh would be the Sun Bowl in El Paso. (After seeing the movie "Sicario" recently, I don't think that's an area I want to visit.) Otherwise, the bowls, from San Diego to Las Vegas, all have something to entice the Cougar fan. So don't lose sleep over their ultimate fate. Just expect them to end up in Texas and live with it.
• Larry Stone has an interesting column in today's Times about Ken Griffey Jr. and his chances of being the first unanimous Hall of Fame selection. And even though Stone concedes it will not happen, he does think it's about time. I concur. The problem goes all the way back to 1936 and baseball's first Hall of Fame class. Some writers didn't like Ty Cobb, who received 222 of 226 votes, or Babe Ruth, 215 of the 226, and left them off the ballot. Really? Those idiots – it's the only noun that seems to fit – ruined anyone else's chances of being unanimous. In the almost 80 years since, so many writers have used the excuse that if Cobb – the Tiger star retired holding more baseball records than anyone in history – or Ruth or Honus Wagner weren't unanimous, how could (fill-in the blank)? It's time for that to end. Look, I believe Cobb was the best player of all time, a guy who could have played at anytime due to a rare combination of speed, power – he could have been a great power hitter if he wanted but the game and its equipment at the time didn't call for it – and attitude. Yes, he was a sleaze. But, on the field, he was unmatched. But who cares if he wasn't a unanimous choice? Four guys didn't like him. Don't let those four ruin it anymore. Let's make someone a unanimous choice. Why not our guy?
•••
• WSU: It's Wednesday, so Jacob Thorpe has his Pac-12 notebook and power rankings. He also has interviews with Mike Leach and Graham Harrell from after practice. And, in his newest form of coverage, a look at what the receivers have to learn to become productive members of the offense. ... He also passes along game notes from Saturday's contest at UCLA as well a morning post with links. ... There are a lot of Southern California products on the Cougars – including Jamal Morrow (pictured) – and there are former teammates on the Bruins. ... There are also other Pac-12 notebooks from up and down the coast, including a look at the officiating problems. ... Switching the focus to basketball, the Times' Stefanie Loh has a look at WSU's women's team. ... Watching Pac-12 games on the TV still isn't easy. ... Four WSU soccer players were honored by the Pac-12. ... If you were wondering why Klay Thompson's NBA season began so slowly, here's a reason.
• Gonzaga: The matchup this weekend with Pitt in Okinawa is a trip of a lifetime for many Gonzaga players and coaches. Jim Meehan has a look at the game and its location. ... The GU women are expected to win the WCC again but they have some competition, especially in BYU.
• EWU: The Eagles have been asked to adapt on the fly the past few weeks and, admittedly, they haven't done it as well as Beau Baldwin would hope. Jim Allen has this story on the changes that have been demanded. ... Jim also has a morning post with some Big Sky links.
• Idaho: Paul Petrino covered a bunch of subjects in his weekly meeting with the media and Sean Kramer relays them all in this blog post. ... The Vandal volleyball team is on a roll, as are others in the area. Jim Meehan has more in his weekly notebook.
• Preps: The two Great Northern League schools who needed to win Tuesday to advance to the state football playoffs, Cheney and Clarkston, both did.
• Seahawks: What are the Hawks' playoff chances? They would get a lot better if they would score touchdowns more often in the red zone. ... Michael Bennett is a master at amassing fines. ... You probably already saw this, but it's funny nonetheless. ... Blaine Gabbert will be the 49ers quarterback when they face the Hawks in a couple weeks.
• Mariners: Yes, the M's have a new third-base coach. And an interim-manager-in-waiting if Scott Servais doesn't work out. (I kid.) ... Next year's spring training schedule is out.
• Sounders: Three Sounders were called up for national team duty but it doesn't matter. Seattle's season is over.
•••
• Guess what? I'm back on the radio again today, three hours with Rick Lukens and Keith Osso starting at 3 p.m. You can listen here. Maybe we will talk about this relationship. And, no, it wasn't what was keeping me awake. Until later ...
---
---