Thu., Nov. 12, 2015
Tomorrow is a bit like Christmas … only better and longer lasting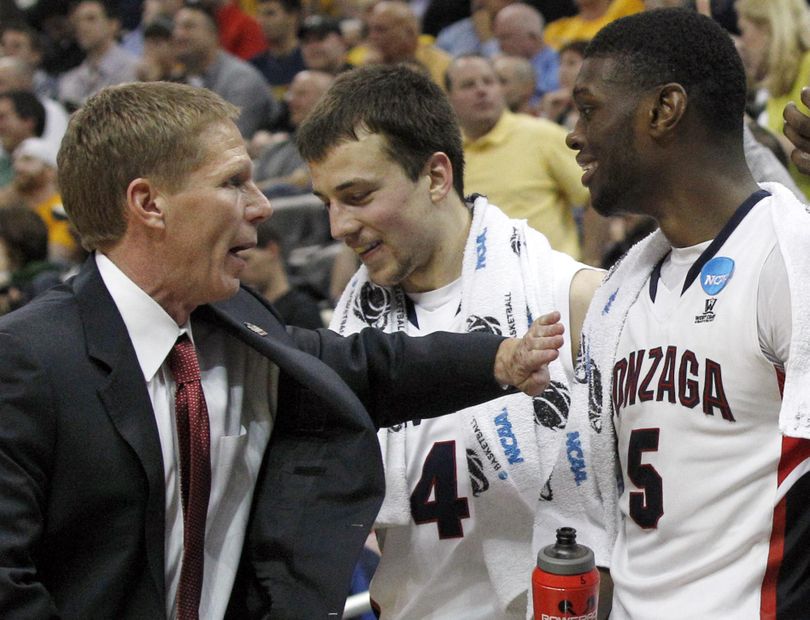 A GRIP ON SPORTS • College basketball begins for real tomorrow, with games in this area beginning as early as 12:01 a.m. And there is a team from Spokane playing in Okinawa of all places. If you know me at all, you know I'm as excited as Navin R. Johnson on the day the new telephone books arrived. Read on.
••••••••••
• Some of my first sports memories revolve around college basketball. As a child growing up in Southern California at the height of UCLA's dominance, of course they are. From Gail Goodrich to Ralph Drollinger, the Bruins rarely lost, all the while playing the sport at a level of consistency not to be seen again. But that doesn't mean college basketball hasn't gotten better. In fact, it's the best it's ever been, despite efforts to NBA-ize it. Sooner or later the powers that be will realize the myriad ways the game is played is its strength. There doesn't have to be one homogenized product. Kentucky is fun to watch. So is Virginia. Ditto Gonzaga and Syracuse. Eastern has its strengths, WSU does as well. And when the differing philosophies collide, the game is at its best. Michigan State wants to beat you down. Indiana wants to outscore you. When they meet, it's a battle of wills. Whose style will prevail? What's better than that? You don't have to go back too far to realize college basketball is at its best when those varied styles are celebrated. Butler, a nondescript, middle-of-the-road school in Indiana, played Brad Stevens' model to perfection in 2010 and 2011. The Bulldogs played in-back-to-back title games, coming within a missed shot or two of winning a crown only bluebloods usually take home. (And by "bluebloods," we don't mean Kentucky or UCLA or North Carolina, schools with blue as their primary colors. We mean schools like Kentucky or UCLA or North Carolina, schools with nearly unlimited financial resources.) It's the bulldogs that make college basketball so special, and we aren't talking just about Butler and Gonzaga. It's bulldogs with a lowercase "b," teams that fight and compete and battle. Sure, five-star recruits win titles, but over-achieving three-star guys playing in a system that fits their skills, are the fun ones to watch. They may not win the ultimate title, but that isn't why we watch, is it? It's the non-conference games in November and December that draw us in, games between schools in different parts of the country with different attitudes. Games like tomorrow's GU matchup with Pitt, played on a military base in Japan. But it's also the tough slugfests of January and February, conference games pitting teams that know each other as well as your left hand knows your right. Every possession becomes a mini-game, with the winner seemingly never decided until the last whistle blows. But that's still an appetizer, leading to the best sporting event this country puts on: the NCAA tournament. From first-round upsets to the Final Four, the games are riveting in so many ways. It's called March Madness but that's not it. It's sports at its best. In the sport that is the best. Our sport, even if its father was born in Canada. And it all starts anew tomorrow.
• The Spokesman-Review has its annual college basketball preview section today, with so many stories there is no way to link them all. We have the major ones below, in each individual school section, but if you want to peruse all the schedules and short hits, then head to the S-R's main sports page and take your pick.
•••
• WSU: Between the ongoing football season and the beginning of basketball, this is the busiest time of the year for the Cougar beat writer. And the most fun, if the Pepto holds out. Jacob Thorpe is in the middle of it right now, getting ready for the trip to Los Angeles for the football game with UCLA and preparing for the basketball section. On the latter front, he has a story on the Cougars not trying to replace DaVonté Lacy as well as a few other items. Yesterday was also the first day of basketball's early signing period and Jacob has a story and a blog post on the Cougs' two signees. ... Staying with hoops, we linked this story a week ago about WSU playing in next year's Paradise Jam tournament. The school made an official announcement yesterday. ... Back to football and Jacob has his Pac-12 picks as well as a story on Kache Palacio, who has played much better as the season has worn on. He, and the rest of the defense, seem much more at home in Alex Grinch's scheme. Jacob also has video of Mike Leach and Ken Wilson after practice, a blog post with the second part of his examination of the Air Raid offense, a morning post and a transcript of his live chat from yesterday. ... The Bruins and Cougars have to stop the other team's quarterbacks and their top receiver. ... You like picks? Here are some more. And some bowl projections. ... The big game this week is Oregon at Stanford, with the Ducks trying to return a longtime favor by ruining the Cardinal's national title hopes.
• Gonzaga: Not many schools have been as blessed with great guard play as Gonzaga, and John Blanchette takes us down memory lane in his column on the changeover happening at GU again this season. Replacing Kevin Pangos and Gary Bell is the theme of Jim Meehan's main story as well, though the Zags two signees from yesterday were big men. ... Stefanie Loh examines Gonzaga's non-conference schedule. ... BYU, the Zags' main WCC competition, are trying to replace a legacy guard as well. ... The Zag women are coming off another great year. Jim Allen has their story as well as a look at all the women's programs in the area. ... Speaking of former Zags, this piece on signing day in Eugene with former GU coach Kelly Graves is pretty interesting.
• EWU: There is the football/basketball overlap in Cheney as well, with the football guys headed to Montana this weekend for the annual showdown with the Griz. Jim Allen has a Big Sky notebook centered round the quarterback issues at each school. ... On the basketball side of the ledger, Jim has a story on the Eagles trying to replace one of the best players in school history as well as a piece on yesterday's letters of intent. ... Jim also has a morning post with links today and will hold a live chat at 11 a.m. ... Weber State hopes to return to the top of the Big Sky basketball standings.
• Idaho: The Vandals are looking for a replacement for guard Mike Scott. Sean Kramer has a story on the candidates.
• Whitworth: There is few missing pieces at Whitworth, thus the No. 3 preseason ranking. Tom Clouse has a look at the Pirate men and women.
• Chiefs: Spokane turned to backup goalie Lasse Petersen (pictured) last night and he shut out Everett, 3-0. Tom has the story and Dan Pelle has a photo report. ... Portland snapped a three-game losing streak with a road win over the Tri-City Americans.
• Preps: It is Thursday, so we have prep page items, including Greg Lee's feature on Rick and Tanner Sloan, Central Valley's father-son, offensive coordinator-quarterback duo. ... Greg also has his column, with North Central's cross country state-title streak in the leadoff spot, as well as his picks with Sam Adams.
• Seahawks: If you watched the Super Bowl and saw what happened to Jeremy Lane, you probably still haven't forgotten it. Either has Lane, though the memory of parts of it is hazy. Yet, he's about ready to return to the Hawk lineup. ... Patrick Lewis (pictured) will start at center this week. ... Bruce Arians is, like Pete Carroll, a one-of-a-kind coach. ... If you like Ricardo Lockette before, this will validate your feelings.
• Mariners: Franklin Gutierrez, who had the best offensive season of his career at age 32, will be back with the M's after signing a one-year contract.
•••
• I'm back on the radio again today, two hours with Rick Lukens and Keith Osso starting at 3 p.m. You can listen here if you like. Until then ...
---
---