Thu., Nov. 19, 2015
Thursday Night All-Stars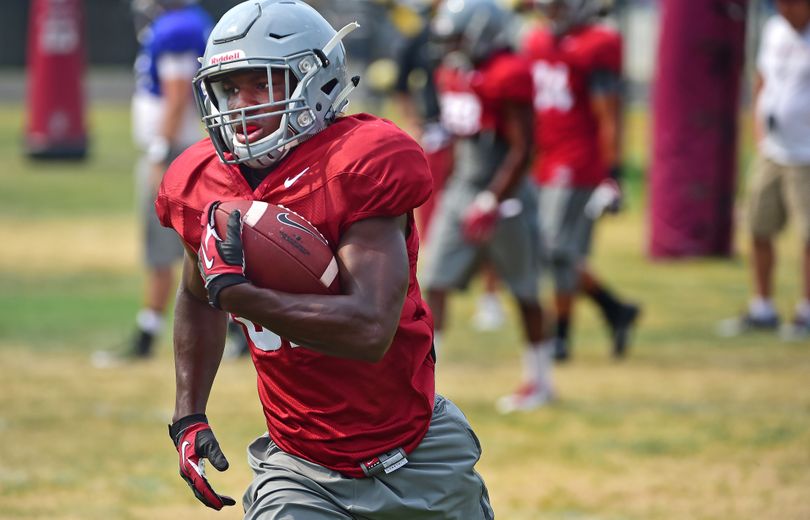 Washington State held its weekly Thursday Night Football session this evening, and because next week is short due to the Apple Cup being played on Friday, it was almost certainly the last underclassmen scrimmage held on a Thursday of the season.

So instead of our usual recap, I thought it would be useful to put together a list of the players who, in my opinion, have stood out. I've left some frequent contributors such as Frankie Luvu and Logan Tago off the list, thinking that because they also play regular snaps in the games that people can form their own opinion of their abilities.

But of the players who few fans have had a chance to see yet, here is who I think fans should get excited about:

Running back James Williams: The clear MVP of the weekly scrimmages, Williams is a physical back who possesses the quickness and breakaway speed to score from anywhere on the field. He's able to absorb contact and accelerate, and frequently rips off long runs after breaking a few tackles in a crowd. The running back has even been one of WSU's best receivers during the scrimmages, frequently finishing the day among the team's reception leaders. Plus, he's hurdled three or four would-be tacklers. The Cougars return all three primary running backs next season and the coaches have already said they will not use a four-back rotation. Williams' play alone has assured that this will be a very interesting spring, because it's hard to see him being the odd man out.
Quarterback Tyler Hilinski: Of the three quarterbacks who routinely take snaps during Thursday Night Football, Hilinski is the most consistently successful at moving the offense through the air. The true freshman shows a good command of the offense, a strong and accurate arm, and surprisingly quick feet when he has room to scramble. He's gotten much better at moving the pocket in a short time and is getting pretty good at throwing on the run.

Defensive end Nnamdi Oguayo: The Rush linebacker position is going to be hit especially hard by graduation this offseason and Oguayo looks ready to help fill the void left by Ivan McLennan and Kache Palacio's impending departures. Oguayo has been a frequent, unwelcome guest in the offensive backfield throughout the year and he's shown that he can get hard enough to jar the ball loose when he finds a running back or receiver in the flat.

Cornerback Deion Singleton: At 6-foot-2, 190-pounds, Singleton possesses excellent size for his position, along with plenty of athleticism. He's been inconsistent this year, which isn't exactly an indictment for a true freshman, but when he's on he's made plays in bunches. With his speed and size, he's been able to blanket wide receivers on the outside, and his ball skills are developing.

Nose tackle Ngalu Tapa: Tapa is one of the strongest players on the team, and if WSU's nose tackle depth wasn't very good he would be playing a lot of snaps. Instead, he's seeing most of his action on Thursdays, where he's made life tough for the quarterbacks by consistently collapsing the pocket as plays develop.

Offensive tackle Cedric Bigge-Duren: Bigge-Duren is massive. The 6-foot-6, 308-pound freshman has surprisingly little fat for someone who is so big and so young, however, and he's got pretty nimble feet. While he's seen some time at left guard, expect Bigge-Duren to end up at left tackle, and make a real push for playing time once his lower body gets stronger.

Honorable mention: Calvin Green, Dylan Hanser, Kameron Powell, Treshon Broughton.
---
---