Wed., Nov. 25, 2015
It's about time these two teams met, though it shouldn't happen at the expense of another state school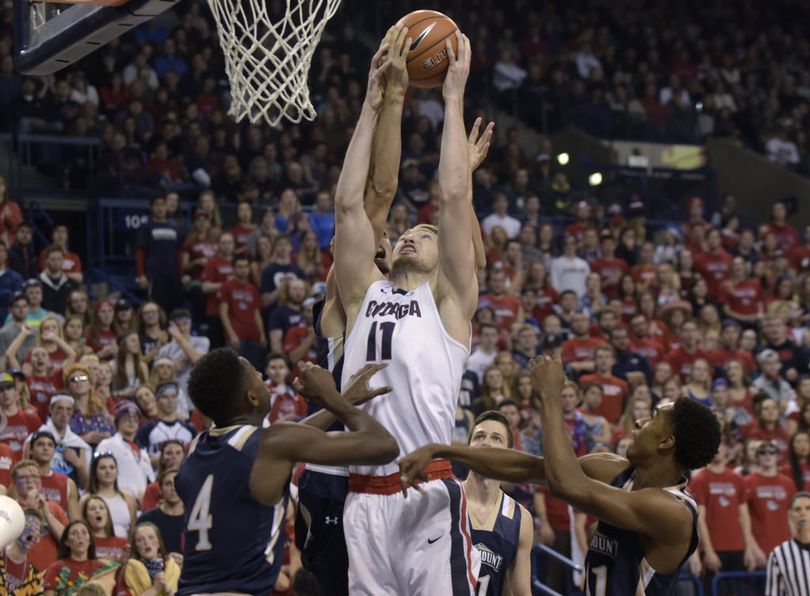 A GRIP ON SPORTS • In just a few minutes – of course, that's in relationship to when I type this, not when you may be reading it – something will be happening that hasn't happened in about a decade. Gonzaga and Washington will be playing basketball against each other. Read on.
••••••••••
• Yes, the two Washington universities will be facing off on a basketball court. In the Bahamas, no less. At a tournament. The schools have not played since 2006 when, it seems to fans of GU, the Huskies got tired of losing to the little school in Spokane. That's one way to look at it. The other is Lorenzo Romar has a scheduling philosophy that includes trying to win as many non-conference games as possible, in his own gym preferably, thus making it that much easier to have a postseason-eligible, if not worthy, record. Whatever. The schools did a bit of griping about each other and moved on. Until recently. That's when they decided to renew the series. That will begin next season. Home and home, and home not being Key Arena, which, reportedly, was a suggestion for all games in the series some time in the past decade. But now something has come up on the other side of the state. It doesn't look as if Gonzaga and Washington State won't be playing on a yearly basis anymore. And this time it is the GU folks pulling rank. Seems a bit odd, don't you think? There has been talk of resume-building non-conference schedules and I get that. The WCC has enough low-RPI schools every year, Gonzaga needs to play well-regarded teams in the non-conference to boost its profile for the selection committee. The higher the seed, the easier the path during GU's inevitable NCAA tournament run. But not every school Gonzaga plays in non-conference is a resume builder, or they wouldn't have opened this season with a Big Sky school or have scheduled Southeastern Louisiana or Texas Southern or Sacramento State last season. None of those schools are going to give you a big bump RPI-wise. Of course, none of those schools want a home-and-home either. But it seems Washington State is willing to settle for less as well. The last time Gonzaga renewed its rivalry with WSU, the Bulldogs took two home dates and gave the Cougars one (last year's game was in the Arena, which, while not McCarthey, is pretty much a home venue). Some of us with decent-length memories remember when Kelvin Sampson told Dan Fitzgerald and Gonzaga to take a hike, that the Zags weren't good enough to be on the Cougars schedule. Sampson was pilloried for it (John Blanchette burned Sampson so well I'm guessing Kelvin didn't take his phone calls for a year – though those seemingly were the only calls Sampson ever skipped), and rightfully so. And it really ticked off Fitzgerald, sparking a grudge that lasted, well, until to the last time I talked with Dan before his passing. Fitz always wanted Gonzaga and WSU to play and was thrilled to see the renewal of the series. He wanted all the local teams to play, really. He knew it was good for basketball and basketball fans in the Inland Northwest. He was right then and his philosophy is still sound today. Heck, Gonzaga's mission statement contains a section on the common good, the responsibility and right for each person (and institution) to contribute to the good of the whole society. The two biggest schools in the area meeting on the basketball court each year would seem to fit that category. Instead of playing a directional state team from somewhere in the next time zone, Gonzaga needs to meet the school from down U.S. Highway 195. The games are less than common and they are always good.
•••
• WSU: Because we are in a basketball mood, we'll start with last night's 74-57 win over Cal State LA – the school from down the freeway where I grew up. Jacob Thorpe has his game story and, from the postgame, video from coach Ernie Kent and a trio of players as well as the statistics. ... On the football front, Jacob has a great feature on Peyton Bender, which is not to be missed. It might all be moot, however, as there were reports yesterday Luke Falk was in uniform at practice. Falk is a finalist for an interesting national award. ... Jacob also decided this was the week to look at academics and how that works with the football team. ... Lest I forget, he has his Pac-12 power rankings and morning links. ... The Falk injury is getting a lot of attention in the region. So is the offensive line depth and Gabe Marks, both of whom are featured in Todd Milles stories in the News Tribune. ... The Bay Area wouldn't be a bad bowl destination. ... The contrast in the Apple Cup coaches is stark. ... Back to basketball, Jim Allen has a story on the WSU women's overseas connection. ... The Oregon State men suffered their first loss of the season.
• Gonzaga: Jim Meehan is in the sun – if this wasn't a family oriented blog, I would have a few choice words about how lucky he is (considering my last Thanksgiving basketball trip was to Newark) – and has this advance and blog post on the game. ... The Gonzaga women struggled with USC's pressure last night and lost 60-56. ... Portland's men used the 3-point shot to down Alcorn State.
• EWU: Cooper Kupp was named the Big Sky Conference offensive MVP yesterday and rightfully so. Jim Allen has the story. ... Weber State won again last night though Southern Utah fell to Cal State Fullerton.
• Idaho: The Vandal hoop team raised its record to 4-1 last night with a 69-63 win over Troy. ... Football coach Paul Petrino met the media yesterday and Sean Kramer has the transcript.
• Chiefs: Tri-City lost to Moose Jaw at home last night. ... Everett is at least playing hard if not well.
• Seahawks: There is a report out there that Marshawn Lynch will have surgery and be out about a month. No one has confirmed it yet. ... Russell Wilson will be making a lot more money soon. ... The Hawks made some roster moves yesterday. ... Thomas Rawls likes contact.
• Mariners: Jerry Dipoto says Robinson Cano is not unhappy in Seattle. Of course. And Dipoto says he's not done remaking the M's roster. Of course.
•••
• It's off to the TV. Until later ...
---
---