Fri., Nov. 27, 2015
Who will be in tune this Apple Cup?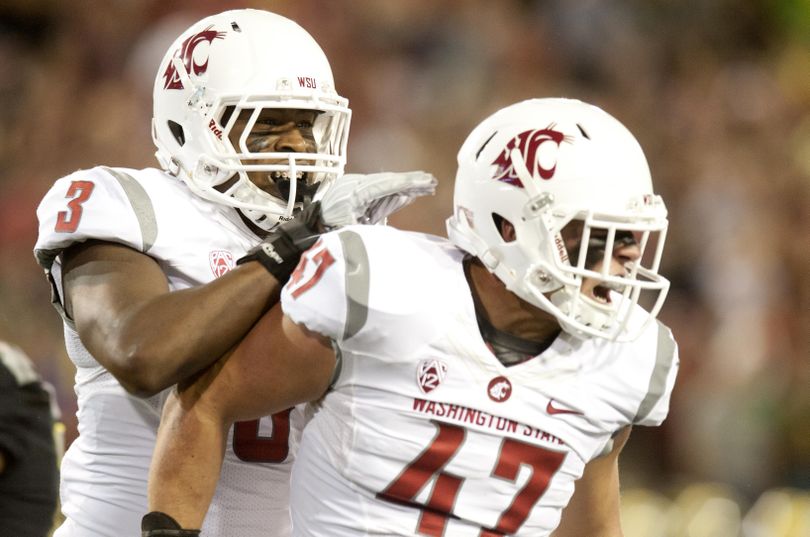 A GRIP ON SPORTS • Every year on this day I am transported back to 1975. It was a simpler time, when gas cost less than a dollar a gallon and the Cougars were so bad they didn't win a single Pac-8 game. What takes me back? The term "Black Friday." It had a different meaning for me in those days. Read on.
••••••••••
• Every time an ad comes on TV about "Black Friday," I start humming this tune. Yes, I enjoyed the song stylings of Walter Becker and Donald Fagen back in the day, though the earlier Steely Dan, the "Can't Buy a Thrill", "Countdown to Ecstasy" and "Pretzel Logic" Steely Dan are more to my taste. But "Black Friday," that's a song that can get stuck in your head. As you can gather, it's been roaming around in mine for the past few days. And got me thinking about rivalry football games. I grew up in Southern California, where the rivalry wasn't about the state but the city of Los Angeles. Neighborhoods were divided, families as well. There were years the city stopped for the game. And it rarely disappointed. Such was the case around here back then as well. Look at the aforementioned game of 40 years ago. The Cougars were not good, even if they did hang 84 on Idaho the week before the Apple Cup. They pulled that feat in front of just 17,300 people in Pullman. Hardly anyone wanted to watch them after a lot of close Pac-8 games had slipped away. They were 0-6 in conference going into the rivalry game. So the Huskies breezed in the Apple Cup, right? No, not really, even if it was Don James' first and it was raining in Seattle. Odd huh? And the Cougars actually led 27-14 with less than three minutes left. That was odd too. Then a pick-six and Spider Gaines' improbable 78-yard touchdown reception (pictured) from Warren Moon resulted in WSU handing the Huskies a 28-27 victory. A tough loss grabbed from the teeth of victory. Not so odd. Jim Sweeney resigned, the Cougars began on a stretch that featured four coaches in four years – Sweeney, Jackie Sherrill, Warren Powers and Jim Walden – and they didn't win against UW again that decade. Such are the vagaries of rivalries. And they will be on display again today. If Washington State was playing any other 5-6 team in America this week, I'm guessing Cougar fans would be confident. They are 8-3, have won six of their last seven and seem to be on a roll. But this is the Apple Cup and confidence – among the fan bases at least – is never really high. Oh, everyone talks a good game, that's part of a rivalry too. But the savvy football fan knows no underdog is more dangerous than a rival. Which should bring joy to the hearts of WSU this week. The Cougars, playing their best football in more than a decade, are underdogs today. The line is 7.5 right now, according to vegasinsider.com. It may be because the game is in Seattle. Or it may be because the Vegas boys have been downgrading Washington State all year. Or, more than likely, it's because of the uncertainty at quarterback. Who will WSU have at the controls, a banged-up Luke Falk or a backup, Peyton Bender? I'm pretty sure most Cougar fans know who they would choose if there is any question at all, at least the ones who watched Falk get bounced off the turf the past couple weeks. They would play it cautiously with their guy Luke, a former walk-on who has become a star – and has earned a place in their hearts. The future – most importantly, his – is too precious to risk on one game, even a rivalry game. Let Falk heal up and he can lead the Cougars to bowl glory, whenever and wherever that may be. Besides, a win with Bender in charge would be that much sweeter, wouldn't it? A guy who has thrown just 33 passes in his career making his first start and guiding the Cougs to an upset victory (if only in the oddsmakers' eyes)? Now that would be a Black Friday to sing about for years to come.
•••
• WSU: We talk Steely Dan, Jacob Thorpe talks Apple Cup, what with his advance and keys to a Cougar victory today. He also has a morning post with links. ... We have links as well, like Jim Moore's crimson-colored view of the contest. There is more, of course, including Art Thiel's view of WSU's success and John McGrath's column on the bland nature of this year's rivalry game. There are also other stories from the West Side to pass along. ... Though it's rivalry weekend, basketball is still ongoing, with USC posting one of the conference's biggest wins of the year and Arizona barely avoiding one of the worst upsets. Meanwhile, California got worked by San Diego State.
• Gonzaga: The Zags' hopes of winning the Battle 4 Atlantis were stymied by Texas A&M, 62-61. This one may have come down to a last shot – the Zags missed – but it really didn't. As Jim Meehan's story notes, Gonzaga had numerous opportunities to put the game away and didn't. ... Jim also has a blog post on the game. ... We missed this story a couple days ago but wanted to pass it along.
• EWU: The Eastern women had a chance to upset No. 19 Northwestern, but fell 74-70. ... The men will be playing a couple games in Sacramento this weekend.
• Idaho: The Vandal women stayed right with No. 15 Duke before losing 74-68.
• Seahawks: Tom Cable has a good reputation for his work as an offensive line coach but even he admits he made a mistake this season. He does, however, feel as if Jimmy Graham is making strides as a blocker. ... Speaking of making strides, Tyler Lockett is quickly making his own.
•••
• Who will win today? I've pretty much gotten out of the prognostication business, though I'm a pretty darn good reverse barometer – a reference that should take you back to the 1970s again and Dustin Hoffman in "Little Big Man." Anyhow, every time I pick against the Cougars, they seem to win. So to make you WSU fans happy I'll predict a Washington victory today. How about 21-15 as the Cougars, with Bender at quarterback, settle for five field goals? But before you sit down to watch the game, read this piece by Sally Jenkins at the Washington Post and you may just get hot under the collar thinking about the money college athletic departments waste. Until later ...
---
---