Sat., Nov. 28, 2015
Despite the Apple Cup fiasco, the Cougars' season is still more than half full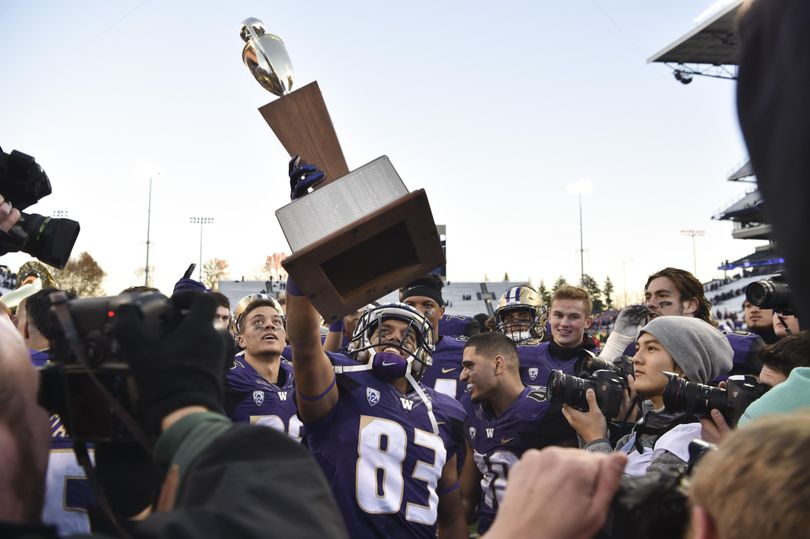 A GRIP ON SPORTS • Well, that was either the greatest thing to happen this century since the invention of the Tinder app or the worst thing since, I don't know, maybe the invention of the Tinder app. It all depends on your point of view. Read on.
••••••••••
• Husky fans see the glass as overflowing this morning, and rightfully so. A 35-point victory. The Apple Cup staying put in Seattle. Bowl eligibility. All courtesy of a rout of their in-state rivals. Cougar fans? Hey, Cougar fans, you awake yet? What are all those bottles of Fireball doing on the floor? Don't you know you can't drown your sorrows? The 45-10 defeat yesterday at Husky Stadium (brought to all of us, seemingly, by Alaska Airlines, whose name is all over the field) wasn't awful for Cougar fans due to the score. OK, that's part of it. No, it was extra-special, over-the-top bad because the Cougars, as Mike Leach described, gave in. Or quit, to use a more pejorative term. The second half, or more precisely about the final two-thirds of the second half, was not Washington State's finest hour. The Cougars gave in to the inevitable – by then everyone in the Northwest not glued to the Civil War knew they were going to lose – and didn't compete to the end. Not everyone. Not Gabe Marks, who competed so hard he may not play football for the Cougars again this season, bowl game or not. His gruesome-looking leg injury was just the final, somewhat-symbolic blow in a game full of them. All season long the Cougars had bent. But they had never broken, not against Oregon, not against UCLA, not even against Stanford, the best team on their schedule. They did Friday under the relentless pressure of a Husky defense that took advantage of a big absence. No, not Luke Falk, who sat out this one after bouncing off the turf one too many times the past couple weeks. We're talking about left tackle Joe Dahl, who has missed the last month with a foot injury. His absence wasn't glaring until Friday, when the Huskies attacked the left side of the Cougar offensive line with speed and strength – and numbers. The result was Peyton Bender spent much of the final two-thirds of the game not knowing if he was going to be blindsided – and his play showed it. If anything sunk the Cougar effort it was their turnovers, four of which – they had seven for goodness sakes – could be directly attributed to pressure on Bender. Washington State isn't going to beat anyone with seven turnovers – and at least five dropped passes, none as damaging as Dom Williams' on the Cougars' first possession. Catch that one, sprint to the end zone and not only is the lead 7-0, there is a confidence and swagger that might just propel Bender to a decent day. Instead there was a deflation that turned into a conflagration, Hindenburg-style. Keith Harrington stoked the fire with his ensuing fumble – did the dynamic running back/receiver see the field after that? – and Erik Powell poured a little gasoline on it with a missed field goal. Three possessions in, the Cougars had just three points when it looked for all the world as if they would have at least 17. Of such missed opportunities are defeats born. But what would you expect? Mike Leach's offense is pretty simple, sure, but it's complicated for the quarterback. No one steps right off the bus from Wherever, USA and runs it perfectly. Falk didn't. Sure he had a great game against Oregon State last year in his first start. But that was the Beavers. How did he do against the Huskies and their fool-the-quarterback defensive scheme? Right. Not too well. Falk wasn't all that good at it early this season either, with Leach dialing back his responsibilities after a couple poor outings. But Falk got better. The offense got better. Washington was a special type of test, however, one of the best pass defenses in the conference playing at home in a rivalry game before 70,000 fans. And WSU had an inexperienced quarterback operating behind an offensive line missing its best player. That's a recipe for a struggle. And when you mix in a splash of turnovers – OK, a gallon of turnovers – and a defense that seemed to wear down after halftime, you have the makings of a disaster. But guess what? The season isn't over. It's not like the bowl game fiasco of two years ago, which festered all offseason. The Cougars are going bowling – probably in El Paso the day after Christmas if I had a guess – and they have a chance to redeem the bad taste in their mouths. Leach made it clear the lack of fight will be addressed – probably today – and the injuries should heal – Leach is right, they should not be used as excuses but they are reasons for certain occurrences – in time for at least some players to return, including Falk and Dahl. Leach made a great point after the game. Next season begins now. The Cougars always expected 2016 to be their year. They get 15 practices to begin prepping for it. With that looming, even down-in-the-dumps WSU fans can see the glass is still half-full.
•••
• WSU: There was a pretty large-size team of S-R folks in attendance yesterday, led by Jacob Thorpe, who has the game story, the scoring and videos of interviews with Leach, Bender, Jeremiah Allison, Cole Madison and Jamal Morrow. Jacob also posted the final stats on the blog and will have a day-after post today. ... John Blanchette takes the Cougars to task in his column for their seeming lack of emotion. ... Jacob and Jim Allen combined for a notebook and Jim added a sidebar on the Husky defense. ... Tyler Tjomsland has photos from the action. ... There is also all the coverage from the West Side, with stories and columns from the Seattle Times and the same elements from the News Tribune. The view from both sides is covered and covered well. There is also opinion from other sources. ... Staying with football, Oregon State gave Oregon a surprisingly tough game, which led to much in the way of hand wringing in Eugene. And some tough words about the Ducks from here and there. ... There is also some pretty big games around the conference today, with Stanford trying to establish a rivalry with Notre Dame, USC and UCLA playing a rivalry game that has a history and California playing Arizona State because, well, it's got to be played sometime. ... It wasn't a good day for the Pac-12 basketball fortunes, with Arizona and California both losing, though Utah and Stanford did win. So did the WSU women.
• Gonzaga: The Zags were en route to blowing a huge lead against Connecticut until senior Kyle Dranginis stepped up and made some big plays. Jim Meehan has the game story of the Zags' 73-70 win in the Bahamas.
• EWU: Southern Utah plays in the FCS playoffs today. So does Montana.
• Idaho: The Vandals host Texas State today with a good chance to pick up its fourth win of the season.
• Whitworth: The Pirates will have most of the important pieces of their 9-2 football coming back next season. Tom Clouse has more in this story. ... The Pirates defeated Hamline 69-56 in a Thanksgiving weekend tournament in Colorado.
• Chiefs: Spokane led 3-1 after one period against woeful Tri-City yesterday, then lost 6-5. ... Everett had little trouble with Moose Jaw.
• Preps: Greg Lee has an advance of the local teams playing in today's state football semifinals. All are on the road.
• Seahawks: The Thomas Rawls era may be getting underway a bit early than planned in Seattle. The early start is due to Marshawn Lynch's surgery. ... Is Lynch a Hall of Fame running back? ... Ben Roethlisberger and the Steeler receivers will test the Hawks' secondary.
•••
• There is just too much to get to today. Football, basketball, laundry. Maybe I can combine them all. Until later ...
---
---