Mon., Nov. 30, 2015
Seahawks pass a test for the first time this season but many more loom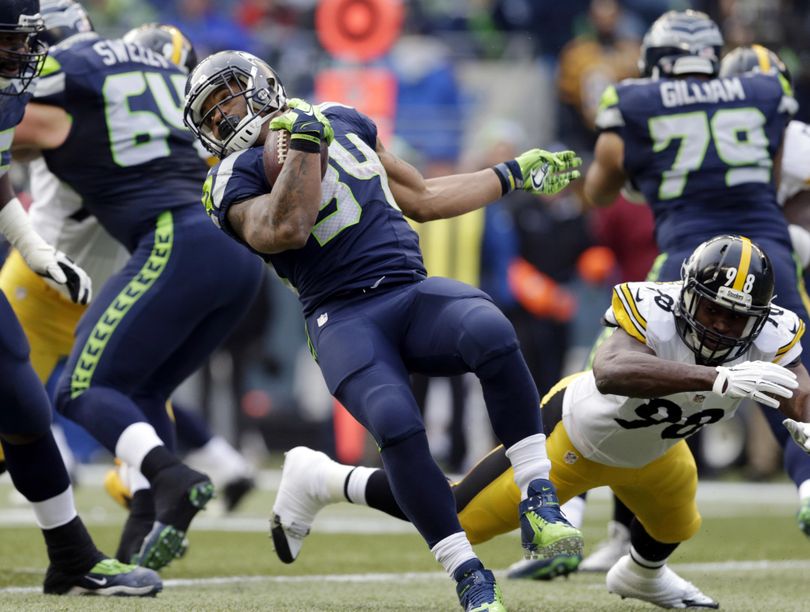 A GRIP ON SPORTS • A test is only fun when the team you're interested in passes it. Which made yesterday's 39-30 win over the Steelers so enjoyable for Seahawk fans. Read on.
••••••••••
• So far this season the Hawks haven't passed many tests. They flunked in Green Bay. At home against Carolina and Arizona. The outlook for the postseason was looking bleak. And Ben Roethlisberger was carving them up. So what did they do? Turn up the defensive pressure? Allow the 12s to disrupt the Steelers' offensive flow? Nope. They turned to the past. Angry Doug Baldwin showed up. And with him came Fleet-Footed Doug Baldwin, who scampered down the right sideline for an 80-yard, game-clinching touchdown catch and run (pictured) with 2 minutes left. Yes, Russell Wilson had his best day of his Seahawk career – on his birthday. While battling "flu-like" symptoms, no less. (As an aside, last week my two sons went out to celebrate one of their birthdays and they battled "flu-like" symptoms all the next day. I'm reasonably positive Wilson's symptoms were not akin to theirs.) Not only did Wilson throw for 345 yards, completing 21-of-30 passes, he tossed five touchdown passes, three of them to Baldwin. And the Hawk offense converted third-and-long time after time – Baldwin's 80-yard game clincher came on third-and-10 – to frustrate the Steelers. Not that Pittsburgh's defense is what it used to be, but then again whose is? Certainly not Seattle's. The Legion of Boom gave up almost 500 passing yards, though it did come up with four interceptions, including Richard Sherman's first of the season. Roethlisberger threw for 456 yards himself, until one too many hits forced him to the sidelines after he self-reported concussion symptoms. That's a smart man. The Hawks didn't hit him all that often Sunday but on the Steelers' late-game drive that ended in a field goal, they got to Roethlisberger twice – once after he delivered another strike (they were flagged for a hit on the helmet) and, on the last play, when he scrambled – a slow-motion scramble to be sure – for a short gain inside the 10-yard line. The Steelers kicked a field goal to close within two but their plan to hold and get the ball back failed in the first regard. Baldwin raced to the end zone and the Steelers had to turn to Landry Jones for any type of comeback. It wasn't happening. So now the Hawks are actually in the playoff hunt – they hold the sixth spot right now thanks to a tiebreaker with Atlanta – with another huge game looming next Sunday in Minnesota. It's also another test. And only an A-effort will do.
• The Jimmy Graham experiment, for this season at least, is over. It was over when Graham went up for a fourth-quarter pass in the end zone, planted his leg to right leg to jump and injured his patellar tendon. He'll have surgery and should be back for training camp. If this were the New Orleans Saints earlier in Graham's career, the success of the season would be in jeopardy. However, the Hawks have not become reliant on Graham, so it is not as big a blow. Yes, it hurts – Graham literally and the Hawks figuratively – because Seattle was beginning to figure out how to get the big tight end involved. And Graham made his most spectacular catch of his Seahawk career earlier in the game. Now he'll be on crutches as he watches the Hawks try to make a run to the playoffs.
•••
• WSU: The Cougars fell out of the top 25 polls after Friday's blowout loss to Washington, which seems a bit extreme. Yes they lost by five touchdowns. But they lost without their quarterback, one of the nation's leading passers. Let's see how USC or Stanford or Oregon would do without their starting quarterback. Wait, we saw Oregon's results. They are a top-15 team with Vernon Adams, not much without him. Luke Falk should be back for the bowl game – more and more folks are reporting on the Holiday Bowl's interest in the Cougars, which I would consider a good thing – and the Cougars' offensive fortunes should return with him. ... There are also Pac-12 power rankings today, with WSU still pretty high up. ... Some breaking news: USC has hired Clay Helton as its football coach, removing the interim tag.
• Gonzaga: The Gonzaga women gave up the final seven points and lost to North Carolina in Connecticut, 67-62. ... Santa Clara finally picked up a win. ... BYU's Kyle Collinsworth set an NCAA record for triple-doubles, though it took a review of the video to make it official.
• EWU: The Eagles led much of the game, but South Dakota hit its final seven shots and earned a 77-71 victory in Sacramento. ... Host Sacramento State is 5-1.
• Chiefs: Spokane was tired Sunday after having played three games in the previous four days and it showed. Tom Clouse has the story of the 5-1 loss to Everett in the Arena.
• Seahawks: Even if the Hawks hadn't won yesterday, they played an exciting, AFL-like shootout. Is that a good thing? John Blanchette has some thoughts in his column. ... Did anyone notice the Steelers threw 59 passes yesterday? That's so odd. Not for them. They are a passing team these days after all, but for the franchise, which made its bones on being a beat-you-up, pound-you-into-submission team on both sides of the ball. ... With all the passes in the air, it's no wonder Sherman played well. ... Jeremy Lane was back after his gruesome Super Bowl injuries and he looked pretty good. So was the Hawks' passion and fire.
• Sounders: Portland tied in Dallas yesterday but that was more than enough to send the Timbers to the MLS championship match.
•••
• Anybody else out there already tired of Christmas music? Just kidding. It actually seems really cool to hear the carols everywhere we go. And will for a little while longer. ... We can't say goodbye until we say goodbye (at the end of the season) to Kobe Bryant. Until later ...
---
---