Thu., Oct. 1, 2015
There are not too many better sports months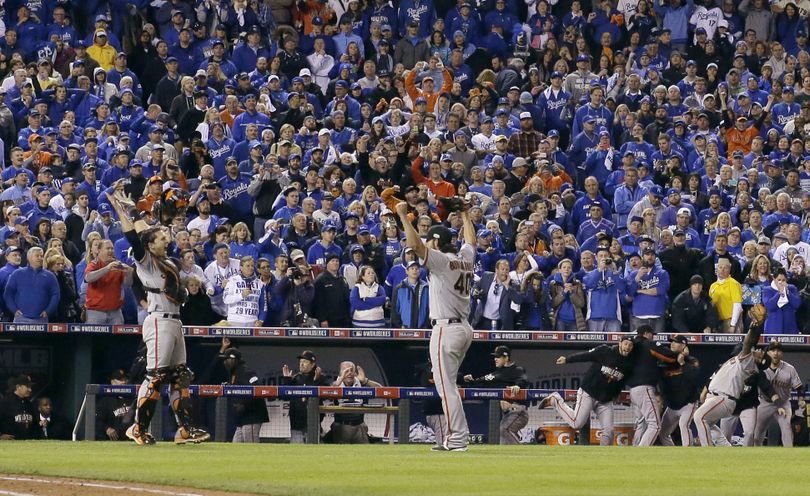 A GRIP ON SPORTS • It's October. What does that mean to you? Read on.
••••••••••
• When you are born on the most unique day in baseball history – for those of you who don't know, Oct. 8, 1956, the day Don Larsen pitched the only perfect game in World Series history, is also the day I came into this world – October means baseball. The World Series. If you are eligible to be an AARP member, you probably have memories of sneaking a transistor radio – Google it kids – into class just to follow the games. (Yes, the World Series used to be played during the day time, mainly because back then television audiences weren't more important than those folks in the stands. Or maybe it was because no one had lights. I can't remember. It must be the latter. After all, aren't those days referred to as the dark ages?) Or, if you were lucky, you had a teacher who wanted to know who was winning too, so the radio might be on in the background. It was just such a situation that lifted Sister Patrice to the top of my all-time grammar school teacher list. She was a baseball fan of the first order, so that one October of my sixth grade year we were able to listen to the Impossible Dream come crashing down in Boston. Believe it or not, I was a Red Sox fan that year, not because they were winning but because my Little League team was the Red Sox. And one of the kids on the team was Dick Williams' dentist. The Boston manager even hosted us on the field before a Sox game at Anaheim where I learned Rico Petrocelli was a great guy, Lee Stange took a massage before every game and Carl Yastrzemski (pictured) didn't want to be disturbed by a bunch of 11- and 12-year-olds before a game. But the World Series isn't the only reason October is a special sports month. The most competitive evening of any kid's youth is on the last day each year. Yep, Halloween is not just a day to rot your teeth. It's also a day to show the other guys how much you can collect. If you don't think Halloween is competitive, then you've never had your candy stolen by a pre-teen who used a melting ice cube as his weapon of choice. That was also the final year I went out with a paper sack and not a pillowcase. But there is more in October. Did you know the first live radio broadcast of a college football game occurred in October of 1921? Or that the 222-0 rout Georgia Tech administered on Cumberland in 1916 happened on Oct. 7? Heck, even the first football helmet was worn during an October game. So get ready for 31 days of the best sports has to offer, the baseball playoffs, college football showdowns and NFL games. And don't forget, college basketball practice begins this month too. It's a huge month. Though, after next Thursday, it's all downhill. At least for me.
•••
• WSU: Thursdays are usually packed full of various items and this Thursday is no different. Jacob Thorpe has his Pac-12 picks – he's on a roll this season – as well as an examination of the problems California's offense pose for the Cougars. From yesterday, there is a transcript of his live chat, a practice report and videos of interviews with assistant coaches Ken Wilson and Roy Manning. This morning, a post with links. Yes, typical. ... The Times' Stefanie Loh examines how the cost of attendance is affecting WSU's bottom line. ... One of the ESPN.com folks – the most important one – is picking a Washington State upset of the Bears. ... Oregon is still trying to figure out how its punt return team was fooled so badly. ... If you've been following Eastern Washington football and Vernon Adams, these stories come as no surprise. ... The 9th Circuit kept the core of the Ed O'Bannon ruling alive, but decided to excise the remedy ordered by the lower court.
• Gonzaga: Mark Few spoke with CBS Sports yesterday and said he was going to try to play his three big men at the same time occasionally.
• EWU: Offensive numbers are nice but Beau Baldwin's favorite numbers are the ones in the win column. Jim Allen has that and more in his notebook.
• Chiefs: The Portland Winterhawks lost a lot from last season. But they still expect to contend. ... The Silvertips welcomed their first player from their youth program.
• Preps: Yes, it is Thursday. Which means there is a Prep Page. And that Greg Lee has a column. This week it's on GSL football. ... Greg also has a feature on Gonzaga Prep running back Mason Plese (pictured). ... There is a notebook on the page as well as Greg's Pick Six with Sam Adams. ... Jim Allen covered a key GSL soccer match last night and that leads our roundup.
• Seahawks: Don't forget how bad off the Hawks were last season. That turned out pretty well, didn't it? Well, until that one play. ... It looks as if Marshawn Lynch's hamstring injury isn't all that bad. ... The new extra point distance is causing problems but hasn't affected a Seahawks game yet.
• Mariners: Want to examine the M's season in one game? Then re-watch last night's 7-6 loss to the Astros. I'll say it again. You win with pitching and defense. ... You won't be seeing Felix Hernandez the rest of the year. Yep, no more King's Courts. The marketing people must be ticked.
• Sounders: There was a scare at practice yesterday – or, as it is called in professional soccer, "training" – when Chad Marshall was injured and had to be taken off by ambulance. However, he said later, via social media, he was OK. ... It's time for some MLS power rankings.
•••
• If you are planning on once again sending me birthday gifts, please don't. I've been overwhelmed in the past with so many exceptional presents my house if overflowing. Though, thanks to my weight loss, I could use some new pants. Until later ...
---
---