WSU practice notes: Devonte McClain leads defense to Thursday Night Football win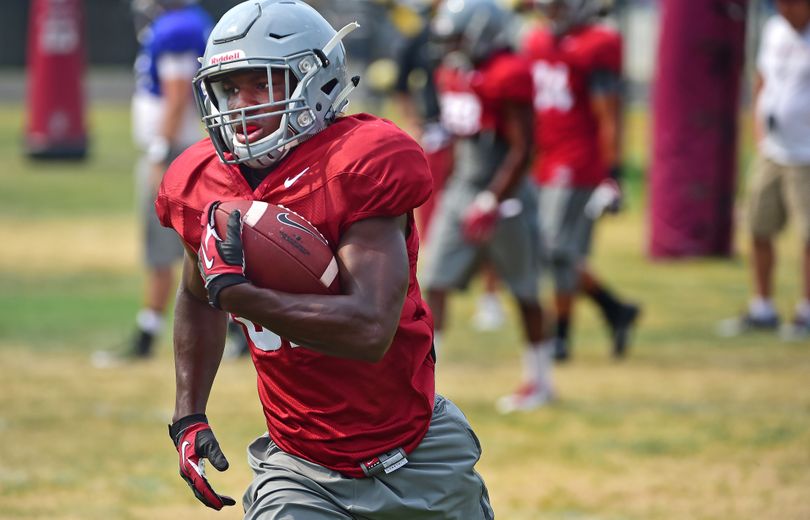 Devonte McClain came to Washington State to protect quarterbacks. He spent Thursday's practice assaulting them.

None of the three quarterbacks who led drives during Washington State's weekly underclassmen scrimmage were unaffected by the senior nose tackle. His first sack came at the expense of Peyton Bender, who could not find anyone open and stayed in the pocket a beat to long.

McClain got around his man after about three seconds and sized up Bender, who froze, before swinging his meaty arm like an ax down on the football, which was driven into the ground and rolled about 10 yards back from the line of scrimmage.

Once Tyler Hilinski took over, McClain made like Drake and went back-to-back with his sacks, getting to the freshmen before the receivers had any chance to get open, twice.

Christian Jorgenson stayed out of McClain's clutches, but guess who recovered Kyle Sweet's fumble after Dakota Sinchak ripped the ball away from the receiver? Yes, it was McClain.

Those big plays largely made the difference for the defense, which appeared to win the scrimmage. There were a few other plays that stood out, however. Calvin Green walloped Isaiah Davis to break up a pass and he did a good job recognizing a play and running up to the line of scrimmage to stop Davis for one yard on a quick-pass. Green still has some work learning the position to do before he sees the field, but when he knows where to go he gets there quickly.

Sinchak had the aforementioned strip but also one of the most blatant pass interferences you'll ever see.

On the offensive side, walk-on receiver Kaleb Fossum has struggled a bit this week with drops, which are pretty glaring since he's usually a very sure-handed receiver. That issue persisted today as his drop and one by Kyle Sweet were all that prevented Hilinski from completing six of seven passes. Hilinski was putting a pretty good drive together but McClain killed it with the consecutive sacks. After the second sack, Sweet dropped a third-down pass and was well short of a first down on his fourth-and-long reception.

Fossum atoned for his drop and them some during Jorgenson's session, however. After Aaron Porter sacked the QB, Fossum showed great concentration to complete a diving catch while he was being interfered with by Kyle Torres to give the offense, which was starting to stall, a 35-yard gain. He then caught a 10-yard pass on a drag route to get the offense to the goal line, where James Williams punched it in, completing what I believe was Jorgenson's first scoring drive this year. The offense got one more play and Jorgenson threw a touchdown pass to Fossum on a slant route.
We won't write so much about Williams, who is regularly the best player during these scrimmages, other than to say that the one-yard touchdown run was his only carry that went less for five yards. Running back Alijah Lee was impressive catching the ball out of the backfield, taking short passes eight and 15 yards.

The Cougars will have a short walk-through tomorrow morning that is closed to the media before flying to California for Saturday's 1 p.m. game at Cal.
---
---