Fri., Oct. 2, 2015
Spokane's Affeldt is retiring with an unmatched legacy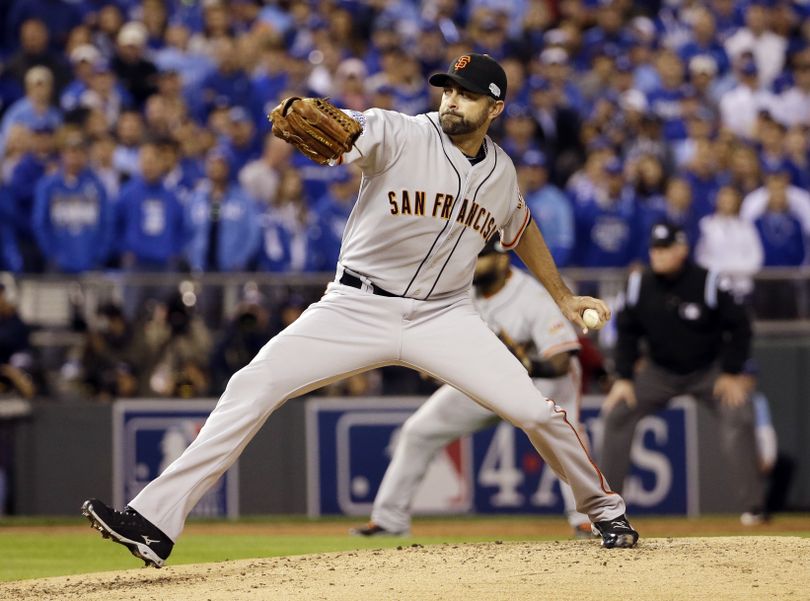 A GRIP ON SPORTS • One of Spokane's own is calling it quits at the end of this major league baseball season and that has me a bit sad this morning. Read on.
••••••••••
• Jeremy Affeldt may not be the most physically talented baseball player to ever come out of Spokane, but he's easily the most successful. That is, if you use team success as your metric. Ryne Sandberg is a Hall of Famer, but his Cubs never got to the World Series. Kevin Stocker played in a World Series (with the Phillies) but didn't win. If Affeldt had retired after pitching for the Royals and the Rockies, he would have equaled that accomplishment, appearing in the 2007 Series with Colorado. But his 14-year career didn't end there. Oh no. He's been with the San Francisco Giants since 2009 and in that span they have won three World Series titles. There is a correlation. How much of one? Well, the left-hander has a postseason ERA of 0.89, which is pretty darn good. And he'll always be remembered for his win in the seventh game of last year's Series against the team who drafted him, Kansas City. Affeldt was the story of the 2014 World Series. OK, I jest. Of course it was the exploits of Madison Bumgarner, who won two games and saved the final one. But Bumgarner wouldn't have had a chance for his final heroics if not for Affledt, who threw 2 1/3 shutout innings to bridge the gap between the starter and Mad Bum. That's what Affeldt did so well, bridge gaps. In baseball, that's crucial these days, what with the over-size importance and reliance put on bullpens. In an era when middle relievers are crucial to a team's success, Affeldt was one of the best. He's one of the handful of Giants who had a hand in winning all three rings. But that's not his only attribute. He's also adept at bridging gaps off the field as well. It is no surprise that Affeldt, who starred for Northwest Christian in the mid-1990s, is a Christian man who lives his faith. The most visible outgrowth of this is Generation Alive, a charitable organization Affledt and his wife Larisa founded in the past few years. The organization is charged with, according to its website, "instilling into young people that their compassion, their generosity and their energy are paramount in identifying and alleviating needs in their communities." It may not be as exciting as pitching with a championship on the line, but, in the long run, it should be more far-reaching. It's just another reason why, come Sunday when Affeldt retires from baseball, he will be feted as a team player and, most prominently, a winner.
•••
• WSU: As the Cougars prepare for California, Keith Harrington motors along on the practice field, doing what he does from his running back spot. Jacob Thorpe explains what that is, precisely, in this feature today. ... Jacob also has his Thursday night practice report, video of his interview with Clay McGuire and a morning post with links. ... The matchup in Berkeley can't match last year's in Pullman for excitement, can it? ... Though four schools have the week off, there is still much to watch in the Pac-12.
• EWU: With the football team taking the week off from competition, Jim Allen turns his attention to basketball, a sport in which Eastern is also the defending Big Sky champions. Jim Hayford lost much from last year's 26-9 team but he has a lot returning, as Jim's story shows. ... The Eagles were picked to finish third in both conference preseason polls. ... EWU is 3-0 in Big Sky volleyball action after last night's win over Southern Utah. ... There is a big showdown in Utah tonight between SUU and Weber State. ... Portland State is not surprised to be 3-0 despite the changes from last season.
• Whitworth: There will be a reunion of sorts this Saturday when George Fox visits the Pine Bowl. Tom Clouse has the story on former coach John Tully's return as well as the arrival of the Heisman Trophy for a visit.
• UFC: We can pass along this piece on Spokane's Julianna Pena.
• Preps: The weekend began last night at Joe Albi with Central Valley holding off Mead. Greg Lee has the story and Jesse Tinsley has the photographs. ... We also have a roundup of action in other sports.
• Seahawks: The Lions are coming to Seattle for a Monday Night showdown, but the guy everyone wanted to talk with, Golden Tate, wasn't available to the media. That's unusual in the NFL. ... Tyler Lockett was the best special teams player in the NFC the first month of the season. ... Will we see Marshawn Lynch this week? That's a good question. ... Darrell Bevell is trying to get Jimmy Graham even more involved. ... Jordan Hill is filling gaps on defense in more ways than one. It's something the Hawks always seem to find – or develop.
• Mariners: With no game Thursday, this morning we offer a couple of analysis pieces on the M's front office changes. ... Tonight could be Hisashi Iwakuma's final start as a Mariner. But probably not.
• Sounders: The Sounders may have dodged a bullet as defender Chad Marshall seems to have a sprained neck. It could have been worse. ... Portland continues to try to help itself in the playoff chase when it hosts Sporting Kansas City on Saturday.
•••
• It's going to be a busy weekend for yours truly. It starts today at 3 p.m. with a three-hour tour of the airwaves on the Patchin, Lukens and Osso show on 700 ESPN. You can listen here if you like. The Cougars are back on Saturday and I'll join Derek Deis for the postgame show call-in sometime around 4 or 5. Sunday is the day with the wife and basketball then it's back to the 700 ESPN airwaves on Monday afternoon. Until later ...
---
---