Another day game for the Cougars. Is this great or what?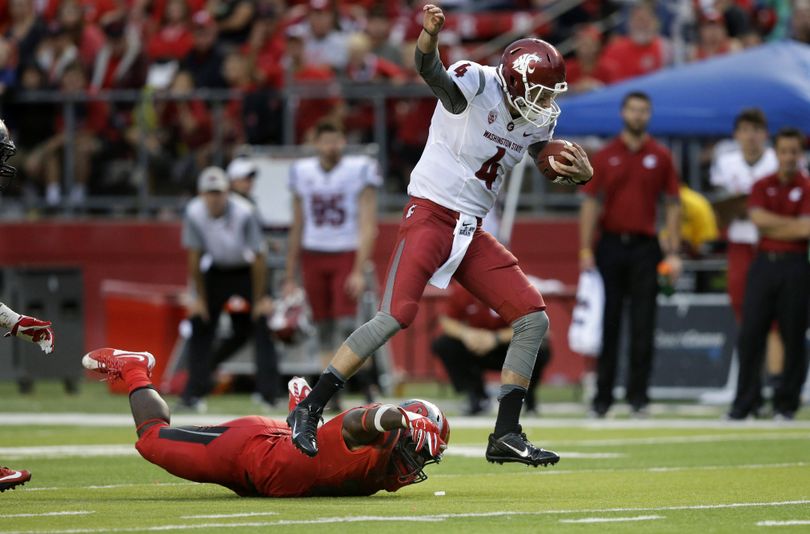 A GRIP ON SPORTS • The Cougars are in Berkeley today to face California. It is WSU's Pac-12 Conference opener. And it's right in the middle of the day. Is that cool or what? Read on.
••••••••••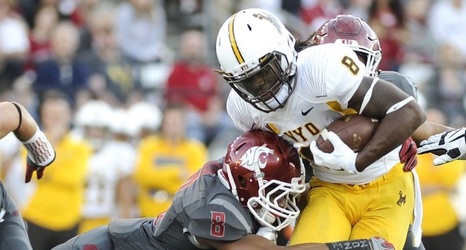 • OK, we've been loud the past few years in our criticism of the Washington State starting times. Yes, we know the school doesn't control them. They are dictated by the conference office in the Bay Area. (The conference offices are in the Bay Area? California is playing a home game that starts at 1 p.m.? Coincidence? Sure. No, really, it is. The Bears play their fair share of night games.) But it also seemed as if Washington State has been shuttled off to the latest start possible. Often. And the games would appear on ESPN8 or FoxSportsD or something. But that hasn't been the case this season. Well, at least not yet. The latest start for the Cougars through week five is the 5:30 start of the Wyoming game in Pullman – the start time for next week at Oregon has already been announced as 3 p.m. That's reasonable. And also likely not to last. My guess is the Oregon State game at Martin Stadium on Oct. 18 will begin just before the carriage turns into a pumpkin or sometime close to that. Let's hope the nice, warm fall weather continues.
• By the way, the approximate time of the Apple Cup has already been announced and it will be an early afternoon game (on a Friday, but whatever). Which means WSU has yet to be slotted into a night game and half the season has been determined. So what are the odds at least four the other six will start after 7?
• There are some really good games today – Texas Tech is at Baylor in a scoreboard-buster and an ego-bruised Alabama at favored Georgia among them – including three can't miss Pac-12 games: The WSU/Cal matchup; UCLA hosting Arizona State and Stanford doing the same with Arizona tonight. If you happen to be in the Bay, you could watch two games today in person. And still have time to stop at the Mountain View In-N-Out off 101 en route. Drive through, collect your Double-Double and then pull over just west of the building. There's some shade in the parking lot and a couple of good oldies stations you can tune in.
•••
• WSU: Of course Jacob Thorpe has been to In-N-Out already. It's required of the Washington State beat writer. But he also has fulfilled other requirements of the beat position, including an advance of today's game, lineups for the Cougars and the Golden Bears and a two-minute drill. He also has his morning post with links. ... We found a couple of WSU-related links to pass along, including advances from the San Francisco Chronicle and the San Jose Mercury News. ... It's Saturday and ESPN.com's Pac-12 blog has its mailbag. And here's another one. It's a two-for-one day. ... The Cougars had their first basketball practice of the season yesterday. Jacob passes along some pictures along with some funny cutlines.
• EWU: There was one Big Sky Conference game last night, with Southern Utah routing Weber State, 44-0.
• Idaho: The Vandals are in Jonesboro, Arkansas – actually, they stayed in Memphis last night – to face Arkansas State this afternoon. Found one tidbit interesting. The teams have one common opponent: USC. Both played the Trojans in Los Angeles. Idaho lost by 50, Arkansas State by 49. Yet, the Red Wolves are favored by 22 points.
• Whitworth: The Pirates soccer team remains unbeaten.
• Preps: Greg Lee spent another Friday night at Albi Stadium watching a GSL doubleheader. And, as has happened too often recently, both games were not close. Mt. Spokane built a 38-0 lead and defeated Ferris 38-14 while Lewis and Clark bounced back from its rivalry loss to the Saxons with a 38-14 win over North Central. Jesse Tinsley also has photographs from the two games. ... Gonzaga Prep continues to roll on, defeating Shadle Park 48-14 at home. Tom Clouse has the game story. ... A late field goal allowed Lind-Ritzville/Sprague to edge Northwest Christian 32-29 last night. That game leads our roundup.
• Seahawks: Today's Hawk report is brought to you by the number five, as in five questions and answers, and the number seven, as in seven things to know about rookie Tyler Lockett. ... Monday's game will be an alumni game of sorts for Golden Tate and Cliff Avril. ... Russell Wilson has been sacked often this season. He spoke about it. ... Doug Baldwin doesn't want to know what the Hawks' offense would be like without Marshawn Lynch. ... We may see it Monday and that would be Thomas Rawls' opportunity to shine.
• Mariners: Danny Farquhar is having a week to forget. The relief pitcher lost his fourth game in a week last night, this one 4-2 to the visiting A's. ... If the M's lose their final games, they have a good shot at finishing low enough in the standings to have their top draft pick protected, even if they sign a highly rated free agent. That would be good, right? ... You know the stomach pain Robinson Cano has been enduring? Well, he has a sports hernia and will have surgery when the season is over. But, honestly, isn't it over now?
• Sounders: If you love the NFL and tolerate the Sounders using CenturyLink, this story won't bother you. If you are a soccer purist, it will. ... Chad Marshall will miss Sunday's game with the Galaxy but should be back by next weekend. ... A couple of Sounders enter the Hall of Fame this weekend.
•••
• Sat in a movie theater with Kim last night and enjoyed the atmosphere of a crowded Friday night flick. We saw "The Martian." Enjoyed the heck out of it. Would highly recommend it. It's much better than "Robinson Crusoe on Mars." ... I'll be on the WSU postgame call-in show again today. I expect Derek Deis and myself to take the air sometime around 5. You can listen through the TuneIn Radio app. At least that's what I've been told. Until then ...
---
---