Mon., Oct. 5, 2015
Monday night games have always been fun in Seattle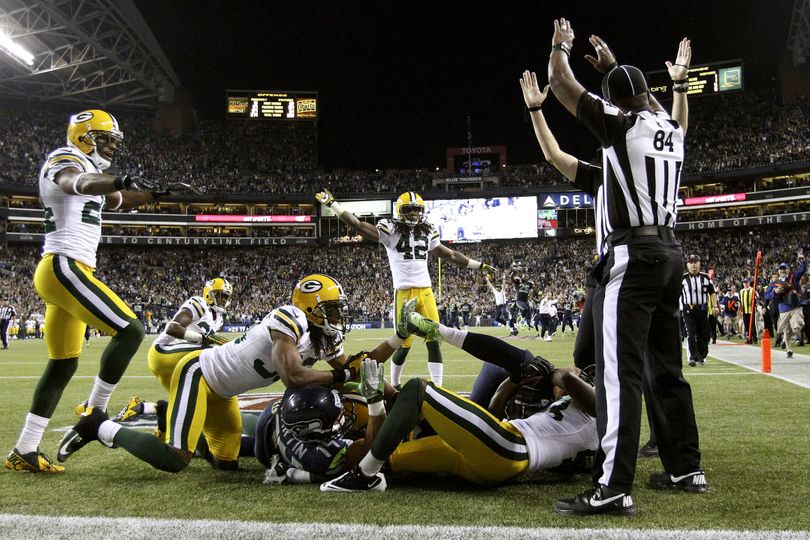 A GRIP ON SPORTS • Monday Night Football in Seattle. Think there is a possibility of another epic ending? Read on.
••••••••••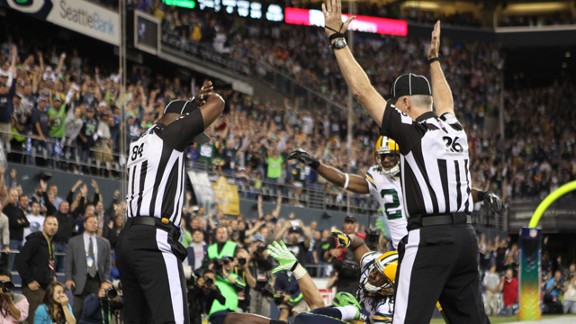 • Nope. Mainly because one ingredient is missing. Replacement officials. They made the ending between the Hawks and Green Bay a couple years ago the best ever. The comeback. The blatant Golden Tate push. His touchdown "catch." The two officials calling the play differently. The iconic pictures. The hullabaloo afterward. Nothing will touch the "Fail Mary." Nothing. But that doesn't mean there couldn't be a few fingernails chewed to the nub this evening. After all, both teams need a win in the worst way. The Lions are trying to avoid a season-destroying 0-4 start. The Hawks, after two tough road losses, can't afford any home upsets this season, not if they want to have any shot at hosting the NFC title game. Tate is back tonight as well (as a Lion) and I'm sure the 12s will shower him with ... well, something. I don't think it will be affection, but it might. Though his purported feud with Russell Wilson will probably preclude that. But who is on the field may be overshadowed by who isn't. The Hawks won't have Brandon Mebane up front and more-than-likely Bruce Irvin on the outside, thus considerably weakening the front seven's depth. But even more importantly, the Beast is out. Marshawn Lynch's hamstring is bad enough that he will miss tonight's game. That hurts in more than one way. Hamstrings are painful, quite possibly the most painful injury I ever had to endure. (When you are as blazing "fast" as I was, a pulled leg muscle takes away the one attribute you could always count on, being the first guy to the post-softball game tavern experience. A pulled left hamstring makes working a clutch nearly impossible.) And they have a tendency to linger if not healed completely. So the Hawks are doing the right thing, sitting Lynch down with the winless Lions in town. But it does make tonight's chore a bit tougher. Unless, of course, Fred Jackson and Thomas Rawls are able to step up and partially fill the gap. If they can't, then Russell Wilson may have to be the type of quarterback his contract extension purports him to be. You know, the guy who can win a game all by himself. Not literally, of course, but figuratively. It's something all high-end quarterbacks do once in a while. Wilson is capable of it, we're all sure of that. But it's a chore for a guy who has to do it with his feet as well as his arm. The more Wilson exposes himself via the run, the more the Hawks risk their most valuable asset. Judicious usually is the best adjective when it comes to Wilson's running attempts. But that may not be possible tonight, especially if the game is close in the fourth quarter. Maybe Lance Easley can step up and help out.
•••
• WSU: The Cougars returned to practice last night in Pullman and Jacob Thorpe was there. He has a look back at Saturday's loss at California as well as a summary of Sunday night's light practice. This morning he has a post with links. ... The soccer team led by two goals, saw UCLA tie it up then pulled away for a 4-2 home win yesterday. ... Back to football, the AP top 25 was jumbled a bit this week with Utah taking a big jump despite not playing. ... ESPN.com's Pac-12 blog sees the Utes in the national playoffs. ... WSU is 10th in the blog's Pac-12 power rankings. ... Next up for WSU is Oregon in Eugene. The Ducks may just keep rotating quarterbacks until Vernon Adams is healthy. No matter. It's all about their running game now.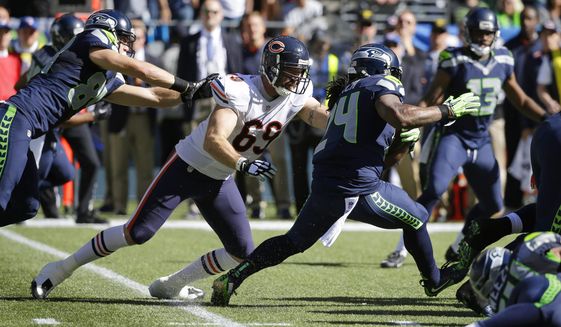 • Seahawks: No Lynch. No Mebane. Probably no Irvin. No problem? We'll see. ... The offensive line will need to step up tonight. ... The first halves have not been kind to the Hawks offense this season. ... The Lions have a tight end that could hurt Seattle. ... What are the keys to the game? ... This story about ticket sales is pretty darn interesting.
• Mariners: Just like the M's. They lose by winning. Yes, they finished the 2015 season with a victory, 3-2 over Oakland thanks to Seth Smith's two-run dinger in the eighth. But the win means the M's will have the 11th pick in next June's draft. The top 10 picks are protected. If the M's sign a top free agent, then they'll have to forfeit their first-round selection. Great. ... Will Lloyd McClendon be back? Flip a coin. But I would bet the house Edgar Martinez will be no matter who is manager. ... McClendon can pinpoint when the season went south. ... Jeremy Affeldt had a tearful goodbye ceremony yesterday.
• Sounders: Things looked dark for the boys in black and green last night. They trailed the L.A. Galaxy by a goal and time was winding down. Then Chad Barrett, who was in the press box enjoying a soft drink before the match and only was activated due to a warmup-time injury, found the ball and knocked it into the net for a 1-1 draw and an all-important point. ... The playoff race will go down to the wire, which means Seattle's new-found toughness will be needed. ... There could be an attendance record set again this season. ... Real Salt Lake earned a huge three points yesterday.
•••
• We are back on the radio this afternoon, joining Rick Lukens and Keith Osso from Northern Quest for today's show. We'll talk Seahawks – a lot – and Cougars – a lot, as Jason Gesser joins us. Maybe I'll even mention the M's. You can listen here from 3 to 6 if you like. Until then ...
---
---