Thu., Oct. 15, 2015
As the leaves change colors, so does the tone of baseball games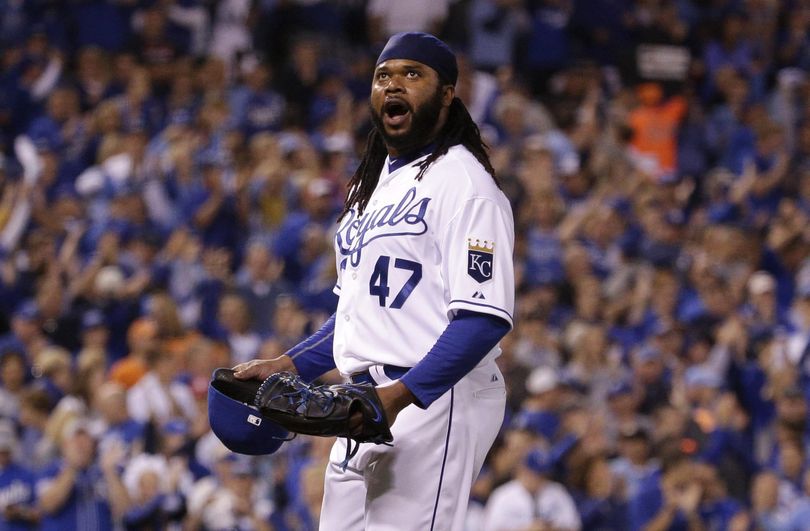 A GRIP ON SPORTS • Autumn has started to assert itself around here. The trees are exhibiting colors not seen in many months. The pickup has a film on the windshield in the morning. And the baseball games seem to have higher stakes. Read on.
••••••••••
• As the football season wears on, the baseball season nears its end. And players start to act like idiots, all in the pursuit of the elusive ring. Want proof? Just re-watch the seventh inning of last night's 6-3 win in Toronto. The Blue Jays advanced to the American League Championship Series thanks to a combination of luck, power and, yes, idiocy. Let's exam the last one first, because there was plenty to go around for everyone. In the top of the inning, former Spokane Indian Rougned Odor – when you Google any Ranger these days, the phrase "former Spokane Indian" needs to be attached – scored the go-ahead run when Blue Jay catcher Russell Martin's lob throw back to the pitcher made contact with former Mariner Shin-Soo Choo's bat. That's an important distinction. If Choo's bat had made contact with Martin's throw, had initiated the contact, then the ball would have been dead. But Martin's throw hit basically a stationary object, meaning the ball was live and Odor could scamper home. I would like to say I've never seen that before but, sadly, I have, with yours truly in the Martin role. Let's move on. Mainly to umpire Dale Scott, who, in replays I've seen, obviously killing the play while the ball is still rolling and Odor is just beginning to head home. Scott admitted to screwing up the call and calling time – except he didn't. Kill the play, I mean. If he, as he said, called time while the play was still occurring, why was Odor allowed to score? My understanding is nothing that happens after the umpire ends should be allowed to stand, replay or not. A conundrum, for sure. But, luckily for baseball, it didn't matter. The Rangers saw to that, making three consecutive errors to open the bottom of the seventh. Yes, you read that right. Three consecutive errors. That's the luck I was referring to. But idiocy reasserted itself on the next play. With the bases loaded and none out, Ben Revere grounded to first. The throw to catcher Chris Gimenez beat pinch runner Dalton Pompey for the force and Pompey did what Chase Utley did the other day: slide hard to break up the double play. Except Pompey, like Utley, slid a bit too hard. And in the wrong place. He aimed at Gimenez's front leg, not his back as base runners have been taught for more than 100 years. By sliding at Gimenez's front leg, all Pompey looked to be doing was what Utley ultimately did, injure the fielder. But this not being a game with a New York team and being Gimenez luckily survived the bush slide, there isn't a media storm this morning. And a double play wasn't called, which might have destroyed the Blue Jays' momentum and its stadium, as the Toronto fans were in no mood for another controversial call. Instead, ultimately, Toronto's power asserted itself two batters later when Jose Bautista crushed a ball and watched it lovingly leave the ballpark. Then he tossed his bat higher than the CN Tower. By the time the bat came down, seemingly, there had been a couple of bench-clearing confrontations, a couple of quiet Ranger offensive innings and Harold Reynolds using 4,739 different adjectives for "great." Isn't autumn baseball "wonderful?" Or "fantastic" or "magnificent" or "superb?"
•••
• WSU: So is autumn football. Washington State hosts Oregon State on Saturday in a rite of fall, homecoming, and Jacob Thorpe will be there. Me too. But Jacob is actually doing some coverage work during the week, and yesterday was filled with "brilliant" items, including a feature on Luke Falk, Jacob's game picks, his practice report, news on the award front about Falk and Gabe Marks, post-practice video from Mike Leach and Alex Grinch as well as a morning post with links. Did I miss anything? Yep, Jacob held a live chat yesterday and here's the transcript. ... Oops, one more. Today is the Pac-12 basketball media day and Jacob will cover it on the blog. ... Maybe the media event should move next year. ... You like picks? Here are some more. ... There were some weird calls in last week's games but Pac-12 vice president of officiating David Coleman is willing to explain them. And, yes, the officials did screw up Royce Freeman's touchdown. ... There are also a couple of stories on ESPN.com's Pac-12 blog concerning the Cougars and Oregon State. ... The Seattle Times' Stefanie Loh has a feature on safety Shalom Luani.
• Gonzaga: Jim Meehan has a feature in today's paper on new Zag point guard Josh Perkins, who can score when he has to. ... USF is in transition – again – and coach Rex Walter is trying to mold a team. ... Nate Austin is grateful to be back on the court. ... Could March Madness turn into May Madness? And would that be better for the players?
• EWU: It's Thursday, so Jim Allen has a Big Sky notebook, looking at the growth in Idaho State's quarterback. ... Portland State's Bruce Barnum was given a five-year contract yesterday, causing his players to go nuts with excitement. It must also mean the school has decided to keep football.
• Whitworth: Rivals Whitworth and Whitman drew in their women's soccer match yesterday.
• Chiefs: Spokane released 20-year-old goaltender Garret Hughson yesterday. ... The new 3-on-3 overtime format has taken some time to get used to. ... Prince Albert finally broke out Wednesday night in the Tri-Cities for a 5-3 win over the Americans.
• Preps: There is a football player at U-Hi who has a great lineage, one I remember well. Greg Lee has a feature on Clark Barrington. ... Greg also has his weekly Pick Six feature, only this week Sam Adams is on vacation. ... Wednesdays are a big day for cross country and yesterday was no different. We have this roundup. ... It's also a big day for soccer and Jim Allen covered Ferris' come-from-behind win over Mead.
• Seahawks: Darrell Bevell met the media yesterday and explained a good many things from Sunday's late loss to Cincinnati. ... The Hawks are going to be extremely limited this week due to injuries. Including quite possibly having to do without middle linebacker Bobby Wagner. ... Kam Chancellor wants to play better though Pete Carroll will always have his back. ... The once consistently dominating Seahawk defense doesn't do it as much anymore. ... Michael Bennett, as is his way, had a lot to say yesterday. ... Do not invite Jon Ryan and Brian Billick to the same party.
• Mariners: The shakeup with the M's front office isn't going to be a complete one. Jerry Dipoto is keeping some folks. ... Maybe it wasn't just Dipoto who felt Mike Scioscia's assistant coaches needed changing.
• Sounders: It looks as if Clint Dempsey will be fully ready for Sunday's match. ... Portland needed a win in the worst way yesterday and the Timbers got it, 1-0, at Real Salt Lake. But can the Timbers continue to compete in the MLS upper echelon without big-name stars?
•••
• We will be spending three hours this afternoon talking sports on the Patchin, Lukens and Osso show. You can listen here from 3 to 6 p.m. Until then ...
---
---