Thu., Oct. 22, 2015
Once again, it is the fans that lose out
A GRIP ON SPORTS • Once again yesterday evening I realized I retired about five years too early. Or maybe not. Read on.
••••••••••
• Yesterday evening Jacob Thorpe put this post up on the SportsLink blog. It covers the Spokesman-Review's policy going forward concerning the coverage of Washington State football practice. Or to be precise, the lack of same. The S-R will no longer cover football practice from start to finish because of WSU's demands. Seems the Cougar football staff feels the in-depth coverage puts it at a competitive disadvantage vis-à-vis its opponents. Well, that explains the past decade or so. The word from the WSU defensive coaches: Make a change or we will not talk with you anymore. OK, then. But really, I could only think of one thing. Looking back at all the hours I spent in blazing heat or freezing cold, in driving rain and cutting winds, watching the same freaking drills over and over and over, my first thought was, why couldn't this have happened earlier? I might have stuck around another 10 years. After all, WSU fans don't need to know what's going on with their football team, do they? They really don't care if a second-string tight end is healthy or not, do they? Of course they don't. If they did, there would be lots of web traffic on places like this and pay-to-read websites devoted to football coverage would actually exist. Wait, both those things are true? You mean Cougar fans actually care? But what the fans think really doesn't matter, does it? After all, if it did, games wouldn't start at 7:30 on Halloween night, when young parents wouldn't have to choose between being with their children on a special night or at a game. And coaches would be encouraging and open answering questions about their team, letting those who pay the bills through donations and other forms of support appreciate the ups and downs of the program. But we understand it is all about winning football games. That, and only that, is what matters. So if coaches feel knowing defensive lineman Robert Barber probably won't play this weekend is an advantage for Arizona, than heck ya, let's limit the information. Of course, if the Wildcats really wanted to know such things, there is nothing stopping a UA fan from walking around practice this week, noting who and who isn't practicing and passing that information along. And if you don't think that happens in college football, I've got some beachfront property in Arizona to sell you. If they really want a level playing field, then coaches should push the Pac-12 Conference to mandate injury reports, as the NFL does. And allow the conference to discipline coaches for false reports. By keeping secret such things, all coaches do is help gamblers - and give themselves a false sense of security. Last week, long before any reputable news organization reported it – or Oregon acknowledged it – gamblers knew quarterback Vernon Adams would start for the Ducks in Seattle. They made wagers based on that information. It's their livelihood, so they are going to do whatever it takes to gain an edge. The same could be said for coaches. If gamblers were able to unearth this information, then the Husky staff had to have had the same data. Yet the average fan was kept in the dark because the Duck practices are closed and injury information is a state secret. How did that work out last week? Not too well. But any perceived advantage – or disadvantage – is the Holy Grail for football coaches. And like the over-the-edge knights of old ("it's just a flesh wound ..."), they are in constant search for it. Nothing else matters. Except winning, of course.
•••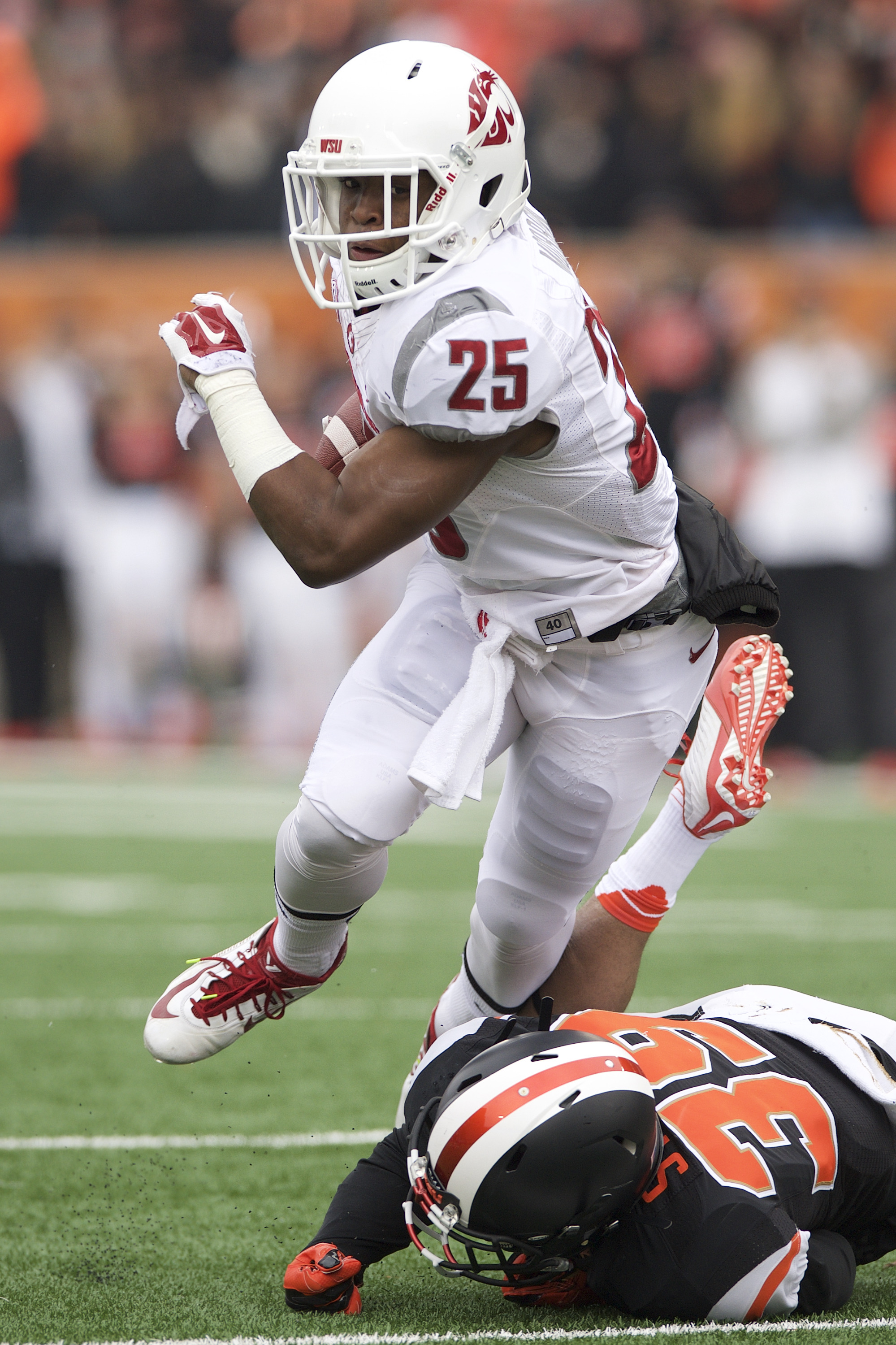 • WSU: Let's see what's on the docket. Jacob has a story on Jamal Morrow's resurgence at running back (Morrow is pictured at right), his Pac-12 picks – he had a great week last week – and a transcript of his live chat yesterday. There is also video of interviews with Roy Manning and Mike Leach and a morning post with links. ... The folks at ESPN.com's Pac-12 blog have WSU's back this week. ... They also think the Apple Cup will be really important. ... Arizona's defense is expecting the unexpected from WSU. For the live of me, I don't know why. Leach's offense is pretty simple. Find the open space, pass the ball there and let the receiver go catch it. ... A couple of Cougars are on this Pac-12 mid-season team. ... Late night starts are frustrating for a lot of people. So are power rankings.
• EWU: Jim Allen has his Big Sky notebook today and will hold a live chat this morning. Jim also has a morning post with some links. ... Don't miss this Ken Goe story on Portland State's road trip this weekend. I've done this before (taken a bus trip for thousands of miles with a college athletic team), though it was 30 years ago and it was punctuated with stops in Las Vegas, Reno, Davis and Palo Alto for baseball games. And it came over spring break.
• Chiefs: The only thing that worked as poorly as the Zamboni between the second and third periods was Spokane's scoring in a shootout. The Chiefs lost the lead and the game to Brandon after the breakdown. Tom Clouse has the story and Jesse Tinsley has the photographs of the 4-3 defeat. ... Seattle got past the Americans 3-2 on the West Side.
• Golf: The area pros went down to defeat at the hands of the area's amateurs. Really? Jim Meehan has more in this story.
• Preps: It's Thursday, so we have a handful of interesting items to pass along, none more interesting than Greg Lee's column on the passing of Henry Hamill. ... The GSL cross country regular season is over and a couple of squads finished without a defeat. Greg has the story. ... To continue doing something she loved, Lewis and Clark's Katie Thronson (pictured) had to relearn how to do it. Greg has more in this feature. ... Greg and Sam Adams are back together with their Pick Six. ... The Gonzaga Prep students are raising money for Steve Gleason's charities. ... Post Falls coach Jeff Hinz will be front and center in another fund-raising effort this week.
• Seahawks: The 49ers are on the schedule tonight. Should be fun. Both teams need a win in the worst way. ... The short turnaround might be a blessing. ... As bad as this season has gone – and it has gone poorly, that's for sure – it could be a lot worse, considering how poorly the team's running backs have been driving. ... There will be a change on the offensive line, again. This one is due to injury. And another change at linebacker, due to health. ... There is one way to make sure the Hawks finish. ... Richard Sherman hasn't been himself this season. Could it be because his role has changed?
• Mariners: The M's have made some hires in the front office. They aren't sexy but they are important. ... I know one faithful reader of this column who will be really happy about this news.
• Sounders: The Sounders will get the top seed and defending champions in the Champions League quarterfinals. ... Another season, another attendance record for Seattle. ... As the playoffs near, we can pass along power rankings. ... Brad Evans, a proud UC Irvine alum, is a humanitarian. ... Portland still has some work to do to make the playoffs.
•••
• A Thursday night Seahawks/49ers game. Nothing can top that, right? Wait, it's not 2013? Ah well, it still should be fun. And if San Francisco wins? Time to hit the panic buttong. Until later ...
---
---