Thu., Oct. 29, 2015
Don't have a cow over today's post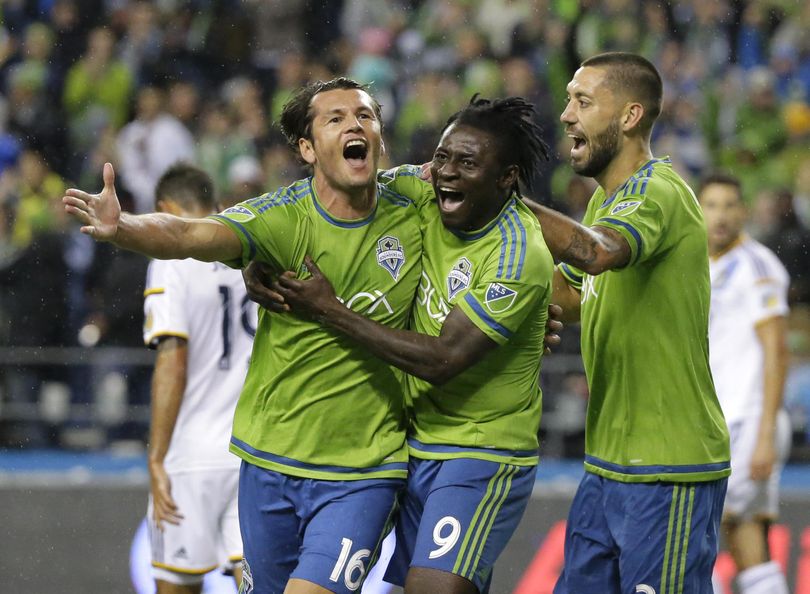 A GRIP ON SPORTS • There are terms that used to be popular back in the day – does anyone say 23 skidoo these days? – and aren't anymore. People use them and others, mostly younger, look at them all askance. We have one we still like, though, no, it is not "far out." It's hodgepodge. Read on.
••••••••••
• Hodgepodge. A good term to describe today. That's what happens when the end of baseball season, the beginning of basketball and the middle of football all intersect. There was a World Series rout last night. There was another All-America team announced in the morning. There is always something going on in the football realm. And in the game the rest of the world calls football, there was a playoff game in Seattle. Yep, that's what I would call a hodgepodge. And we'll try to make a tasty dish out of it all this morning.
• A personal obligation kept me out of the house last night and I didn't get the television turned on until the post-game interviews. But as far as I can tell, I didn't miss much. Especially concerning the Mets. Johnny Cueto and the Royals took care of that, winning 7-1 and sending the Series back to New York with Kansas City up 2-0. Royal fans rest easy You have the better team. This is your year. It will be over quickly. The ratings being what they are, a sweep would be just what the Fox folks ordered. Actually, the more games the better for the TV types. But if people are only watching in Manhattan – both Kansas' and New York's – does it really matter?
• Remember when Adam Morrison was the story over at Gonzaga? When the Mead High alum went from obscurity to a player of the year candidate? Yes, it seems like a long time ago. But the same concerto is playing again in the McCarthey Center music hall. The Zags have one of the most prolific scorers in the nation coming back and he's earning lots of preseason honors. Kyle Wiltjer may be an inch or two taller than Morrison but his game is similar. On both ends of the court. And the results are similar as well. Which means the Zags will not only win a lot of games in 2015-16, they will also garner lots of national headlines. As the late Yogi Berra might have said, "it's déjà vu all over again."
• Another way to garner national attention? Win. After a long hiatus, Washington State is learning that lesson once more. John Feinstein, he of the 36-inch waist (it's an inside joke), figured out how to punch 5-0-9 into his crackly cell phone and interviewed Mike Leach this week. Why? Well the last time there was an opening at Maryland, Under Armour owner – and Maryland booster – Kevin Plank, an alum, made it clear it wanted Leach in College Park. He didn't get his way. Then. Now, it may be another story, though Leach and his staff seem perfectly content in Pullman. We'll see.
• We call it soccer. Other folks – and by that, I mean everyone else in the world outside the U-S-A – call it football. But that's not the only difference in how we view the game the rest of our planet reveres above all else. Our professional league, the MLS, holds end-of-the-season playoffs. That's also unusual. And American. Those playoffs started last night and the Sounders, a team that at one point seemed to be the favorite to dominate the league, survived a play-in game with their playoff nemesis, the L.A. Galaxy, 3-2. All is right in our little corner of the soccer world.
•••
• WSU: Luke Falk is in the news again – being as prolific as he's been the last three games, that will happen – but he doesn't know it. According to Jacob Thorpe's story today he doesn't let all the hype affect him. ... His play has helped the Cougars' rise up in Jacob's power rankings and now Jacob is picking the Cougars to beat Stanford. ... Jacob also has a lot of stuff on the blog, including the second part of his series on in-season weight training as well as post-practice interviews with Leach, Clay McGuire and Alex Grinch. There is news on Dom Williams and a morning post with links. And a transcript of the live chat Jacob held yesterday. He did have an oversight in that live chat. He used my second-best sign. The best one I would have made for GameDay: "All things considered, I would rather be in Philadelphia." W.C. Fields was a drinking buddy of mine from back in the day. ... Most everyone is picking Stanford as well. ... The Cougars have lost twice, so there is a blueprint, isn't there? ... The Cardinal are a little thin up front defensively. That's depth, not size. ... More power rankings, this one with WSU a bit lower than others.
• Gonzaga: Besides the Wiltjer news, we have another All-American – and top-25 – ballot to pass along.
• EWU: Jim Allen looks at Weber State quarterback Jadrian Clark in his Big Sky football notebook. ... The Eagles have taken the interim label from volleyball coach Michael King and gave him the job permanently.
• Idaho: The Vandals are dealing with some injuries and a discipline problem at wide receiver, which have cut into their depth. Sean Kramer looks at the position with this in mind. He also talked with coach Paul Petrino about the aforementioned discipline problem.
• Chiefs: Spokane wasn't in action last night but Everett was – it lost – as was Portland and Tri-City. The Winterhawks handed the Americans another defeat.
• Preps: Cameron Gay (pictured) has been a staple in Lakeside's offense since his sophomore year. Greg Lee has this feature on the quarterback who has rewritten the school's record book. ... Greg and Sam Adams have their weekly picks. ... Fall sports are winding down, with Idaho holding its state cross country championships this weekend and Washington moving into regionals in some sports. Greg has stories on both.
• Seahawks: Everyone knows Michael Bennett wants a new contract. He's said it often enough. But instead of holding out, his strategy was always to play – and play so well the Hawks are forced to make him an offer. So far it's working. ... If Dez Bryant plays this week – he's expected to – he'll probably see Richard Sherman lined up across from him all game. ... Russell Wilson may not be the No. 1 quarterback in the league but he is the No. 1 apparel salesperson. ... Matt Cassel and Pete Carroll have a history. ... K.J. Wright is starting to get the recognition he deserves. ... The offensive line is about half of what it should be.
• Mariners: Nelson Cruz is getting recognition for his outstanding season.
• Sounders: From all accounts, it wasn't the prettiest examples of "the beautiful game," but playoff matches rarely are. Too much on the line. The bottom line: Seattle won, 3-2, on a late goal from Erik Friberg, to move on. ... The win eliminated the Galaxy, Seattle's unconquerable hurdle in the past. ... Everyone in the Sounders locker room was happy. The Galaxy felt as if they gave it away.
•••
• There is your morning stew for this Thursday. I hope it hits the spot. Until later ...
---
---