Sun., Sept. 27, 2015
A Saturday spent watching college football is never a wasted day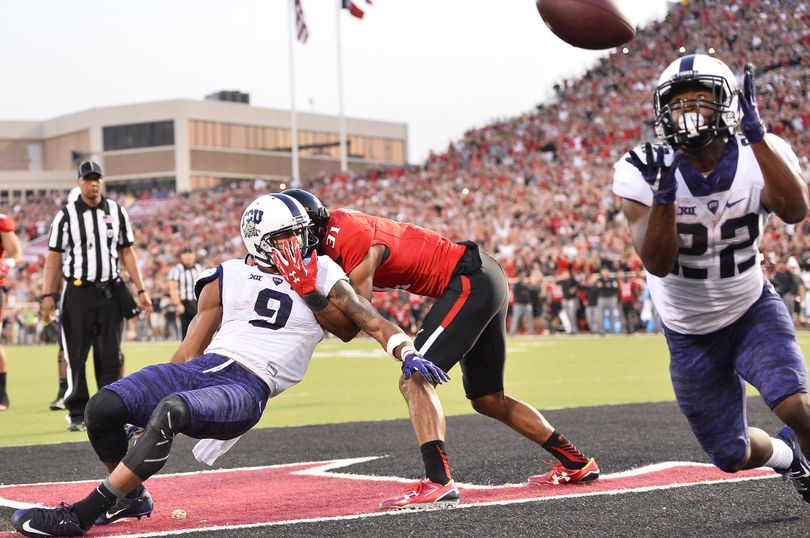 A GRIP ON SPORTS • Spent much of the day yesterday watching college football. And there was a lot of unexpected stuff to see. Read on.
••••••••••
• Yes, Saturday was mostly a college football day. A long walk in the morning, a trip to the store and some chef time in the evening – the meat loaf was to die for, though the asparagus was a bit over done – took me away from the TV or the radio for a little. But that's it. And here's what I saw, in a succinct form ...
• The Cougar flag was there in Tucson, right behind Lee Corso's head, as it should be. ... Five games started at 9 a.m. and none of them were worth watching. ... If Bill Moos really wanted to make a statement when Mike Leach's tenure is over – whenever that is – he should lure Jim McElwain back to the Inland Northwest, where he really belongs. ... Jared Goff is really good. And the Huskies are better than expected. Yet, UW is probably too young to be a force on the road in the Pac-12 this year. At home, uh oh. ... Where is the Apple Cup this year? ... Did TCU actually win that game in Lubbock? Or was that just another West Texas mirage? ... Paul Perkins is really good too. And the Bruins showed more toughness in one night in Arizona than they might have shown in all of the Rick Neuheisel years. ... Writing USC's obituary was premature. Though Sark should bury any more attempts at a "high butt cheek" or whatever you call that ballet move in which he points to the air and one of his players jumps and they hit butt cheeks. It's an injury waiting to happen for the USC head coach. ... I'm sorry, but Utah isn't that good. Can't be. Though maybe the Utes are. Because the Ducks can't be that bad, can they? Everyone knew the defense would be suspect, but to be gashed like that seems unexpected at the very least. The offense is always supposed to be good but it wasn't last night. Part of that lies squarely with Mark Helfrich and offensive coordinator Scott Frost. Yes, Vernon Adams wasn't sharp. But he must have proven all week at practice he was the best alternative or you wouldn't have started him, right? To pull him so quickly seemed desperate – and wrong. Jeff Lockie did give the offense a spark – until he started throwing the ball to Utes. So why not pull him and go back to Adams? Not sure there's a good answer unless Adams is hurt. Then starting him was a mistake. Remember, if you have two starting quarterbacks, you really have none. ... Eastern Washington could have used a spark in the first half last night. Listening to Larry Weir and Paul Sorensen, there seemed to be something missing before halftime. Whatever it was, it was there after intermission. Maybe it was simple as just throwing the ball the Cooper Kupp more. ... When the day started it seemed as if the slate of games would be less than mesmerizing. But college football came through. Again. It always does.
•••
• WSU: Though the Cougars didn't play, Jacob Thorpe was still in a stadium press box. Husky Stadium's press box. He has a WSU-themed story from the UW game – that's a bit sacrilegious, isn't it? – as well as a morning post with links. ... John Blanchette, in Seattle for the Hawks' home opener, stopped by Montlake too and has this column. ... We focused on opinion pieces from around the conference, from the woe-are-the-Ducks columns from Portland and Eugene to the life-is-good columns from Salt Lake City and its environs. We have the happy totals from Los Angeles and the world-is-ending thoughts from up and down Interstate 10 in Arizona. Oh, and some thoughts out of Seattle where California survived a game Husky team.
• Gonzaga: The volleyball team is on a roll as WCC play rolls on.
• EWU: Jim Allen was in sunny and warm Sacramento for the Eagles' 28-20 Big Sky Conference victory. He has a game story and a notebook from last night. He also has a post this morning with conference-wide links.
• Idaho: At halftime, the Vandals were in their home game with Georgia Southern At the end of the game, they were not, losing 44-20. Sean Kramer has the story.
• Whitworth: The Pirates went on the road and defeated Chapman, a former employer of mine some 35 years ago, 37-7. Chapman never lost a football game that bad when I worked there. Of course, it didn't have a football team then.
• Chiefs: It was only one game, but the Chiefs seem to have some young talent coming up through the ranks. One of them, 16-year-old Jaret Anderson-Dolan had a hat trick last night in the WHL-season-opening 6-4 win over Tri-Cities. Chris Derrick has the story.
• Preps: It's Sunday morning, so we can pass along a roundup of Saturday's prep action.
• Seahawks: So the Bears are in the Northwest today. What should we watch? ... Who am I trying to kid? We should watch Kam Chancellor, right? He's the guy expected to give the 0-2 Hawks the kick in the butt they need. ... Poor Dion Bailey. He starts the opener and is cut by the third game.
• Mariners: The M's had lots of opportunities to give Felix Hernandez a bigger lead in the King's quest for his 19th win. But they didn't. Mainly because Mike Trout made a play that looked like a photo negative of one of Ken Griffey Jr.'s plays. The right-handed Trout climbed the fence and took a sure three-run home run away from Jesus Montero, allowing David Freese to win the game in the bottom of the ninth, 3-2. ... With Toronto clinching a playoff berth, it's official. The M's are the worst franchise in major league baseball right now (as measured by the longest playoff drought). ... Nelson Cruz isn't 100 percent healthy. He's just hitting like a guy who is. ... Angel closer Huston Street hurt himself last night.
• Sounders: Seattle sure could use the three points available in the match with Sporting Kansas City today. ... Portland picked up the three points it needed last night.
•••
• That's it for today. You watching the Hawks today? I know, a stupid question. The weather is too nice for that. Until later ...
---
---