Sun., April 3, 2016
The greatest week in sports is upon us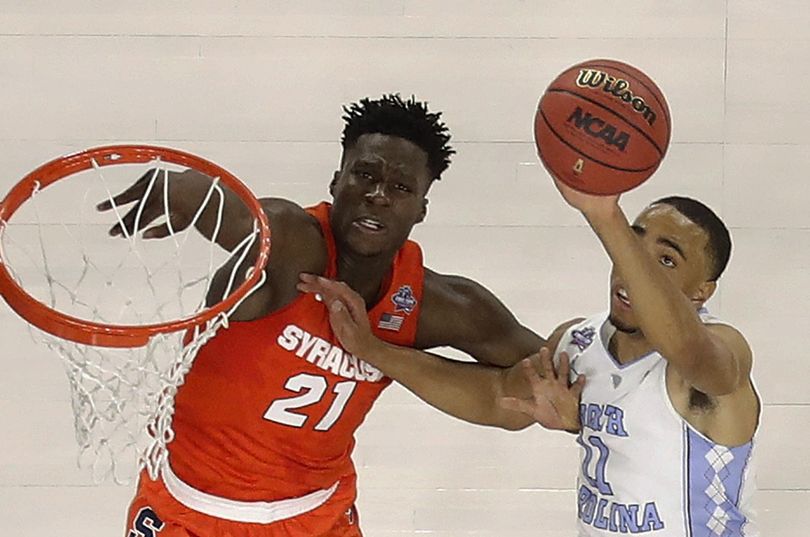 A GRIP ON SPORTS • So what's happening in the world of sports this week? I don't know. Maybe a little bit of everything. Read on.
••••••••••
• One of our local sports broadcast veterans tweeted yesterday that the upcoming week is the best sports week of the year. (I won't rat him out other to say he's the only one in the area named after a founding father.) Funny thing, he's right. Even after yesterday's semifinal routs – in a season when no one thought there was a dominant team, isn't it weird we get two of them in the Final Four? – the NCAA title game would make a week great all by itself. But there is more. Much more. Opening day. (No need to list the sport, everyone knows.) The Masters. (No need to list the sport, everyone knows.) And, as a bonus attraction today, there are two Northwest schools – Oregon State and Washington – in the Connecticut Invitational, aka, the women's Final Four.
• Sure, the prevailing wisdom is, in a season of parity, North Carolina had the potential to be that dominating team. And the Tar Heels were just that yesterday, dominating Syracuse en route to an easy semifinal win. But don't sleep on Villanova. I did yesterday. Literally. I decided, after finishing the yard work and having a way-too-heavy lunch, to take a nap. I awoke at halftime. The first game of the day was basically over. The Wildcats were well on their way to second-best shooting game in Final Four history and, actually, Villanova's second-best shooting game in Final Four history. (If you weren't around for the 1985 final, try to find a tape somewhere. It's worth it. What a dissection.) Monday night's final has the potential to be something special, especially if the Cats can shoot something like that again.
• Speaking of Monday, for a few years it was my favorite day on the calendar. I would work in the morning, then bail before noon and head to a local watering hole. The afternoon would be filled with adult beverages and what was then baseball's opening day, watching games from Cincinnati, Chicago, Atlanta, New York, wherever. (There was a few years there opening day and the NCAA title game coincided, along with the Academy Awards, if my memory serves me.) My job was to hold down a table for a few friends. They would start wandering in when school got out and the workday ended. By the tipoff of the NCAA title game, the table would be overflowing, my butt would be sore and my mind a jumble. Remember Indiana's one-point win over Syracuse in 1987 or UNLV's demolition of Duke in 1990? I really don't. I watched them both the later on VHS tape. I watched live, sure. I just didn't remember them. Thankfully, Kim always came to pick me up.
• Thursday begins my favorite weekend of the year. My bucket list really only has one item on it that has to be fulfilled. I need to walk Augusta just once. I need to see the 17th hole, where Jack poured in the putt that secured the 1986 Masters – and won the naming rights to my second son. I need to see 16, where Tiger's chip in 2005 broke my heart a little. I need to see 18, where Ben Crenshaw broke down after winning his first, and second, Masters. I just need to see the place live someday. I've driven around the entire course, from the entrance off the busy street to the shacks off the east side, from the park to the west to the nice homes on the south. I've seen the trees that tower above the privacy fence, but never the course itself. Someday I will. After all, I have a promise to keep to my father-in-law and I can't break it. It won't happen this year, but you know what will? I'll be sitting in front of my TV (and computer) on Thursday, Friday, Saturday and Sunday watching the action. It's a tradition unlike any other.
•••
• WSU: The Cougars were on the football field yesterday and hosted a whole bunch of high school juniors. The junior day paid off as Jacob Thorpe's blog post explains. There is also this from the Oregonian on the biggest catch yesterday. ... Jacob also has video of interviews with Mike Leach, assistant Jim Mastro and running back James Williams as well as a story on new assistant receiver coach JaMarcus Shepard, who is easy to spot on the field. He's that vocal. ... Speaking of vocal, that's not term we would have used back in the day with Klay Thompson, but can pass along an interview with the former WSU guard.
• Gonzaga: John Blanchette has some thoughts about the rest of the West Coast Conference and men's basketball. They are not kind. ... Missed passing along this the other day, but former GU assistant Bill Grier has a new job. ... The baseball team has won two consecutive games in Stockton.
• Idaho: The Vandals threw the ball around in Saturday's scrimmage. Sean Kramer has all the details in this story.
• Seahawks: What's it like to work out with Kam Chancellor? And what does he think about the past and future?
• Mariners: Though the baseball season begins today (in a couple hours actually), the M's don't start until tomorrow. No one has made more offseason changes than Seattle, so there are a few guys we need to keep our eyes on. You know what? I'm going to miss Fernando Rodney. I'll explain why someday. ... Robinson Cano is still around, though, and as important as ever. ... Who are the best teams in the league?
• Sounders: Seattle needed a win. They got it, 1-0 over Montreal. The goal? Midfielder, ya, that's right, Clint Dempsey scored. A new day, a new look for the Sounders. And three points. ... It was good day for the West, with San Jose scoring late to tie D.C., Real Salt Lake winning 2-1 on the road and Los Angeles salvaging a scoreless draw with Vancouver.
•••
• Enjoy your Sunday. It's going to be another nice one. And there is baseball on the television. Real baseball. Not the spring stuff. Until later ...
---
---