Mon., April 4, 2016
After today you can really begin complaining about the manager's decisions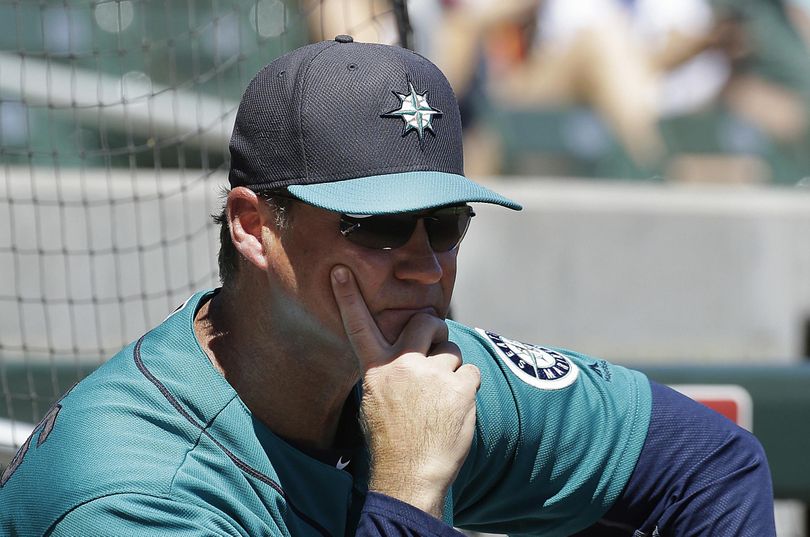 A GRIP ON SPORTS • Today is a line of demarcation. Forget what the calendar said, today is end of winter, the start of spring. In the sporting sense, at least. Read on.
••••••••••
• Tonight, North Carolina meets Villanova with the NCAA basketball title on the line. College basketball, which began in the waning days of last fall, will exit stage left in Houston. Earlier in the day and throughout the evening, baseball fans will be whooping and hollering all over the nation, celebrating the beginning of the summer sport. And, with that, we shift gears. Oh, there is still a bit of basketball to be done, of course. Connecticut will win another national title on Tuesday. The NBA will soldier on until June. But winter's last vestiges will melt away with tonight's game, no matter who wins. And baseball, as it has for a hundred-plus years, will dominate the conversation again. Will (insert your team name here) win this season? Will (insert your favorite player here) have another great season? Will (insert Mariners' manager name here) be fired early or finish out the year? Such is the endearing nature of the most cerebral sport ever invented. What, you don't agree? What other sport has as many Harvard-educated guys in the front offices, ruini ... er, enhancing the product? Heck, there is even a name for what they do: analytics. The game with the most statistics has the most guys that can crunch those stats into relatable categories, things like RAA and WAR and RFG. Their work has revolutionized the game. It's made it better in one way. No longer do you really have to watch the games to know who can play. You can just peruse the box score. What a time saver. I kid. Unlike many folks my age, I do believe there is a place in the game for the advanced metrics that are all the rage. They do help on player evaluation. What I can't abide is when the lessons learned based on major league numbers – put up by the best players in the world – are extrapolated to lower levels, like college and high school baseball. It is something I see all the time and it drives me up a wall. Look, most major league players were either the leadoff or three/four hitters in their high school lineup. They were the best player on their team – and usually the best player on their team by a wide margin. The same can be said of their college years, if they went to college. Even the most talented schools of higher learning have one or maybe two eventual major leaguers in their lineup. Most everyone else is at the top of their playing level. So lessons learned using major league statistics hardly apply to many levels of college baseball and really don't to preps. Yes, outs are precious in major league baseball. Very few guys make a lot of them. If they do, they aren't major leaguers all that long – or are named Dustin Ackley. At the high school level, there are players who have little chance to get hits in any given at-bat and none at all against really good pitchers. Same can be said, to a lesser extent, at the college level. And yet, when a coach asks one of these players to move a runner 90 feet with a productive out, it offends some analytics fans. Why? Would they rather have them strike out? Or hit into a double play? That really helps. Numbers based on major league players' performances just don't translate well down seven or eight levels of talent. And no one is spending millions of dollars to figure out whether a sacrifice bunt at the high school junior varsity level is worth more than one in a Rangers/Indians game. So don't broadcast your disgust with your son's high school coach because he bunted in the sixth down a run and everyone knows bunting doesn't work. Maybe, just maybe, the coach understood that moving a runner up a base was the best your son was going to do. He gave him the opportunity to help his team and have a positive experience while doing it. And, more than likely, he had numbers to back it up.
•••
• WSU: The Pac-12's basketball season ended yesterday with Oregon State and Washington losing in the women's Final Four. No matter what, it was a good year for the conference on the women's side.
• Gonzaga: The Bulldogs swept a three-game baseball series at Pacific over the weekend.
• Chiefs: The hockey season is over around here as well, with the Chiefs losing 6-2 to Victoria and losing their first-round series 4-2. Tom Clouse was there and has this story while Kathy Plonka adds this photo report.
• Seahawks: So is there a chance the Hawks try to bolster their offensive line with a veteran left tackle?
• Mariners: The season begins today in Texas, with Felix Hernandez on the mound against Cole Hamels. Just the way it should be. ... The game marks the debut of first-year manager Scott Servais and a revamped M's roster. Will the M's be any better? That's the question isn't it? Actually, there are a lot of questions.
• Sounders: Just because the Sounders won the other night doesn't mean they played any better. ... Portland got smoked 4-1 by Orlando City SC on Sunday.
•••
• Enjoy whatever it is you have on tap for the first day of the workweek. Do you need to get your TPS done? Or is your Weekly Estimated Net Usage Systems report due? Get it all done. You might want to play hooky Thursday and Friday. Until later ...
---
---