Sun., April 10, 2016
Age always takes a toll on competitors, though golf might be the exception to the rule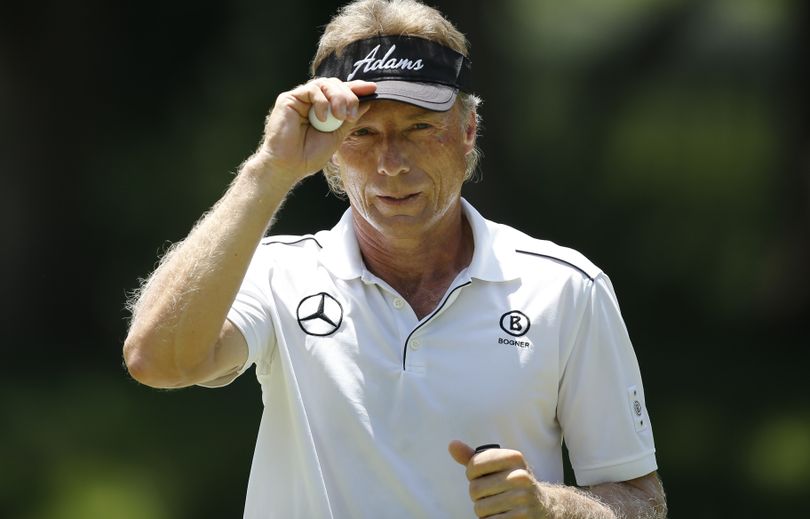 A GRIP ON SPORTS • There is a story line developing in Augusta, Georgia today, one seemingly brought to you by Advil or Lisinopril. Bernhard Langer is in the penultimate group for the final round. Excuse me, 58-year-old Bernhard Langer is in the penultimate group for the final round. Read on.
••••••••••
• The Masters said goodbye Friday to Tom Watson, who made his last trek up 18 to a standing ovation. It's a common occurrence as a former winner decides to exit stage left. But heavens to murgatroyd, it wasn't all that long ago Watson, then 59, came within a wayward approach of winning the British Open. It was 2009 in fact, seven years ago when the five-time Open champion almost made it six. Instead, journeyman pro Stewart Cink won his one and only major. I'm afraid something similar will happen today. It is quite possible Langer will be in contention walking up 18. He's won in Augusta twice before and he always seems to play his best golf the first weekend in April. But how will 58-year-old nerves handle the pressure of a par putt to hold a lead down the stretch? Watson, one of the most unbreakable fellows to ever play the game, cracked when the pressure went to 11. The nerves become a bit more, how can I put it nicely, "flexible" as we age. It's harder not to think about the enormity of the task. At 25, there's always tomorrow, or seemingly so. At 58, the end looms. All sorts of ends, really, but for Langer, as it was for Watson, the final shot at glory is what's at stake. Sure he's done "it" before, if "it" stands for winning a major. But no one has done "it" before, with "it" standing for winning a major in their 50s. Late 50s for goodness sake. This is uncharted territory. At least it was for Watson. Now Langer can stand on his shoulders, see what happened back at Turnberry in 2009 and try to avoid the pitfalls. But there is no avoiding age and its pitfalls. Four days of golf at Augusta is hard on anyone, even if they are as fit as Langer. But navigating the terrain and dealing with the wind isn't the worst of it. It's 96 hours of pressure. Or, in Langer's case, at least 48. No one thought he would be in contention. He's proved everyone wrong. If he can hold his game together for another 18 holes, history will be made. But what if he falls just short, as Watson did seven years ago? Who steps into the role of unexpected winner, a la Cink? Not Jordan Spieth. If he holds the lead all day and wins, it's neither unexpected nor does he fill the definition of journeyman. Danny Willett maybe, or Soren Kjeldsen? Dustin Johnson, who is still seeking his first major title? But probably the ultimate Cink-like character out there is Lee Westwood, who has contended for years but never broken through in a major tournament. Yet none of the names chasing Spieth stands out more than Smylie Kaufman, if only because of his name. Smylie. Sounds like the hero of a John LeCarre mystery. Of course, the main character of "Tinker, Tailor, Soldier, Spy," had the ordinary first name of George. Smiley was his last name. Today we will watch a 24-year-old with the unusual first name of Smylie attempt to become the first Kaufman to win a major title. There are a lot of obstacles in his way, not the least of which is his inexperience at Augusta. It didn't bother Spieth, of course, last year. And it won't be a problem at all for Langer, who is a decade older than Spieth and Kaufman combined. With all the names in the final five pairings – include rising Japanese star Hideki Matsuyama among them – today's final round has the potential to be a classic. And if a 58-year-old can come through, a historic one as well. Let's hope Langer took his Aleve this morning.
•••
• WSU: The Cougars held their first scrimmage of the spring Saturday and Jacob Thorpe was there, along with about 100 fans. He has this post-scrimmage report on the blog, the stats and video of post-scrimmage interviews with Mike Leach and Alex Grinch. Speaking of Grinch, Jacob has this feature on the defensive coordinator.
• Gonzaga: The Zag baseball team has won six consecutive games.
• EWU: The Eagles also held a scrimmage yesterday and quarterback Gabe Gubrud made an impression. Jim Allen has this story from the day.
• Idaho: The Vandals held their second spring scrimmage and Sean Kramer has this story on the day, focusing on senior Deon Watson.
• Empire: The Empire had the ball 14 times on offense last night. They scored 14 touchdowns in winning 97-72. They also set a franchise single-game scoring record. Jim Meehan has all the details in this story and Dan Pelle adds another level to the reporting with his photo story.
• Seahawks: One of the Hawks possible veteran left tackles isn't on the market anymore. ... A local guy would love to hear his name called by Seattle.
• Mariners: The M's lost their second consecutive home game last night and the bloom is starting to come off the season. John Blanchette says fans can't help but notice in his column. ... A journeyman left-hander, Rich Hill, handed it to them last night as the A's won, 6-1. Left-handers may give the M's trouble all season. ... A couple of guys in the bullpen have their moment in the media sun today. ... Despite the showing recently, the M's do have power.
• Sounders: Up next for the Sounders and their young standout is high-scoring Houston. On the road. ... Real Salt Lake got past Colorado yesterday while San Jose was earning a draw.
•••
• Received a text from my oldest friend last night. He wanted to know if someone named Smylie could actually win the Masters. He could, but I hope not. Until later ...
---
---