Mon., April 11, 2016
There seems to be a 10-year itch in golf majors, one Jordan Spieth scratched yesterday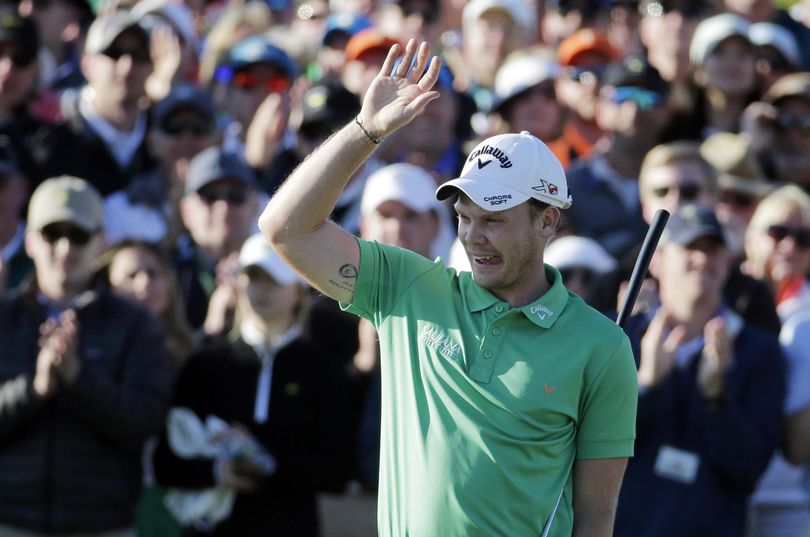 A GRIP ON SPORTS • The Masters is over for another year. But the 2016 version won't be forgotten quickly. For all the wrong reasons. Read on.
••••••••••
• What is it about years that end in a "6?" It seems that there is a tradition of someone blowing a big lead in a major every decade starting in 1966. That's when Arnold Palmer led by seven at the turn in the U.S. Open. But you won't find Palmer's named listed as the U.S. Open champion that year. Nope, Billy Casper won in an 18-hole playoff on Monday. Remember Greg Norman's 78 in the Masters he led by five strokes going into Sunday? It happened in 1996. See a pattern here? Ten years later Phil Mickelson and Colin Montgomerie both gagged on the 18th hole in the U.S. Open, allowing Geoff Ogilvy to win his major title. So maybe we should have seen this coming after Jordan Spieth birdied four consecutive holes to end the front nine. After all it, it was 2016. And Spieth actually had not played all that well since Thursday. His driver was not cooperating. He actually left it in his bag most of the front nine Sunday. His irons were not sharp. Short was common, though most of us probably blamed it on the gusting wins. Still, he was fighting his way around the course, finding ways to makes shots when need be. And, more importantly, make putts. Until he didn't anymore. He missed par putts on 10 and 11. All of a sudden his problems with distance control and wayward drives seemed to be more important, especially with Danny Willett – and others – making birdie putts ahead of him. Then came No. 12, the watery graveyard of many a Masters' dream. Spieth fanned his opening shot and didn't make the putting surface. It did, of course, make the water's surface. Then he chunked his wedge into the tributary of Rae's Creek and his hope of back-to-back Masters' titles sunk with his Titleist. It was like the car wreck you fixate on driving down the road. You want to turn away but you can't. Spieth was crushed. Defeated. Done. Yet he birdied two of the next three holes – the par 5s, 13 and 15 – and tried to rally. But Willett, who shot a 33 on the back Sunday, was already in the clubhouse with a 5-under. Spieth was not getting back to that number again. Then comes the best tradition the tournament has: last year's winner putting the jacket on this year's winner. Jordan Spieth had a duty. He did it. He talked about his collapse. He owned it. Golf is a cruel game sometimes.
• Speaking of cruel, the age gods played a terrible joke on Bernhard Langer. After battling into contention during three windy tough days, Langer faltered on the nicest day of the week. The 58-year-old shot a 79 on Sunday and finished out of the top 20. His last chance at winning a major – OK, probably – was done within the first couple holes.
• One last thing. While searching for Masters stories on the New York Times' site – I linked a couple above – I stumbled upon this piece. It's on last summer's Ironman Canada and it's really worth reading. It makes you wonder what motivates some people.
•••
• WSU: We don't have anything on the Cougars this morning but we found this piece on Oregon's quarterback competition interesting.
• Gonzaga: The Zag baseball team has won seven consecutive games.
• Whitworth: The Pirate softball team will be in the NWC playoffs.
• Chiefs: Seattle won 3-1 Sunday night over Everett to tie the WHL playoff series at 1-1.
• Mariners: We are now firmly in the baseball season. How do I know? Felix Hernandez pitched another superb game yesterday and the M's blew it for him. The bullpen gave up the tying home run in the eighth and the winning one in the ninth, but the loss lies squarely on the shoulders of the impotent offense. John Blanchette wonders how much more of this Felix can take. ... The 2-1 loss to the Oakland A's came in front of another good crowd, though the M's faithful doesn't seem all that faithful. And why not? It's been beaten down enough. ... Rest, even this time of year, is important for catchers.
• Seahawks: Chris Clemon's contract is about what everyone expected.
• Sounders: There was 3 minutes of stoppage time added on to the Sounders' match at Houston yesterday and Seattle needed all 180 seconds. Actually, they received about 190, and they used them all before Chad Marshall's flick found the back of the net and gave them a 1-1 draw. ... The Timbers 1-1 draw with the L.A. Galaxy came at a cost, probably for both teams.
•••
• Another beautiful day on tap today. But rain is in the forecast for tomorrow. I better get outdoors and finish up the yard work. Until later ...
---
---