Thu., April 14, 2016
For once, an extra-inning walk-off home run wasn't the top news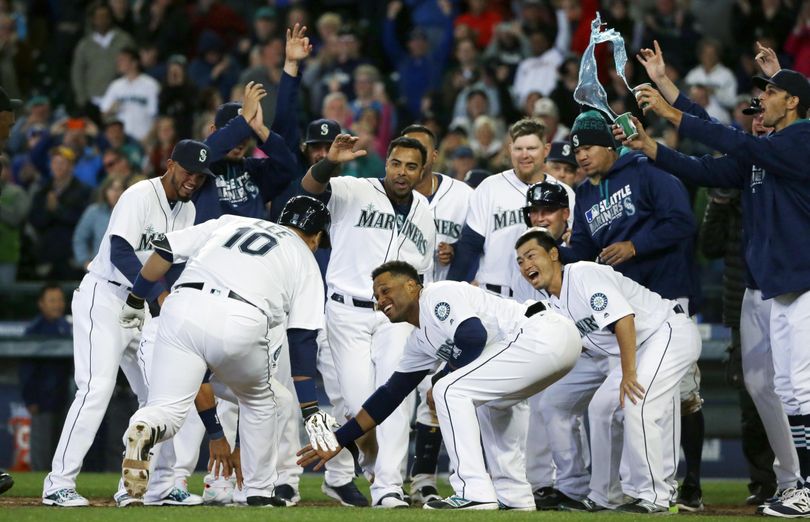 A GRIP ON SPORTS • Talk about a busy day yesterday. Not only did the Mariners in in the afternoon – finally – but the evening was filled with drama as well. Read on.
••••••••••
• If you had Dae-Ho Lee in your M's-MVP-this-week pool, good for you. His two-run, two-strike, pinch-hit home run yesterday afternoon was as big a hit as they have had all season. Not that there's been a lot of competition, but whatever. The M's head on the road with some happy thoughts. Lee heads on the road with some happy thoughts. (Though he needs to stay away from the Happy Meals; sheesh, he's built like Babe Ruth in his Boston Braves days.) And the Mariner faithful were happy, for one afternoon at least. But that played out only in our little corner of the sports world. Everyone else was waiting for the evening, their eyes focused on California. In the southern part of the state, NBA fans were poised to bid goodbye – or good riddance – to Kobe Bryant. In the northern part of the state, it was Golden State and its pursuit of an all-time, regular-season wins record. Both events would happen at the same time, making picture-in-picture a must. Or two television sets side-by-side, one on the Warriors game with Memphis (ESPN), the other on Kobe and the Jazz (ESPN2). In addition, a 2016 sports fan also needed a pad or phone attuned to social media – Twitter is my worldview of choice – to follow along. Neither Steph Curry nor Kobe disappointed. Curry knocked down 3s, WSU alum Klay Thompson joined in and the Warriors used the Grizzlies as a speed bump en route to 73 wins. They celebrated in Oakland but, despite the accomplishment, understood the record was only a way station on the road to their ultimate goal, another NBA title. Down the way winning or losing was inconsequential. Wednesday night was about one of the NBA's all-time best guards – and its third-leading scorer – saying so long. Or, as he put it afterward, "Mamba out." (T-shirts are now available online, with the proceeds going to help, who else, Kobe Bryant, get through a tough retirement.) Anyhow, Kobe was the show and, in Hollywood, they love a happy ending. So he gave them one. Sixty points in his final game. That it took him 50 shots to get there was immaterial. It's Hollywood. If the script takes seven rewrites and the movie is hit, does anyone care? Kobe was a hit last night.
• There was more news yesterday out of Los Angeles – and then even more this morning. Wednesday USC named a new athletic director. And for the third consecutive time, the Trojans dipped into their golden football past and picked a former player without experience. Mike Garrett, Pat Haden and now Lynn Swann (pictured). The first two combined for about a C grade in a job that demands nothing but straight-As. So we'll see how this one works out. This also may be the first Division I athletic director I can honestly say I played board games with in college – it's a long story involving a former girlfriend and her dorm-mate, but we're not going into it today. Suffice to say it was interesting. But not as interesting as what the Rams did today. Did they need to make a splash in LaLa Land? They did, trading a movie star's ransom of picks to Tennessee for the first pick in this year's draft. The theory is the Rams are looking for their Roman Gabriel – or Robert Griffin III. See, they feel they need a franchise quarterback, as Gabriel once was in L.A. So they did a reverse Griffin-trade, sending a whole bunch of picks away to get the guy they want. How did that work for the Redskins, huh? Not good.
•••
• WSU: OK, back to our state. The Cougars did not practice yesterday but Jacob Thorpe had plenty to do. He held a live chat here on the blog. And, surprise, you can read the transcript here as well. But that's not all. Jacob has a feature on Kyrin Priester. (Hey, that rhymes.) But, again, not all. Yesterday was the first day of the spring signing period. Ernie Kent took advantage as the State 4A player of the year, Malachi Flynn, signed his letter of intent. Jacob has a story and a blog post on that event. Expect more signings soon as well. ... Utah is losing their big man in the middle to the NBA draft. No surprise there.
• Gonzaga: We all knew the Zags and Washington were renewing their series beginning next season, but we also knew there was some disagreement on where the first game should be played. It will be in Spokane. On Dec. 7. Interesting timing. Jim Meehan has the particulars in this story and there is more from the Seattle-area papers as well. ... Former Gonzaga standout pitcher Marco Gonzales will have to undergo Tommy John surgery to repair his elbow, injured in spring training.
• EWU: If there is one player in the area who stands out among his peers, I don't think you pick one with a higher profile than Cooper Kupp. The Eastern receiver is, definitely, the best receiver in FCS football and one of the best in the college ranks. He, and the receivers, are the subject of Jim Allen's position preview. ... Jim also has a piece on the newest overseas basketball player to make his way to Cheney, as Jim Hayford signed a 6-foot-5 point guard yesterday.
• Chiefs: The WHL playoffs roll on with Seattle taking a 2-1 series lead on Everett with a 5-0 shutout win last night.
• Preps: Greg Lee has a couple of features today, the first on Shadle Park softball pitcher Jaya Allen and the second on U-Hi high jumper (and vaulter) Noah Martin. ... Greg also has the track bests.
• Mariners: As we said, the M's won 4-2 over Texas when Lee hit his home run into the bullpen in left. That blow didn't make Taijuan Walker the winner, but the righthander did pitch well.
• Seahawks: Getting a lot of picks seems to be the way to go this season, as John Schneider sees this as a really deep draft.
• Sounders: Sigi Schmid is hobbling around practice these days, the victim of a low blow by his house. ... Portland played poorly and lost 3-1 at home to FC Dallas.
•••
• We have some news. I have to be out of the house and on the road early tomorrow (and next Friday as well), so there won't be blog post here, sorry to say. We'll pick it back up Saturday. Until then ...
---
---