Sat., April 16, 2016
It was an interesting Friday, to say the least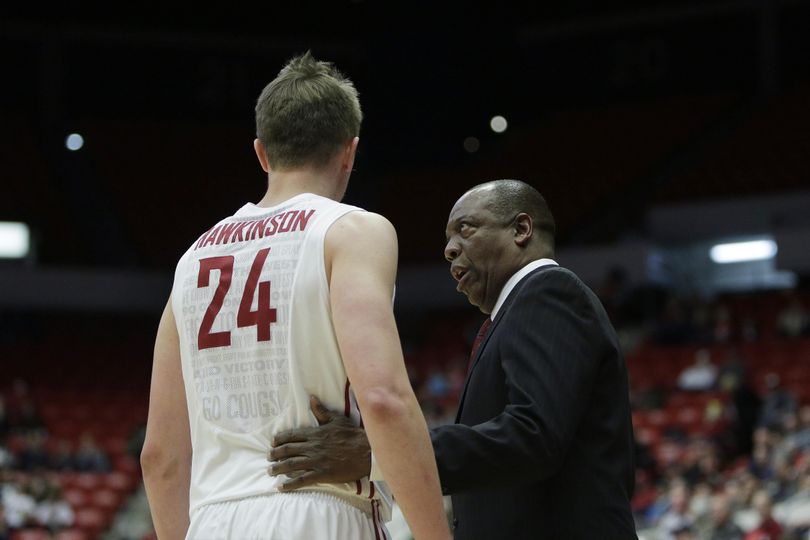 A GRIP ON SPORTS • So where were we? Certainly not counting Mariner wins, though we now can put two consecutive games in that column. Nor figuring out which players off a last-place Pac-12 team would end up playing professionally. Read on.
••••••••••
• Yes, the M's won again yesterday, and we will get to that. But the most interesting news on Friday came out of Pullman, where three Cougars declared for the NBA draft. Sort of. Maybe. Possibly. See, WSU announced yesterday Josh Hawkinson, Conor Clifford and Ike Iroegbu all put their names in the NBA draft pool. Will any of the three swim to the deep end? It doesn't look like it. None of the three will hire agents, which mean they can pull their name by the May 25th deadline and not run afoul of the NCAA. Between now and then they can be evaluated by the NBA and receive feedback. It's a win/win for the players and it doesn't hurt Washington State's profile either. The trio will hear what they need to improve upon from a source other than the Cougar coaching staff. More than likely, it will reiterate what they have been hearing in practice the past couple years. And WSU can say, correctly, it has produced three more players who have NBA aspirations – but decided to improve their game in Pullman.
• Speaking of improving their game, the M's did just that yesterday in Yankee Stadium. The offense, which never seems to get going at Safeco Field, was on point on the road again. And the pitching staff, notably starter Nathan Karns, battled its way through nine innings in a 7-1 win. Consider this salient fact: In their first five home games, the M's scored seven total runs. They had that many yesterday. Is this team built for the road, or what?
•••
• WSU: Besides the coverage of the trio declaring for the draft, Jacob Thorpe also had his coverage of Thursday's practice, something we didn't want to miss. ... The baseball team took game two of the series with Oregon State. ... It's Saturday, so we can pass along the mailbag from ESPN.com's Pac-12 blog.
• EWU: In his continuing coverage of Eastern Washington's spring football, Jim Allen looks at the defensive line. ... Former Eastern quarterback Vernon Adams is trying to prove he can play at the next level – again. ... Portland State is again dealing with a tragedy in its football program.
• Chiefs: Seattle won 2-1 last night and have a 3-1 lead in its WHL playoff series with Everett.
• Empire: One of the quirks of the IFL is how often matchups with the same opponent occur in a tight time frame. Jim Meehan has an advance of tonight's game in Iowa against the Barnstormers, a couple weeks after the two teams met in Spokane.
• Preps: Jim Allen has an interesting story today concerning a handful of international players in the Ferris soccer program. But this isn't a tale of highly recruited players heading to America to fine-tune their sporting craft. Far from it. Don't miss it. ... Blaine Bennett has been named interim football coach at Post Falls, taking over as Jeff Hinz continues his battle vs. cancer. Greg Lee has the story. ... The WIAA's independent investigation into allegations concerning Bellevue's football program seems to be pretty damning and could cost the Wolverines some of their state 3A football titles.
• Seahawks: The NFL schedule was released Thursday and the Seahawks' was interesting. But maybe not as tough as last season's. Though Carolina is on it, as it has seemed to be forever. ... Do the Hawks ever draft for need?
• Mariners: The offense didn't get started until Chris Iannetta stroked a fifth-inning two-run home run, but from there it rolled in the 7-1 victory. ... Robinson Cano has thrown his hat in the ring.
• Sounders: The start to Jordan Morris' professional career has mirrored his team.
•••
• Sorry we weren't here Friday. It was a long travel day. But we are back. Though, as an early heads up, we won't be on the blog again next Friday. Another early day on the road. Until later ...
---
---