Mon., April 18, 2016
The Seahawks are putting the old band back together again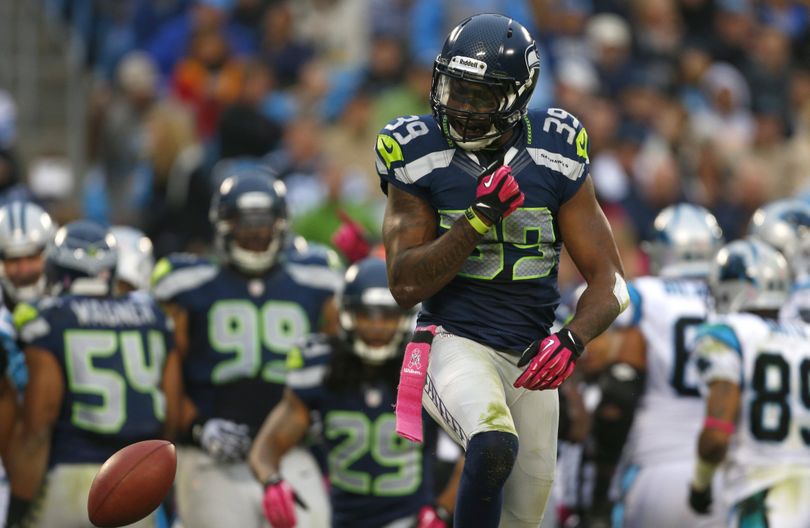 A GRIP ON SPORTS • Where is Marty McFly when you need him? Read on.
••••••••••
• The Seahawks went back in time yesterday with the signing of Brandon Browner. Who, you might ask? Of course, you would only ask that if you have been a Hawk fan since they won the Super Bowl, but the rest of us know who Brandon Browner is. And what he used to be capable of doing on the football field. If you noticed a tinge of skepticism in that last sentence you win the prize. Because we're not completely enamored of this signing. And completely understand it as well. Browner is possibly the most physical corner in the NFL these days, but "these days" that style of play on the outside draws more and more flags. Which might be why he was the most penalized player in the league last season. Actually, the most penalized player in the league since 2001. But, you know, he's big. Coincidentally, Browner gave up the most touchdown passes in the NFL (45) as a cornerback and had the worst opponent passer rating (116.1) against him. Makes you wonder why anyone would sign him after New Orleans released him, doesn't it? Well there's a reason. Two actually. The first is most significant. Browner wasn't healthy last season. He says he suffered an MCL tear in the preseason and played the entire season with it. The Hawks certainly think a healthy Browner can return to close to his 2013 or 2014 form and help them on the outside. But he's going to be 32 before the season begins, which isn't young for a corner – old, actually – which makes me wonder if he will stay outside. At 6-foot-4 and 221 pounds, is Browner's NFL future going to be at safety? Guys have made the transition before and have excelled at it. Charles Woodson anyone? The Hawks have struggled before against teams with pass receiving tight ends – remember the Cincinnati game last season? – and Browner would seem to be a perfect fit as a weapon against such teams. (For comparison, Browner is listed an inch taller and 11 pounds lighter than Kam Chancellor.) But who knows? The Hawks may just see Browner as an insurance policy. A relatively inexpensive insurance policy. (There is no compensatory pick involved – he was released by New Orleans – and the cap hit shouldn't be huge, just as in the case of Chris Clemons, another blast from the past.) Or they may see him as the missing piece in the secondary. Whatever it is, Browner is happy to be back. And, if he make the Seahawks defense even a little better, Seattle fans will be happy to have him back as well. Even those who don't know who he is.
•••
• WSU: You know it is a quiet day, links-wise, when your first (and only) Pac-12 link you pass along is some thoughts on Lynn Swann being hired by USC as their athletic director. ... OK, one more add-on, just because I liked the writing. It's Ted Miller's piece on ESPN.com's Pac-12 blog today. It covers the changes happening on the football field at USC.
• Whitworth: Sunday was a great day for the Pirates, with their baseball and softball teams clinching Northwest Conference titles.
• Mariners: Sunday was not a great day for Seattle, as the Yankees avoided the series sweep thanks, in large part, to a Hisashi Iwakuma fifth-inning wild pitch. That allowed the winning run to score in a 4-3 New York victory. The Mariners also went weakly in the late innings, with 127 of them striking out consecutively. I exaggerate for effect. ... Nori Aoki hit an inside-the-park home run yesterday. Those are always fun (writes the guy who got thrown out at the plate twice in his life trying for one and got knocked unconscious another time when an opponent ran him over while earning one). .... The pitching matchup yesterday was a big deal – in Japan. ... Seth Smith seems to be healthy.
• Seahawks: The Browner news takes center stage here. He's agreed to a one-year deal. ... Yes, the Hawks are all the buzz, even on your phone.
• Sounders: It was just a matter of time before Jordan Morris scored. He picked a good time for it.
•••
• Just in case you've forgotten, the Bengals Tyler Eifert caught eight passes for 90 yards and two touchdowns against the Hawks last season. ... Hey, I'm on the radio today, joining Dennis Patchin and Rick Lukens from 3 to 6 p.m. on 700 ESPN. You can listen here if you like. Until then ...
---
---