Sat., April 23, 2016
Spring football pretty much finishes ups around here today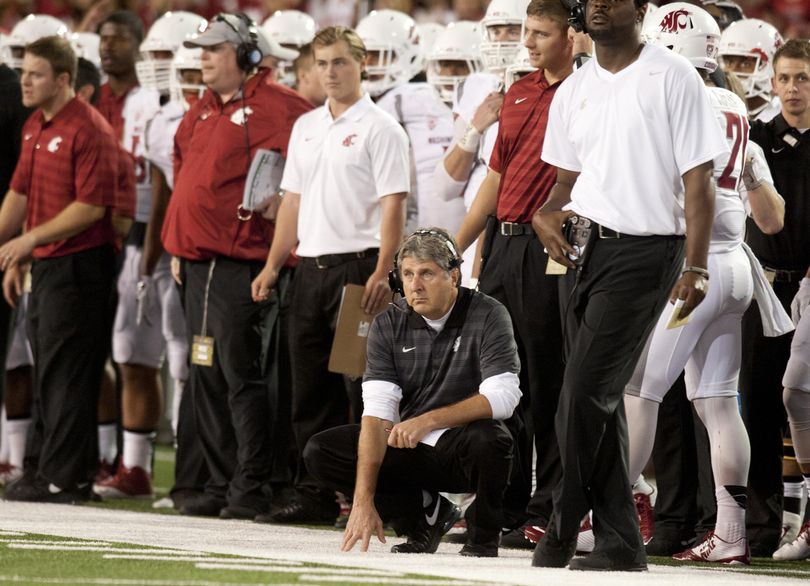 A GRIP ON SPORTS • Where were we? Oh ya, the Cougars are holding their spring game at Joe Albi today. And Eastern is doing the same in Cheney. Read on.
••••••••••
• The end of April always features those showers that are supposed to encourage flower growth next month. And it also brings us the end of spring football. Idaho held their scrimmage last night in the Kibbie Dome – good thing, because there were more than showers in Moscow for a while yesterday – with Washington State and Eastern Washington doing the same this afternoon. First up is the Cougars, who split their squad as evenly as possible – if you even checked social media for a few seconds this week, you know there was some sort of contrived Team Crimson vs. Team Gray thing going on ­– and will exhibit their wares on the turf in North Spokane. The score is immaterial, though, despite the Twitter war. If you get a chance, focus on players or position groups. Watch the defensive line and see how guys deal with the offensive lines' strength, especially in the running game. Check out the safeties and see how they cover, which will be important in the fall. And don't be afraid to take your eyes off the ball occasionally to focus on the left side of both offensive lines. How that rebuilt area functions may be the key to the Cougar offense this season. The other thing to do: enjoy yourself. You won't get football again until September.
• And yes, I know an intrasquad scrimmage isn't really a football game, per se. Football is played with emotion and it's harder to get all emotional playing against your teammates, especially when the coaching staff's No. 1 goal is not to have anyone get hurt. Still, there is a lot at stake at Eastern. The quarterbacks are battling for the starting position and there hasn't been a decision made. There probably won't be one made until the fall. But that doesn't mean today's Red-White Game isn't crucial. Well, important anyway. Jordan West, Reilly Hennessey and Gage Gubrud will be trying to make their last impression of the spring their best one. One of that trio will have the reins of the offense when the season opens in Pullman and there is a good chance it will be the guy who does the best today.
•••
• WSU: When the rosters were announced this week, it was obvious Cougar coaches tried to make the teams as competitive as possible. That's the thrust of Jacob Thorpe's preview in today's paper. We also want to pass along Jacob's story from yesterday on offensive lineman Riley Sorenson. ... There is an advance of the scrimmage in the Times as well as three things to watch on ESPN.com's Pac-12 blog. ... ESPN's Ted Miller also has his weekly mailbag. ... California is going to have a bunch more money to spend thanks to Under Armour.
• Gonzaga: The Zags won the opener of a key WCC baseball series against Santa Clara. ... BYU won't have the services of one of their bigs early next basketball season. ... Jim Meehan's weekly golf column focuses on a couple of collegiate stars.
• EWU: The quarterback battle is the subject of Jim Allen's scrimmage advance. ... Jim also finished up the spring football position summaries with this piece about special teams.
• Idaho: The Vandals' scrimmage was a high-scoring affair – for one side. Sean Kramer has the coverage.
• Empire: When Spokane and Tri-Cities meet, it's not only a rivalry game, it's also a battle of brothers. Jim Meehan explains in this advance of tonight's contest.
• Preps: As spring sports begin the slow march into playoff mode, Jim Meehan has a look at GSL golf midway through the season and Steve Christilaw examines a brother/sister pair at U-Hi.
• Figure skating: The Team Challenge Cup began last night at the Arena, with Team Asia defeating Team North America. Tom Clouse has the coverage of this epic battle. He also has this story on a nice aspect of the competition.
• Mariners: For the second consecutive game, the M's went into the 10th inning tied. And for the second consecutive game, they scored three runs and won. Friday night it was 5-2 over the Angels in Anaheim. ... It was supposed to be Felix Hernandez's start but he wasn't feeling well, so Hisashi Iwakuma moved up a day and threw well.
• Seahawks: With the NFL draft beginning Thursday, the Seattle times decided to preview it today. There are stories about the offensive line and the defensive line. There are stories about running back tryouts. And there are more stories about the Hawks from all over the place.
• Sounders: There is a lot of history between the Sounders and the Colorado Rapids. They will build some more today.
•••
• It's Saturday again. It's going to be a nicer day in Spokane than originally thought. Which is a good thing if you are headed to either scrimmage. Enjoy yourself. It's a lot better than mowing the lawn. Until later ...
---
---