Sun., April 24, 2016
Not even a little precipitation can stop fans from enjoying a little spring football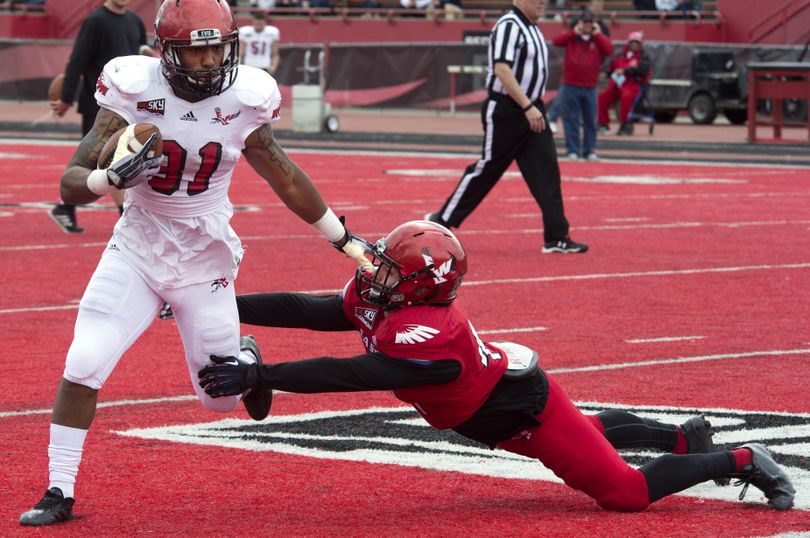 A GRIP ON SPORTS • Saturday's biggest news? No, it wasn't the M's or the Sounders or even the Team Challenge Cup. Read on.
••••••••••
• The biggest news yesterday in the Inland Northwest was simply this: A whole bunch of people turned out to watch football in Cheney and North Spokane. Now this shouldn't be all that big a deal. But it is April and there was a lot going on yesterday, including television coverage of two of the three things covered in our opening. Plus, it's April. And Bloomsday, our city's day of running, is just a week away. In other words, there were a lot of distractions. What those folks who ventured to Albi and out to Eastern saw are two football teams that may just be improved next season. And two football teams that open the season against each other. Eastern went into spring looking for a quarterback and may have found one. Washington State entered spring trying to shore up a few spots. Whether the Cougars accomplished that goal will be seen in Lewiston come August, when preseason practice begins. But for now, with the summer looming, both are happy where they are. Of course, it would be hard to discover if they weren't. But this spring, it seems to be reality.
• Sorry for the short nature of this post, but Internet access where I am staying this weekend is Compuserve slow. I've made sure to run down all the stories available in today's S-R and a handful of other items, but after an interminable time waiting for the links to load, I have to move on. Oh, and there was one link that didn't work at all and crashed me twice. I deleted it so you wouldn't have the same issues.
•••
• WSU: When the Cougar coaches put Gabe Marks on the same team with Luke Falk, they must have known the pair would supply some fireworks Saturday. They did. That's just part of Jacob Thorpe's coverage from the Crimson and Gray Game at Albi. He also has the statistics and video of interviews with Mike Leach, Falk, Payton Bender, Peyton Pelluer, Marks and James Williams. ... Williams was a bit of a star as well in his coming out party. ... Marks is never at a loss for words.
• Gonzaga: Two Zags earned national academic honors.
• EWU: As we said, the biggest question facing the Eagles as spring began was would someone emerge at the most important position. The answer seems to be "yes." Jim Allen has more in this coverage of Saturday's Red-White Game.
• Empire: The road beckoned yesterday and, even though it involved the short trip down U.S. Highway 395 to Tri-Cities, it held its challenges. The Empire met them all and defeated the Fever, 52-39.
• Whitworth: The Pirates are champions of Northwest Conference track and field once again.
• Preps: It's relay and invitational time in the track season, with the Mooberry Relays taking the spotlight yesterday. Greg Lee has the coverage of one of the oldest meets in the area.
• Figure skating: The Team Challenge Cup rolled on yesterday at the Arena and Tom Clouse has the play-by-play while John Blanchette adds the commentary with this column. ... Colin Mulvany has the photo story from yesterday.
• Mariners: Mike Trout can hit the ball really far. And he seems to have a weird hold over Felix Hernandez. His two-run home run keyed the Angels to a 4-2 win over Felix and the M's. ... Joel Peralta is a slow-working reliever with the occasional knack of pitching quickly. ... Chris Iannetta is fine with playing one of his old teams. ... The Cubs are No. 1 right now.
• Seahawks: Once again the Hawks will go all Frank Sinatra on the draft. They will do it their way.
• Sounders: It's hard to win in Colorado these days even if al your weapons are available. For the Sounders last night, that wasn't the case. And, predictably, they lost 3-1 to the Rapids.
•••
• Enjoy your Sunday. I will. It has to be more productive than this morning. Until later ...
---
---