Mon., April 25, 2016
If the M's want to win the American League West, they will have to sing a new tune at home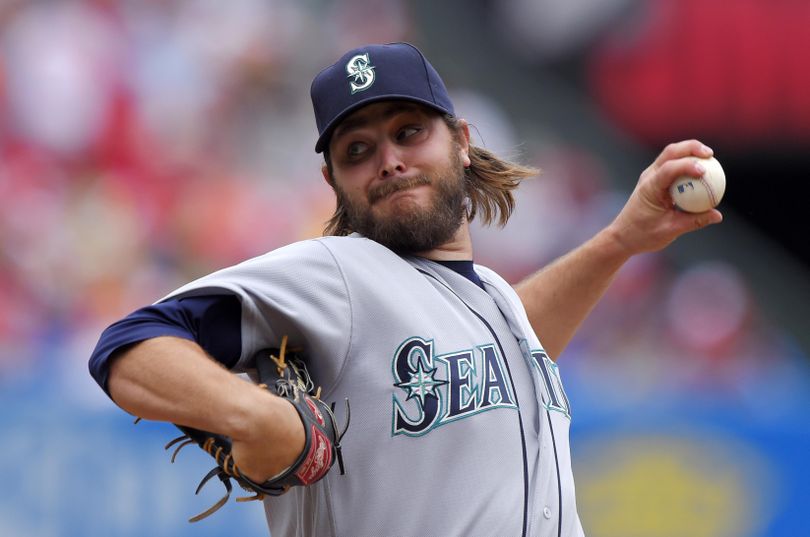 A GRIP ON SPORTS • As that great sports commentator Jimmy Steinman once wrote and Meatloaf bleated out, two out of three ain't bad. Read on.
••••••••••
• The Mariners wanted it. They needed it. And, you know, unlike Meatloaf's long-ago hit song, we all loved it. Winning two of three from the Yankees in New York. From the Indians in Cleveland. And, after yesterday's 9-4 decision in Anaheim, the same against the Angels. Match that 6-3 road trip with the bats-out-of-hell season-opening series in Texas in which the M's also won two of three games, and you have an 8-4 start to the season. Away from Safeco. That's the type of record that builds a division-winning season. After all, everyone wins at home, right? Well, not exactly. The M's return to Seattle this week with a 9-9 overall record. Do the math. They are 1-5 in their park. OK, small sample size. But last year it was nearly the same way. Sub-.500 at home. Nine games under the break-even mark, actually. They were 40-41 on the road. That's not a small sample. But didn't Jerry Dipoto come in and revamp the roster with an eye on making it a better fit with Safeco? Sure he did. He added some speed and athleticism, even if it's a bit older athleticism. Eighteen games into 2016, though, it hasn't translated into a different performance level. At home. A six-game homestand looms. The Astros, who finished second in the American League West last season, are in for three. Then the World Series champion Kansas City Royals are in for three more. If the M's come out of these games with a .500 record, no one's going to cry all night, are they? After all, when the homestand ends, the Mariners get to hit the road again. And that's where they seem to find a Coupe de Ville hiding at the bottom of their Cracker Jack box.
• Remember the 2001 Mariners? The team that won as many regular season games as anyone in the history of the game? Sure you do. But one thing keeps them from being the gold standard in baseball is their postseason performance that year. They didn't win the World Series. Didn't even get there, in fact. Could the same fate befall the Golden State Warriors? If Steph Curry's knee injury suffered last is a season-ending one – we may find out more today – than the Warriors are in danger of becoming a footnote in the record books. Klay Thompson has stepped up in Curry's absence but without the two-time reigning MVP, Golden State will be hard-pressed to get past San Antonio and into the finals. And it could join the M's as the most disappointing playoff team ever.
•••
• Whitworth: The men won the NWC golf title yesterday and earned an NCAA berth.
• Chiefs: Kailer Yamamoto had himself a heck of U18 world tournament.
• Mariners: A slow start didn't derail Wade Miley's outing Sunday as the lefty righted himself and pitched into the eighth inning as the M's won 8-4 against the Angels. ... The win was fueled by some power from an unusual source. ... Seth Smith is doing something a bit unusual as well.
• Seahawks: Seattle has never been a big first-round draft choice team. ... They have had some great drafts, however. ... Will the Hawks be looking for a running back this week?
• Sounders: There is frustration mounting in Seattle and Sigi Schmid's comments this week seem to reflect it. ... Some of the veterans the Sounders jettisoned are doing OK elsewhere.
•••
• Another workweek begins. Maybe I should begin my Bloomsday training. If I want to break an hour, I better get going. Until later ...
---
---