Fri., April 29, 2016
Idaho's move to Big Sky leaves tons of questions, some answers
For University of Idaho Chuck Staben, Thursday's announcement that Idaho intends to join the Big Sky Conference in football is a long term solution. It puts to rest the anxiety of a two-decade long search for conference stability.
For him, it's the answer.
For the rest of us, it leaves many short-term questions that he and athletic director Rob Spear will have to deal with.
Some of them we can answer right away. Others, we can speculate on.
- - - - -
Will Idaho have to cut sports to meet the budget and be Title IX compliant?

- No. At least not right away. Spear said Thursday that Idaho has no plans to eliminate sports at the university and that the school will be Title IX compliant even after shedding away 22 full-ride men's scholarships from the football program by 2018.
Will Idaho be able to afford that? That's the question.
Idaho's athletic budget is currently budgeted to break even in 2016 per documents submitted to the Idaho State Board of Education. Idaho expects $20,247,000 in expenditures to break even with $20,247,000 in revenue. This includes $4,262,000 in "non-cash" expenditures and revenue.
Of course, this also includes the gobs of state and institutional support that most athletic departments in the country requires to break even or turn a profit.
But we'll talk more about the budget lower in this blog post.
For now, let's continue to learn about Title IX.
Now, let's get hypothetical and say that somewhere down the road the Idaho athletic department decides it will need to eliminate any number of sports to make its budget work as an FCS football institution.
Naturally, the assumption is it would be a women's sport if you consider swim and dive and soccer were added to accommodate Idaho's FBS jump in 1996.
That may be the case, but it will be up to Idaho to prove a few things in order for a move like that to be compliant.
First is proportionality.
If the number of male and female athletic participants is proportional to the percentage of male and female undergraduates on campus then the school will most likely be Title IX compliant in that area.
The University of Idaho states it is 54 percent male and 46 percent female.
Another component of Title IX, of course, is the financial component when it comes to scholarship investment. Here is what the Women's Sports Foundation says of the financial requirements:
Scholarships must be allocated in proportion to the number of female and male students participating in intercollegiate athletics. Funding for women's and men's programs does not have to be equal, but a significant disparity in funds does suggest that institutions could be found non-compliant in other program areas.
Here is Idaho's projected scholarship situation. Keep in mind that Idaho will be at a full 85 football in 2016 and anticipates being at the FCS limit of 63 by 2018.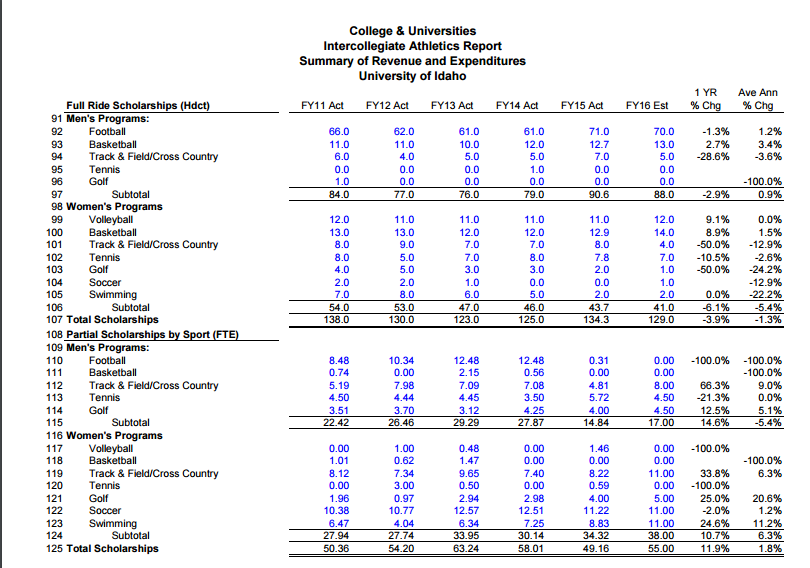 The last major component will be continuity. Should Idaho choose to eliminate a women's sport for the sake of the budget it will have to prove it has a history and culture of program expansion for the underrepresented gender's sports programs.
What are the budget implications of this move?
- Idaho's athletic revenue will surely drop in the long-term. In the immediacy? That remains to be seen.
Below are the total revenue and expenditures and then the general revenue and expenditures (which excludes non-cash) from 2011 to 2016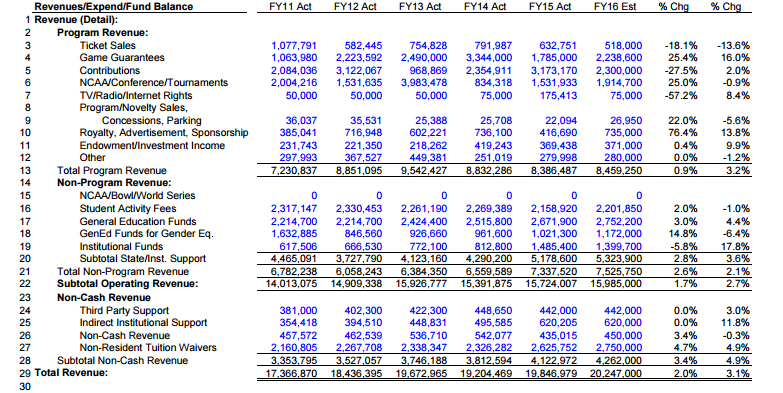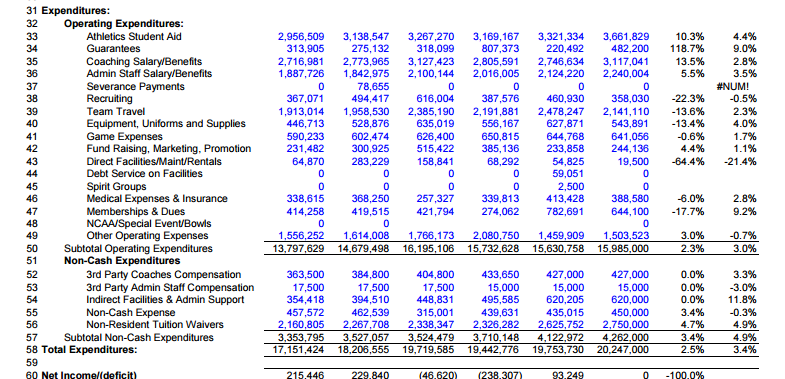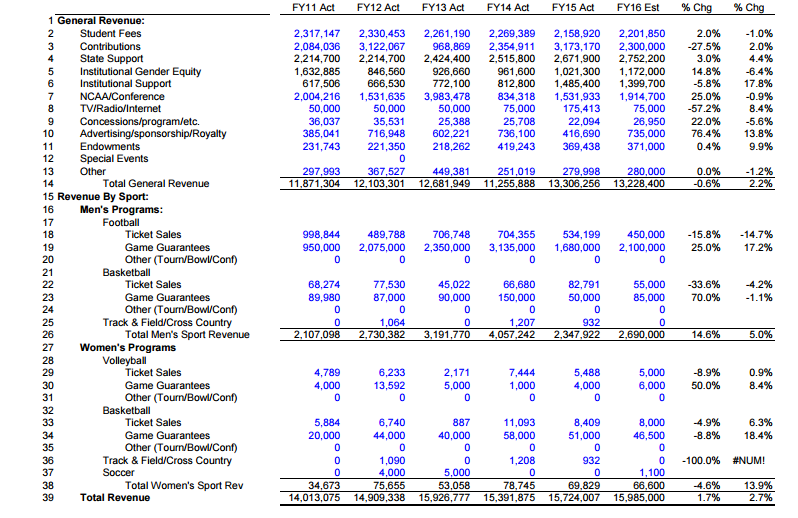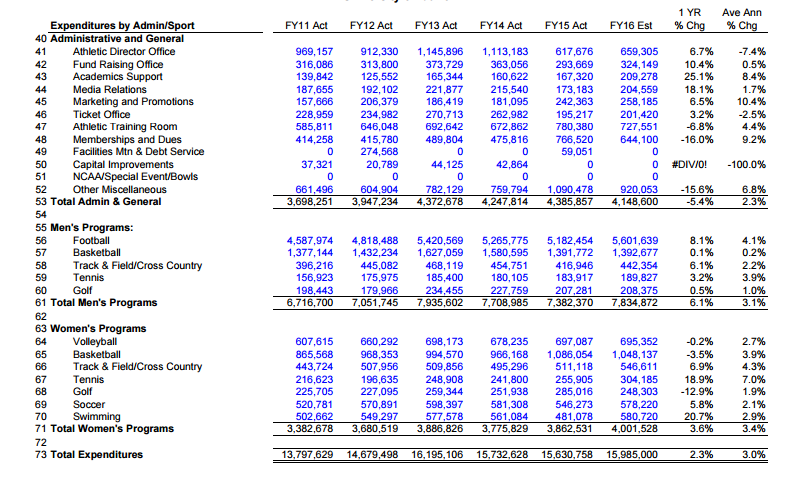 In comparison, here is what Idaho State University, a Big Sky Conference member in all sports, projects. Pay attention to their NCAA/Conference and football guarantee game revenue. They are projected to haul in $2.5 Million less than Idaho in 2016 in conference and football guarantee game revenue.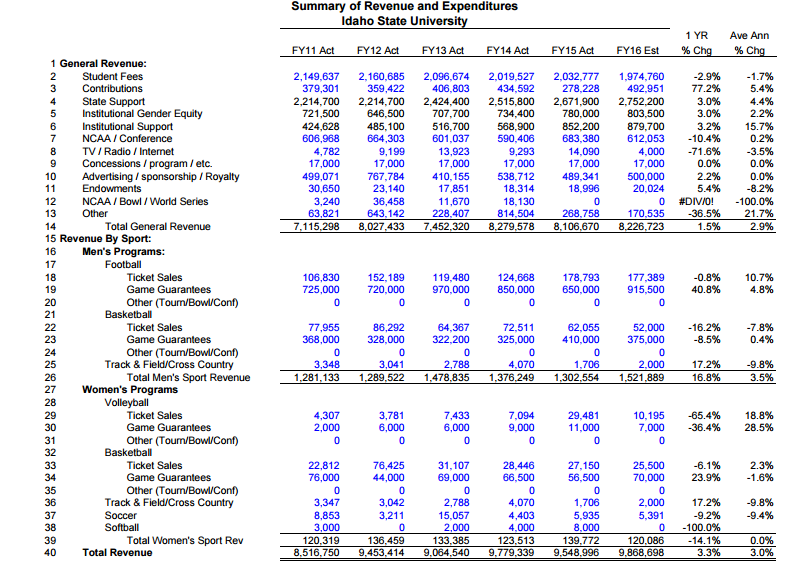 The $915,000 football guarantee game figure is from trips to UNLV and Boise State. Idaho received seven-figures each from trips to Auburn and USC in 2015 and those figures should drop considerably as a football member of the Big Sky.
What could affect Idaho's revenue is if it makes a bowl game in its final two seasons as a member of the Sun Belt and if its scheduled game contracts with FBS schools, specifically Power Five programs with seven-figure guarantees on the table, are still obligated to pay.
---
---