Sat., April 30, 2016
There is a chance this M's team may just be different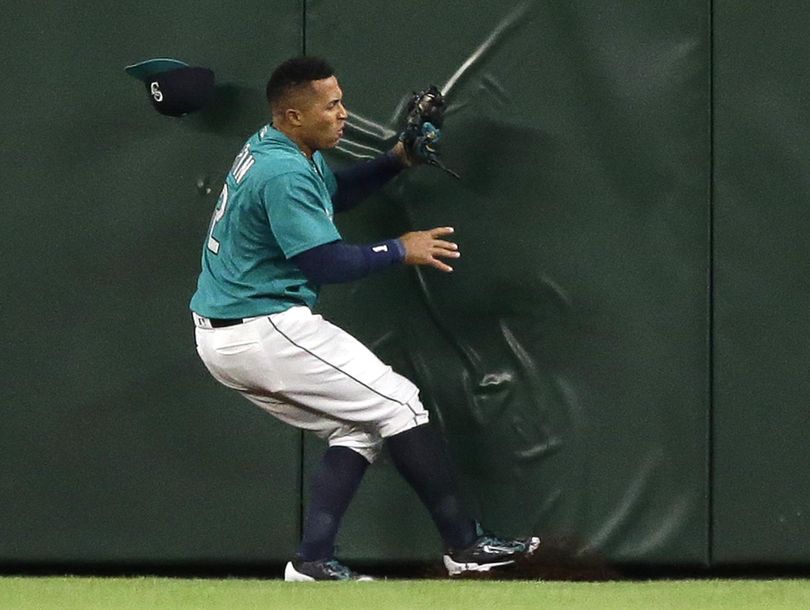 A GRIP ON SPORTS • Could there actually be some joy in Mudville this year? Maybe, just maybe. Read on.
••••••••••
• Watching the Mariners play on a Friday night isn't a habit anymore. Used to be. But all the losses of the past few years beat the pleasure out of it. Or maybe it was just Fernando Rodney and his penchant for blowing late leads. Whatever, with Felix Hernandez pitching last night and Safeco relatively full – plus Dave Sims spending the week on the radio side of the broadcast – it should have been a no-brainer to watch. But instead it was an old movie on HBO and some chilled beverages. A somewhat-perfect Friday evening. Of course, being a baseball fan, I checked in with the M's occasionally. Like in the sixth inning, when Seth Smith was at the plate. After the first pitch to the left-handed hitting platoon player, I told Yogi, our older-than-dirt dog, "if he throws him a fastball here, he may not get it back." He did, he didn't and the dog had another memory of me saying "I told you so." (As an aside, yes, I talk to the dog a lot during baseball games. Our two dogs are named Yogi and Junior, so you kind of know they are baseball fans. Yogi looks at me when I'm chattering about defensive shifts and hanging sliders with a look I interpret as being wildly interested. Probably, though, he's just wishing I would keel over due to heart attack so he could gnaw on my arm or something.) But Felix was pitching, so the one run wasn't going to hold up after the bullpen got ahold of it – past history being my guide here – so I went back to the movie. And didn't return until the movie was over. By then it was the bottom of the ninth, Felix had made his reservation at Il Terrazzo Carmine's and a blown save was in the cards. The Royals had a runner at first, the confidence built of winning a World Series title and the knowledge the M's were about to pull another El Foldo. But it was Steve Cishek on the mound, not Rodney. And Leonys Martin was in centerfield, not, well, anyone who has played there the past few years. The right-handed Cishek induced a routine fly out and earned a strike out against two leftys. Up stepped right-hand hitting catcher Salvador Perez. The first pitch was laced down the third-base line and into the corner. But instead of being a tie game, the ball was ruled foul. I looked at my faithful companion and said "wow." He looked back at me and thought "just one toe, that's all I need." Back to the game we went. Another pitch and another rope. This one to deep centerfield. Martin, playing shallow, took off, tracking the ball through the Seattle night. He ran and ran, raised his glove and made the catch. One step later he face made contact with the wall. Splat. But the ball stayed in the glove, Cishek had a save, Felix a win and general manager Jerry Dipoto a highlight tape of why he made some of the changes he did in the offseason. As I poured Yogi a small bowl of food I thought to myself that maybe this season will be different. Maybe this team can compete in July and August and beyond. Maybe, just maybe.
•••
• WSU: There always seems to be some Cougar news and yesterday was no different. If you like to spread out in the upper bowl of Beasley to watch basketball games, you will be out of luck next year. Jacob Thorpe has this blog post on a ticketing change. ... Former WSU pitcher Adam Conley (pictured) didn't get a chance to complete a no-hitter last night. ... This year's baseball team handed Oregon a 4-0 defeat. ... It's Saturday morning, so we pass along the mailbag from ESPN.com's Pac-12 blog. ... The satellite camp issue is still in the news.
• Gonzaga: The Bulldogs evened their key WCC baseball series at BYU at a game apiece with a 9-5 win.
• EWU: The Big Sky has a new football program (see the next paragraph) and a new commissioner. Jim Allen has this story on Andrea Williams being named the conference's top boss.
• Idaho: Sean Kramer tries to answer your financial questions concerning the football change in this blog post.
• Empire: For most of the evening, Spokane trailed its rivals from down U.S. Highway 395. But the Empire rallied and sent the home fans home happy with a 53-51 victory at the Arena. Jim Meehan has the game story and Colin Mulvany adds a photo report.
• Shadow: The Shadow women open their 2106 schedule Sunday in Yakima. Jim Allen has a season preview.
• Preps: Trailing 3-1 at halftime, the Central Valley boys rallied and defeated Lewis and Clark 4-3 in soccer yesterday, clinching the GSL crown. Jim Allen was there and has this game story. ... Shadle Park also rallied in softball and defeated U-Hi 10-9 in 11 innings. Greg Lee has that game story. ... Jim Meehan also offers his golf notebook.
• Mariners: The 1-0 win came on just one hit – Smith's home run – but near perfect work by Felix and the bullpen. ... Charlie Furbush hopes to join that pen soon. ... Robinson Cano may not be hitting for a high average but he leads the American League in home runs and RBI.
• Seahawks: The Hawks filled some big holes on the draft's second day, with their picks ones folks expected and, more importantly, needed. Now they really need the choices to come through and contribute this fall. ... The draft continues today with the final four rounds.
• Sounders: There probably hasn't been a more important regular season match in Seattle in a while than today's home one with Columbus. The Sounders need a win.
•••
• Is today the day some guys with local ties are picked in the NFL draft? Or do they have to make plans via the free agent route? We'll see. Until then ...
---
---