Sat., Aug. 6, 2016, 8 a.m.
On his wedding day, many of my memories of my son revolve around sports
A GRIP ON SPORTS • One of the most important aspects of sports is how they build memories. And when it comes to your children, there probably isn't a better breeding ground. Read on.
••••••••••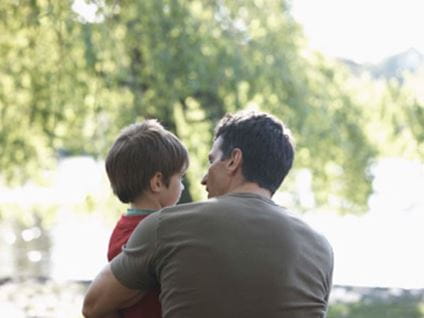 • My first athletic memory of my youngest son Jack revolves around the Tacoma Dome. The State AA basketball tournament. We, as a family, had begun an annual pilgrimage as my friend, Steve, a Cheney High assistant, was often there with the Blackhawks. But even if CHS didn't make it, we would pack up the Aerostar van and join Steve, Karen and their kids for four days of basketball. This exact memory dates back to when Jack was 3 or 4, though I'm not totally sure. But I do remember the circumstances vividly. Steve and I were walking the concourse of the Dome for exercise and had stopped to watch the game below. We were across the arena from where Kim, Karen and the kids were sitting. Tyler, our eldest, and J.D., their eldest, were playing some sort of math/sports game, I'm sure. That was their go-to move. Jack, on the other hand, was restless. That was his go-to move. So he had to move. Kim had made a mistake. She had Jack sitting on the outside of her, with an aisle not too far away. When the seats happened to empty, and Kim became engrossed in her conversation with Karen, Jack saw his chance. He bolted. And Steve and I saw the whole thing from our perch less than a football field away. Jack takes off. He hits the stairs. Kim is still unaware. He heads toward the floor. Karen sees him, says something to Kim, who turns, assesses the situation, and springs from her seat. But Jack, despite his youth, has too large a head start. He's halfway to the floor. He gets to the bottom of the steps with Kim in pursuit. What am I doing? Laughing hysterically. Some help, huh? Anyhow, Jack looks both ways, as if he's crossing the street, and chooses left. Off he goes, behind the announcers' table, the team benches and beyond, hell-bent, it seems, on running onto the court. Except he stops. He's stopped, really. He has run smack dab into a police officer. The officer looks down at him. Jack looks up. Kim catches up. And Jack says something to the man in blue. He answers. Kim grabs her son, says something, turns and heads back to the seat. What did Jack say? He asked a question, which was par for the course. He asked if the policeman had shot anyone with his gun. The answer? "Not yet." That was – and is – Jack. Always willing to go his way, always inquisitive, always self-reliant. Today, my second-born son becomes the first to marry. He and Nicol are exchanging vows. It's small, it's quick and it's totally my son. God love him. And I know, as I sit and watch him before the person officiating, I'll be filled with memories. Many of them, most of them actually, will revolve around sports. The time he got lost at Hoopfest and we heard "will the parents of Jack Grippi please come to ..." over the loudspeaker. The next year, when he escaped again and the loudspeaker broadcast his name – again. His first baseball game. His first basketball team. His first touchdown. Home runs, errors and tears. Jack played football because he loved it. He played baseball and basketball because I loved them. He was never really interested in the latter two, but he played. It was expected. Football, though, that was his favorite. Flying around a field of grass getting to hit people as hard as he could? What's not to love? Jack always loved speed. His driving record attests to that. He always loved contact. The holes in the basement walls stand like silent vigils to that. And football, at least youth football, allowed him to experience both. He was lucky in that regard. His youth coaches were talented men, a staff headed by a former high school head coach, assisted by guys who were All-Pac-10, Division 1-AA All-Americans and all-everythings in high school. There wasn't a person on Jack's coaching staff that didn't know football in-depth. They all taught it well. Except me. I kept track of the substitutions. Sitting in the stands with the other parents wasn't my style, though it probably would have made Jack happier. As often happens when fathers are a bit overbearing, sons pay the price. It happened in Jack in basketball and baseball when he was young. And then it happened to him in high school football. He never really had an opportunity to play on the side of the ball he loved and I will go to my grave believing it was due at least partly to a conflict between myself and the person who made those decisions. Not because of Jack's abilities. Those are the types of memories sports build as well. Like the time he was carted off in an ambulance, unable to move his limbs after a vicious, illegal hit. Or the time he snuck into the house after trying to longboard down Brownes' Mountain. That time he headed straight to the shower. I discovered him trying to wash the blood off his body. It wasn't working. He had tumbled off the board, hit his head on the curb and was losing the battle with blood-loss. I grabbed a white towel, applied pressure and drove him straight to the emergency room. As I drove with one hand, a now-red towel pressed against the back of his head in the other, all I could think of were autopsy photos from 1963. The flap of skin and a bloody, exposed skull. That's what his head looked like. I didn't puke. I survived. So did Jack. Barely. Unlike two or three cars he's driven over the years, but that's another, non-sports-related, story. Anyhow, those sports memories will stay with us. I pull them out again this morning just to see how far he's progressed. A timeline of sorts that marks the days between a father and a son. It's never the same for everyone but it seems universal. And binding.
•••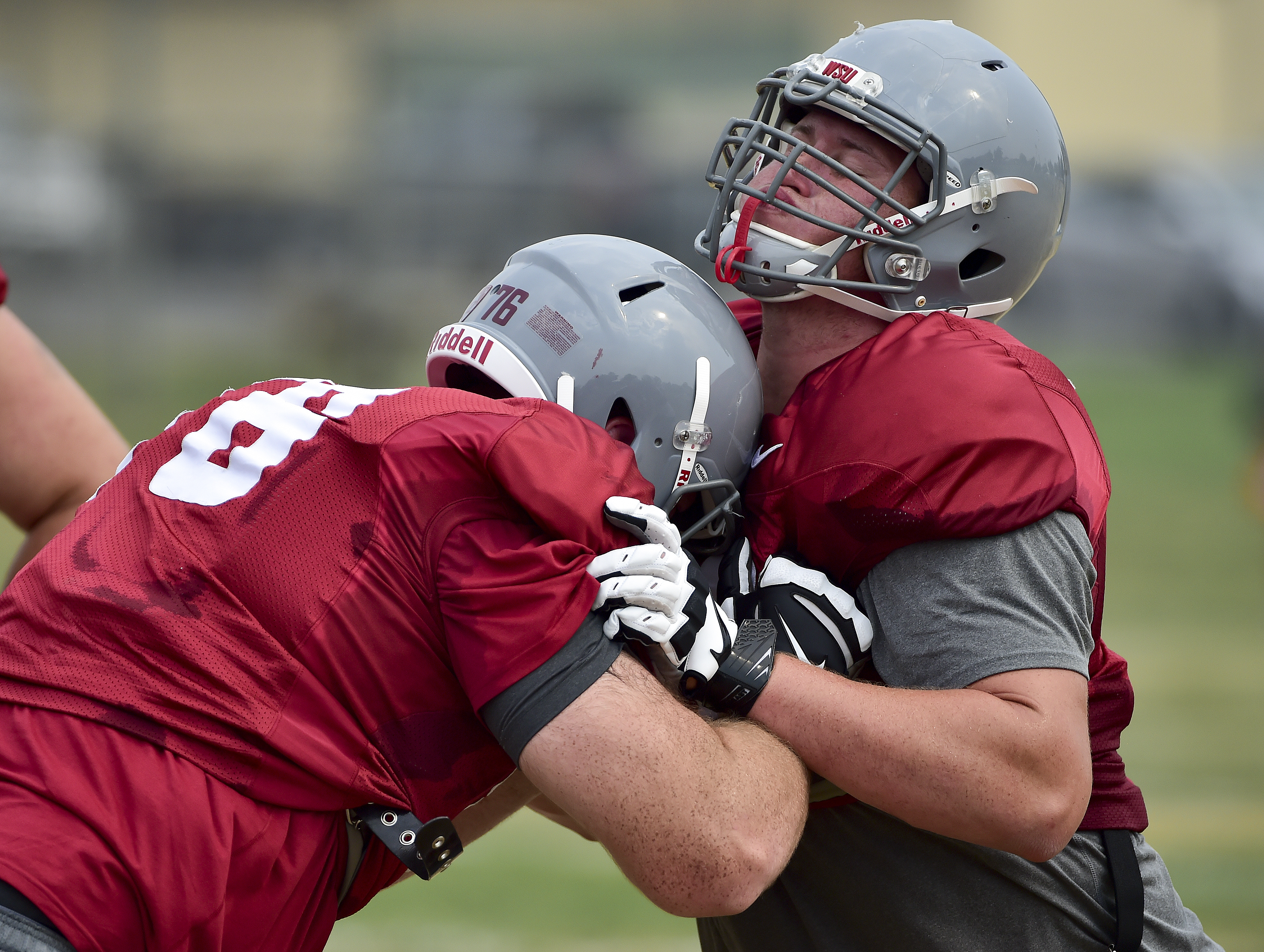 • WSU: Talk about a busy weekend. The Cougars open training camp today in Lewiston, a tradition under coach Mike Leach. So is his pre-camp press conference, which seems to have some elements of off-season problems that need to be addressed. That was, as Jacob Thorpe transcribed Leach's answers to questions about a recent fight football players were involved in. Jacob also has a story and there are other stories. But Leach spoke of other things as well – and of course. He spoke about the first practice and what he's looking for, what he expects, that sort of stuff. Expect the Cougars to have a lot of energy, as Jacob's story in today's paper tells us. ... Jacob also passed along the official roster. ... Luke Falk finished third in this rating. ... ESPN.com's Pac-12 blog has its weekly mailbag thanks to the hard work of Ted Miller. ... Jon Wilner previews Stanford's preseason practice. ... Utah is trying to improve its offensive line. ... Arizona State, an underdog this season, had to cut short its off-campus part of preseason camp. ... Oregon's new defensive coordinator will have his hands on everything, including the defensive ends.
• Gonzaga: The Bulldogs released its non-conference schedule for the upcoming basketball season and there is one notable absence. There is no Battle in Seattle, the usual trip across the mountains in December. Jim Meehan has that and more in this story.
• EWU: Eastern's non-conference basketball schedule includes a lot more home games this season. Jim Allen has all the details in this story.
• Indians: Spokane is finding its trip to Keizer, Ore., a fun one. The Indians won again yesterday, 13-6. ... Josh Horton has a notebook on the blog. ... Everett lost another home game while Eugene and Tri-City won.
• Golf: Ryan Maine, a senior-to-be at Freeman High, has had a memorable summer on the links, as Jim Meehan's weekly column explains.
• Mariners: Don't look now but the M's seem to be heating up. And they now have a stretch of games against teams with poorer records. We'll see. They scored six runs in the first last night and Felix Hernandez and Edwin Diaz made them stand up for a 6-4 win over the Angels. ... It's Ken Griffey Jr. weekend in Seattle. His number will be retired – organization-wide – tonight in a pregame ceremony. If you can't remember that far back, it is 24. Newly acquired reliever Drew Storen is thrilled to have a front-row seat. Griffey was his hero growing up.
• Seahawks: Another day of practice and a lot to pass along. The Hawks are still trying to improve on the offensive line, but no new signings yet. They are also looking for fullbacks, after injuries have decimated that position. ... Richard Sherman is always willing to teach. ... Germain Ifedi is standing up for himself.
• Sounders: What's in store for the Sounders? These five players are hoping to have their personal future figured out by the end of the season. ... San Jose and New York City FC played to a scoreless draw.
•••
• The Rio Olympics got underway last night and the star of the games? It was either Tom Brady's wife or a Tonga flag bearer. At least on social media. Until later ...
---
---