Sun., Aug. 7, 2016
OK, Sundays have been pretty easy for the past few months but that's about to change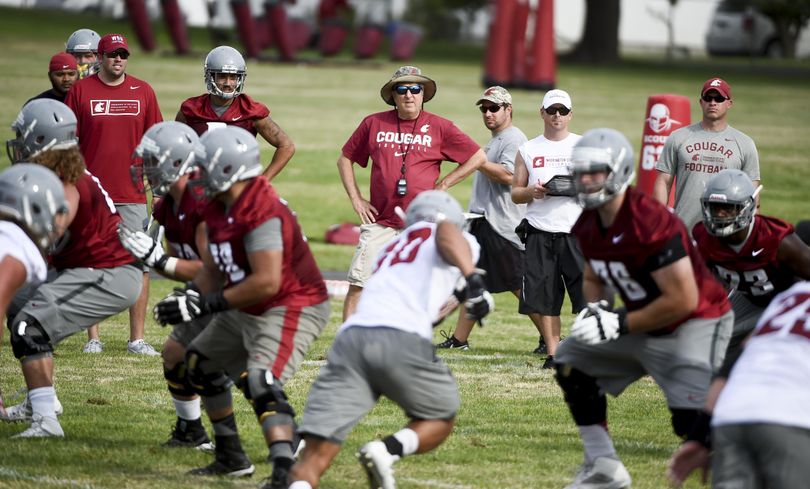 A GRIP ON SPORTS • Wasn't it Lionel Ritchie who years ago sang something about it being "easy as Sunday morning?" When has Sunday morning ever been easy? Read on.
••••••••••
• Not around here. Though these Sundays are a lot easier than, say, the ones we will face in about a month. You know, when Saturday night football games bleed into Sunday and bedtime is somewhere around the time the paper boy is getting up to do his deliveries. Why don't we have the Brazilian attitude? Last night's Olympic swimming was running late, so when the final race ended, the Brazilian hosts just shut everything down. Press conference? Are you kidding. We've worked long enough today. We're going to bed. Think that would fly after, say, the NFC title game? "Jeez guys, the game went into sudden death and all but heck, we don't want to pay overtime to security, so you have to go home. No, we won't make Tony Romo available. See you tomorrow. Bright and early at 11 a.m." But the Olympics only happen once every four years, so let's forget about them. And cast our eyes around the area. In less than a week, all the major colleges in the state will be deep into preseason camp, prepping for what is expected to be the best football season in the Northwest since ... now that's a stumper. Have the three local big schools – WSU, EWU and Idaho – ever been really good the same season? And if Washington and Oregon reach expectations, if Portland State has a season that's anything like last year's, and if Oregon State wins three games, 2016 could go down as the best football season ever in the evergreen part of the nation. I guess. There are a lot of ifs, though none of them are "IFS," with all capital letters. We all expect Washington, Washington State and Oregon to be winners and go bowling. Idaho has a chance as well, though there is a lot of recent history to overcome in Moscow – and little in the way of experienced quarterback depth. Eastern expects to bounce back from what the Eagles considered a sub-par season. PSU has to prove last season wasn't a one-year anomaly. But all have solid cores. All have good reason to be optimistic. And all expect to win. The Cougars' success, however, could toss a wrench in Idaho and Eastern's seasons – or vice-versa – as WSU plays the two neighbors at Martin Stadium this September. Washington State will be favored in both but if either little brother pulls an upset, it not only lifts UI or Eastern up, it also throws a bolt into Mike Leach's well-oiled machine. Just as Portland State did last season, a win that catapulted the Vikings to their best season in recent memory. Such results never make it easy on Sunday morning.
• Speaking of football, and the Cougars, they began their preparations for the 2016 season yesterday in Lewiston. Surprisingly (it is early August after all), the temperatures were civilized and should stay that way through most of the week. There are even some showers in the forecast for Tuesday. The away-from-campus preseason thing is growing, with Oregon State the latest, spending some time in Bend this year. There is the problem Arizona State had to face recently. The facilities are great when the sun shines, but get some inclement weather and the fields don't bounce back as quickly. The Sun Devils had to leave their secluded camp in the woods and return to Tempe early due to weather. That shouldn't be a problem for the Cougars.
•••
• WSU: You want coverage of WSU's camp? Don't go anywhere else. Jacob Thorpe has what you need. He put together a summary here on the blog of the first day of camp, then followed that up with video of interviews with Mike Leach, Alex Grinch, Gabe Marks, Luke Falk and River Cracraft. Plus he has a story in today's S-R, using Marks' comments about the wide receiver corps as a kickoff point. Jacob also has a blog post this morning with links. ... There is some other coverage of the first day (and more) from Stefanie Loh of the Times. ... The Huskies picked up some depth at wide receiver the same day California announced it had lost one. ... Arizona State's receiving corps seems to be improving. ... A couple Oregon State freshmen will be starting a bit late due to academics. ... Oregon has a new offensive coordinator. ... Utah has a new safety while Arizona has one who wants to redeem himself. ... Finally, WSU alum Deone Bucannon is bigger and stronger. He hopes that makes him better.
• EWU: The Eagles still aren't happy with last year's results. They don't want it to happen again. They will begin practice Tuesday trying to get back into the national championship picture. Jim Allen has more in this story.
• Indians: The road trip continued last night in Keizer, with the Indians finally losing. Salem-Keizer earned an 8-3 win. ... Everett snapped a three-game losing streak. ... Eugene won once again.
• Mariners: Don't look now, but the M's are within an half-game of the Astros for second in the American League West and 4.5 games behind the Tigers – 9-1 in their last 10 games – in the wild-card standings. Stranger things have happened. ... The M's picked up another game on Houston last night with an 8-6 comeback win over the Angels. Shawn O'Malley's three-run home run wasn't the best thing that happened, though. That would have to be the pregame ceremony the M's held to retire Ken Griffey Jr.'s number 24. Seattle is really good at such things. ... After trading pitching in July, the M's acquired a couple of relievers yesterday. ... The M's aren't yet among baseball's best teams.
• Seahawks: Seattle spent some money yesterday to shore up the offensive line, bringing in veteran free agent guard Jahri Evans (pictured playing for the Saints against the Hawks). Evans, 32, has made more NFL starts himself than the rest of the line combined. And he understands the street-fight nature of the position. ... You may want to get to know Brandin Bryant. He may be the next in a long line of undrafted free agents that blossom in Seattle.
• Sounders: The best goalie in the MLS' history? Who knows. But we do know who has the most victories.
•••
• It is Sunday, right? I sometimes get mixed up. That's easy to do when you are no longer a full-time member of the workforce. By the way, I apologize if you have that Commodores song running through your head now. I certainly do. Until later ...
---
---