Tue., Aug. 9, 2016
Nothing is worse than having to say goodbye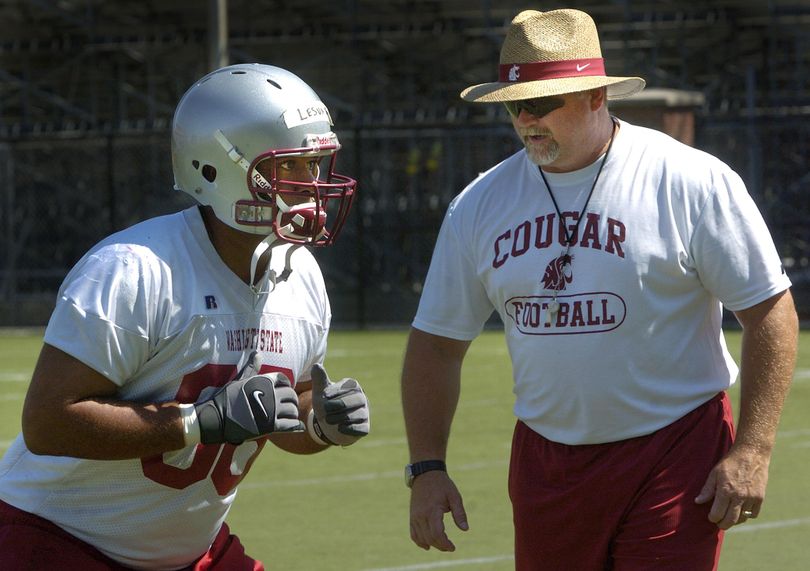 A GRIP ON SPORTS • Mondays have a bad reputation, based in history and emphasized by comic-book cats. But, if yesterday is any indication, it's also a well-deserved reputation. Read on.
••••••••••
• Former Washington State assistant football coach George Yarno died yesterday, succumbing to the scourge that is cancer. Yarno was a football lifer, born and bred in the Inland Northwest – when it was called the Inland Empire. A Ferris High graduate, he played at Washington State. He played in the NFL. He coached in the league. And he coached at his alma mater. He was, in the best sense of the word, a Cougar. He was also gruff, tough and downright scary. Just the way an offensive lineman, and an offensive line coach, should be. But that was the exterior. I know when people die, we are expected to tout their virtues. That's easy with Yarno, despite his reputation. See, the tough facade was what he needed to mold 18-year-olds into college football players. But it was obvious Yarno cared. His voice may have been heard at the French Ad building during practice, but afterward he was a mentor, a confidant and a friend to the offensive linemen he taught. Yarno could be intimidating. Anyone that big, that loud and that tough is. But once you broke through his walls and earned his respect, he was, at his core, easy to like. And his players did more than that. They loved him. (If you ever run into his center Kenny Alfred, ask him about George. Give yourself an hour for the response.) He treated them like men. He pushed. He pulled. He cajoled. They responded. I spent one season covering WSU with Yarno as the offensive line coach and went in with words of warnings in my ears. He's hard to talk with, I was told. Tough on reporters. It was all malarkey. Yarno, like just about every offensive lineman I've ever known, was smart. (Did I ever mention that was the position I played?) Articulate in his own way. A great source and quote. He challenged you early, saw how you responded and then treated you accordingly. He was fair. If he liked something you wrote, he told you. If you wrote something he didn't like, he told you. Louder. Fine. His job was to coach offensive linemen and turn them into productive members of the football team – and, down the road, society. He did all of that. Well. Over the years I judged position coaches in football a couple ways: Would I have wanted to play for them? Would I have wanted my son to play for them? There are different criteria involved with each. But in Yarno's case just one answer. Yes. And now he's gone at 58. Too young.
• John Blanchette knew George better than I, or at least quite a bit longer. He has George's obituary in today's paper. Please read it. And this evening, as you sit at home, toast George's memory. It would be appropriate.
•••
• WSU: There is some good news from Pullman as well – this Jacob Thorpe piece about Reuben Mayes would qualify I believe – and some iffy news. Gabe Marks didn't complete practice yesterday, leaving after what looked to be a knee injury. Maybe it was nothing, maybe it was something but we won't know, at least we won't learn anything from Mike Leach. ... Besides Leach, Jacob has video from assistant coach Dave Nichol and players Kyle Sweet and Tyler Hilinski. He also has a practice summary and a feature story on offensive lineman – a good day to celebrate that position – Riley Sorenson, who has battled cancer and is winning. ... Another former WSU player, Rob Ramsay, who pitched for the Cougars and the Mariners, also ultimately lost a battle with cancer and died last week. He was 42. Way too young. ... There is a lot going on around the Pac-12 in football, highlighted by Oregon still trying to figure out who will be its quarterback – and trying to forget the Alamo (Bowl). ... Speaking of crappy things happening on a Monday, there is the news from Tucson of a player dying in his sleep. Damn. ... If Christian McCaffrey is better, than what hope do other teams have? ... California has been in camp for a week. ... Utah goes down under again for a punter. ... Quarterbacks are players, too. Right? ... Patience is important for a backup. ... The Huskies have more talent in their secondary than they have had in years. ... Former WSU athletic director Jim Sterk has a new job.
• Gonzaga: BYU's bid to join the Big 12 has been thrown for a loop by an advocacy group. But there is more than one way to look at it.
• EWU: Eastern is ranked in the middle of the preseason top 25s. But, as Jim Allen's story points out, the Eagles play a schedule that will allow them move up.
• Indians: It took 11 innings but thanks to Brallan Perez's home run, the Indians picked up a 5-4 win at Salem-Keizer.
• Preps: Central Valley's Ryan Rehkow will be kicking for BYU someday. That's part of Greg Lee's weekly youth notebook. ... The saga that is Bellevue's offseason continues on.
• Mariners: Thank you Dodgers. If the Los Angeles team had honored its contract with Hisashi Iwakuma instead of bailing because of an iffy physical, the M's would be in a world of hurt. The veteran right-hander won his 13th games last night, shutting down the Tigers 3-0. That was the M's fourth consecutive game and pulled them within 2.5 games of the final wild card spot. ... Before the game the M's sent Taijuan Walker to Tacoma to get straightened out. They activated another power arm, Arquimedes Caminero, who they picked up from Pittsburgh.
• Seahawks: So who will make the roster after training camp? Bob Condotta takes a guess. ... Kenny Easley revealed he recently had triple bypass surgery. ... Want to know who the most athletic Seahawks is? Or why they are all wearing dark visors?
•••
• I was going to write about the Olympics today but the Yarno news took precedent. After all, drug cheats will always be with us, even if they shouldn't be competing. Until later ...
---
---