Wed., Aug. 10, 2016
There's nothing new in the contentiousness of Olympic swimming and PED use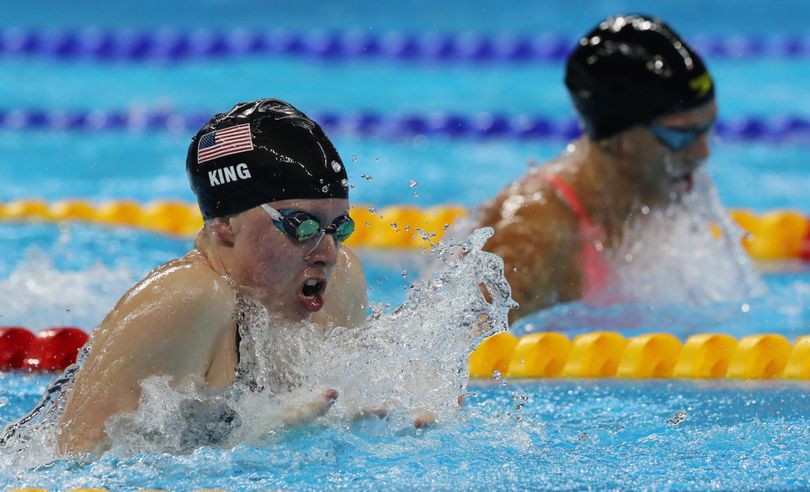 A GRIP ON SPORTS • The Olympics have always been contentious, probably even in ancient Greece. "Everyone knows Dareios is on Chimera milk. That's the only way he could have kept up with Hercules in the 100 butterfly." But it seems to be getting worse. Read on.
••••••••••
• Most of the problem, as it was even back in the day Perseus and Achilles, are the people in charge. The members of the International Olympic Committee must have trouble standing, what with their lack of spines. Maybe that's why they have sticks stuck, well, let's move on. Anyhow, the World Anti-Doping Agency – no one's idea of perfection – was able to prove to most thinking folks' satisfaction that Russia has been systematically doping its athletes for years. For those of you with memories, think East Germany in the 1960s and 1970s but on steroids – or meldonium if you will. The organization asked the IOC to ban Russian athletes in all sports – because of earlier findings, the track and field athletes had already been banned – for the Rio Games. But the IOC, saying it was too close to the games, punted. It passed the back, really, telling each sports' federation to make the determination. It did, however, stipulate any Russian who had previously served a suspension for a drug violation, was out. Most federations aren't willing to stand up to the world's second- or third-most powerful country, so there were quite a few questionable athletes who were allowed to compete. Which brings us to the poster child of this Olympics, swimmer Yulia Efimova. Up until about a day or so before the swimming was to start, Efimova, one of the world's best in the breaststroke, wasn't on the list of eligible swimmers. She had three strikes: She had tested positive for DHEA, a banned steroid, three years ago (it was a low level, sure, and WADA did believe her story she used a supplement that unknowingly contained it) and served a 16-month suspension; she was on double-secret probation for a positive test for recently banned meldonium – the same substance that got Maria Sharapova kicked out of tennis for two years – from earlier this year, though the justification for penalizing those who used the drug is still in dispute; and she would be competing for Russia. Yet lo and behold, there she is, swimming in the Olympics. The Court of Arbitration for Sport decided to re-instate Efimova, citing, basically, double jeopardy on the first suspension and the long-lasting effects of meldonium for the other. But that hasn't sat well with her competitors, especially American Lilly King, a 19-year-old who attends California (file that nugget away, it will come up in a minute). Or with the fans in the stands, who have lustily booed competitors with doping backgrounds. It has boiled up in men's swimming with the Australian and Chinese contingents sparring over Sun Yang, China's twice-suspended gold medalist. And it has been vocalized by King, who went out of her way after winning the 100-meter breaststroke to criticize Efimova's inclusion. There is semi-recent history in play here. Back in 1976, when Shirley Babashoff, then 19 as well, complained about the East German women, she was vilified as a sore loser. Forty years later her heirs in the pool are making sure her fate – she finished second in three races, all won by East Germans who, after the end of the Cold War, were shown to have been chemically enhanced – doesn't happen to them. Babashoff was the fastest swimmer who followed the rules. But all she has are silver medals. The IOC (you know, the folks without spines), have never cleaned up the record book despite overwhelming evidence of cheating. That fate is not going to befall King. And she hopes it doesn't happen to anyone else, either. "It's not my decision, it's the IOC's decision — even though it's not something I agree with," King said of Efimova being allowed to compete at all. And King is not alone in that opinion. But it's hard to make a tough decision without a spine.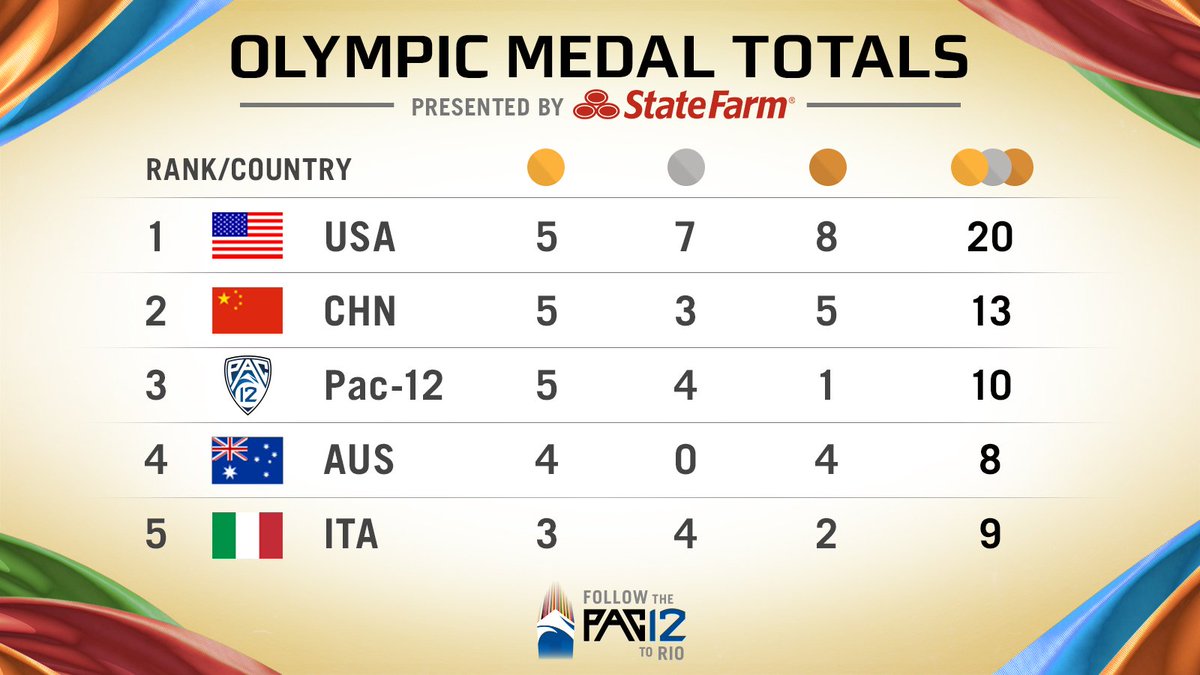 • The Pac-12 Conference has been running a graphic on Twitter showing how the conference would be, currently, third in the Olympic medal race if it were a country. It mainly because of swimming, of course, not only U.S. swimmers like King and backstroke champion Ryan Murphy, but others as well. Like Efimova, a USC alum who, up until her most recent suspension, swam for the USC post-graduate club. And Hungarian swimmer Katinka Hosszu, another USC alum, who has three gold medals. That got me to thinking – a dangerous pastime. USC isn't the most popular school in the Pac-12, right, so is it any wonder a Cal swimmer like King would have a problem with a Trojan like Efimova? Maybe it isn't about PEDs at all. Maybe it's just a good, clean, old-fashioned intra-conference rivalry.
• Michael Phelps is amazing. His 21 gold medals is more than most countries have won in their Olympic history. And Katie Ledecky? The Stanford swimmer added to her legend with another win, this one harder fought than most. Did you know Ledecky has never lost an international final? And it doesn't look as if she will lose in these Olympics.
•••
• WSU: Jacob Thorpe's practice report isn't as extensive as usual, as, after Gabe Marks possible injury was reported Monday, players and coaches weren't available to the media on Tuesday. So no video interviews. Jacob also has a story on backup quarterback Tyler Hilinski, who has some pressure this season. ... Jacob will hold a live chat this morning at 10. It will be right here on the blog. Ask him about his world travels. ... Around the conference, Washington's fastest player says he needs to slow down a bit. ... UCLA will call on Ishmael Adams – and others – often this year. ... The Ducks are trying a running back in the slot. ... Oregon State had a physical practice. ... Arizona State lost a quarterback to injury yet the players and coaches are still talking. How odd. ... Arizona is leaving Tucson to get out of the rain and to try to heal a bit. ... Utah may have found some young gems up front.
• EWU: Eastern Washington opened preseason practice yesterday in Cheney and everyone was happy. Well, not happy with last year's record, but happy to be back on the field. Jim Allen has the story.
• Indians: A Little League-like play helped Spokane get past Tri-City 6-5 in Pasco. ... Everett won 1-0 in Vancouver. ... Eugene is still rolling.
• Preps: After the penalties were reduced, Bellevue has decided to quit appealing.
• Mariners: Sorry, but I couldn't hold out to see if the M's won or not last night. I gave up after 14 innings. They did win, in the 15th. The 6-5 comeback against Detroit is their fifth consecutive victory if you are keeping track at home. ... The recent roster churn has its downsize, including losing two pitchers on waivers yesterday who had turned their careers around a bit. ... Ketel Marte was back in the lineup, albeit a little lighter. Marte lost as many as 22 pounds while he was sick and is still 8 pounds lighter.
• Seahawks: Thomas Rawls is back in camp and everyone seems happy about it. ... His offensive linemen want him to excel, make more money and then buy them more expensive gifts. ... Russell Wilson may be the most accurate thrower in the league. Wait, I thought he was just a scrambler. ... So what happened yesterday at practice?
•••
• One of my pet peeves? It's August, the heart of summer. College football practice is underway. And that means it's not "fall" practice. It's not autumn until the latter part of September. Call these practices what they are. Preseason. Or just plain old "practice." And get off my lawn while you are at it. ... Speaking of lawns, no matter how bad or mild Marks' injury is (and I don't think it will turn out to be a big deal), don't blame it on the grass at Sacajawea Junior High. My experience last season was the grass was just fine and every indication is it is better this year. Until later ...
---
---