Kristin Armstrong's question, and her reaction, just made our day
A GRIP ON SPORTS • "Did I win?" Read on.
••••••••••
• Today is Kristin Armstrong's 43rd birthday. The former University of Idaho track athlete received her present yesterday in Rio. Like a lot of mom's, however, she had to wrap it herself. It came in the form of a third consecutive Olympic gold medal in the cycling time trial. After she passed the finished line, the final competitor of a race in which each cyclist rides alone over the course, she turned, looked at the clock and asked the videographer next to her whether the question quoted at the top of this column. When he answered yes, she got off the bike and collapsed on the wet pavement. Exhausted? Yes, but also elated. She became the oldest American women in more than 100 years to win an individual gold medal and only the second American woman to win the same event in back-to-back-to-back Olympics. And then, as is the case of an athlete with a child of six, she had to explain a life lesson to her son. Lucas wanted to know why she was crying. She had won. Armstrong explained she was happy and adults sometime cry when they are happy. Or when watching a women in her 40s accept a gold medal for the third consecutive Olympics.
• Maybe there will be some tears of joy in Seattle this October. If the Mariners keep playing the way they have the past week, those tears will be shed thanks to the end of a long drought. It's been considerably more than a decade since the M's have made the postseason. After Wednesday night's 3-1 win over Detroit, ensuring Seattle's first home sweep of the Tigers since 2003, the Mariners inched even closer to a wild card berth. Can they get there? As with most teams, it will come down to pitching. Jerry DiPoto has rebuilt the bullpen during the season and now the M's have a couple of power arms to close most games. But the rotation is still suspect, though Felix Hernandez's start last night – seven innings, three hits, one run, eight strikeouts – was more than encouraging. At least August and September should be interesting.
• Going back to Rio, the Australian men's basketball team, spearheaded by a couple of Saint Mary's players (Patty Mills and Matthew Dellavedova) and supported by a pair of WSU alums (Aron Baynes and Brock Motum), gave the U.S. all it could handle yesterday, though the Americans held on for a 10-point win. I happened to witness live U.S. Olympian Klay Thompson's first encounter with Mills, that coming in a 2009 NIT game in Moraga to end Thompson's freshman year at WSU – and Tony Bennett's tenure in Pullman. The Cougars lost mainly because they couldn't guard Mills. Thompson had that duty much of the time on the court yesterday and he did a better job. Besides, this time his team won.
•••
• WSU: The Cougars put on pads yesterday but that didn't change one thing: The defense won the team period again. It's won every one thus far this preseason camp. Jacob Thorpe was in Lewiston and has this practice report as well video of interviews with Mike Leach, assistant coach Eric Mele and running back Jamal Morrow. ... Jacob also held a live chat yesterday. You can read all the questions and answers if you want. ... Stefanie Loh also has a practice report in today's Seattle Times. ... Luke Falk, 20th on this list, and Gabe Marks are ready to ascend into a different category of Pac-12 passing-game tandems. ... What Cougar should we keep an eye on this season? ... Around the Pac-12, Arizona State is banged up some, though the Sun Devils aren't dealing with the pain Arizona is. The Wildcats must be struggling a bit. ... The most important position in any offense is quarterback. Oregon is once again trying to figure out who will play that position. ... Stanford is going to lean on one running back even more this year. ... UCLA welcomes back one of its key defenders. ... Utah relies on its safeties. ... USC held a scrimmage yesterday. ... Washington is looking for new speed rushers.
• Gonzaga: One thing you could count on from the WCC over the years: A pretty tidy conference basketball schedule. Not anymore. The conference announced the 2016-17 schedule yesterday and, to keep from starting before Christmas, it's spread over nine weeks instead of 10. Instead of doing the simple thing and keeping travel partners, which would have demanded playing your partner twice in one week, the conference scrambled the schedule. In the past, you and your partner were on the road for a weekend, trading off opponents, and then usually went home the next weekend. Now, every school will have home and away games the same week scattered throughout the schedule and there are no partners. OK. Jim Meehan has the new schedule from the men's perspective in this story and Jim Allen covers it from the women's in this piece. One last thought. This is an advantage for GU, which charters for its games, something other WCC schools haven't done. After a Thursday night game in the Bay Area, say, the Zags could be home and in bed before their opponent even gets out of an airport.
• EWU: The Eagles are at it in Cheney for their preseason practice and Jim Allen is there. He has a feature today on the freshmen, including quarterback Eric Barriere (pictured).
• Indians: Spokane lost at Tri-City 2-1 as the Dust Devils scored in the bottom of the ninth. ... Everett picked up a win at Vancouver, Boise won at home and Eugene continued to win on the road.
• Golf: A couple of local golfers are in contention at the Washington State Amateur.
• Mariners: Hardly a day has gone by recently without the M's making a roster move. They made some more yesterday and then went out and outlasted the Tigers and Justin Verlander, 3-1. Verlander and Felix battled for seven innings until the rebuilt Seattle bullpen earned another win. ... Charlie Furbush's career may be over as he will be undergoing rotator cuff surgery.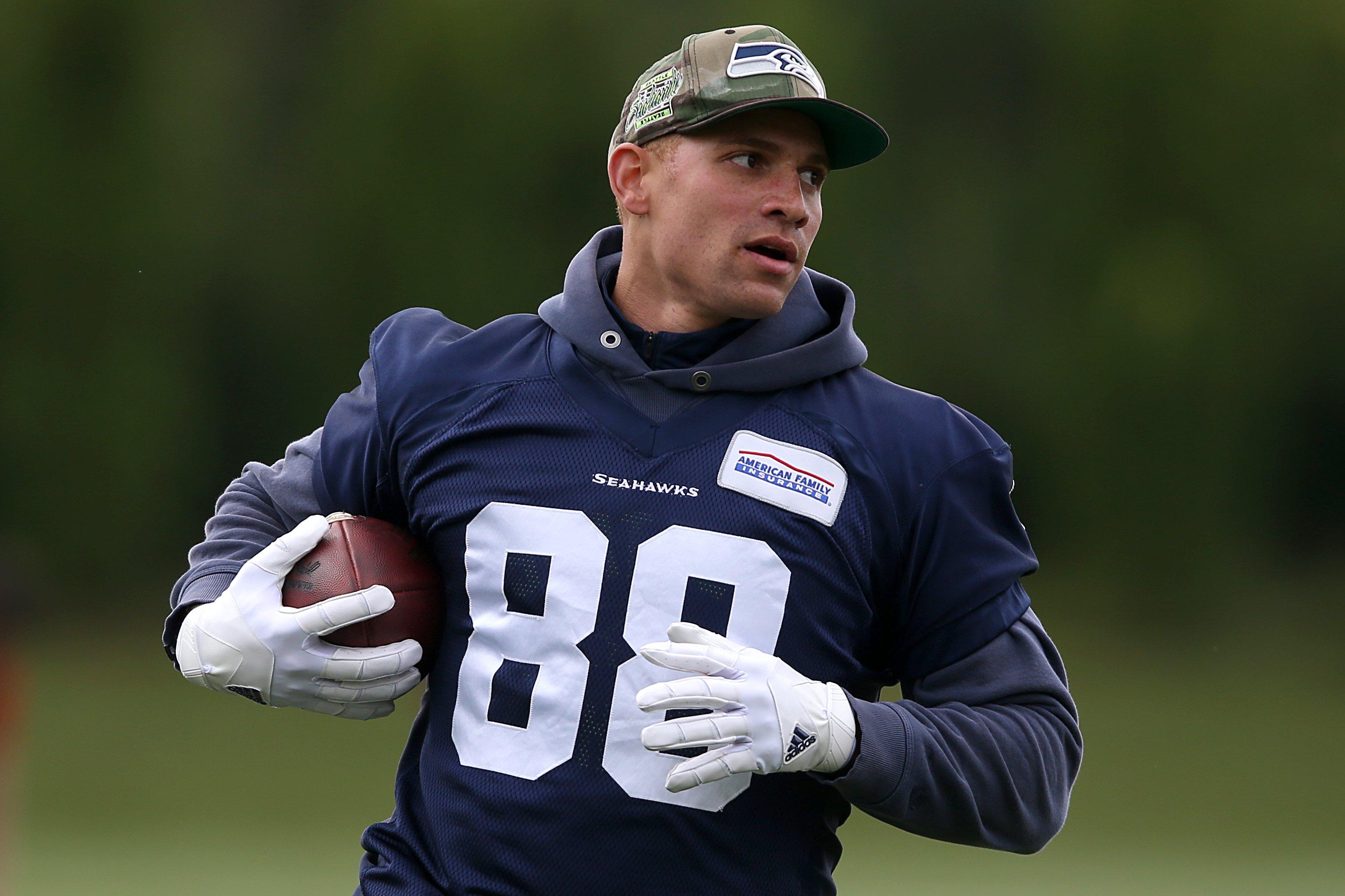 • Seahawks: Not only is Thomas Rawls back at practice, albeit in a limited role, so is Jimmy Graham. The big tight end talked about last year's season-ending knee injury, how hard it was to work through it and what he hopes to accomplish this season. ... Germain Ifedi has a mean streak. Now he has to learn how to control and channel it. ... Preseason games begin this weekend and there are a few things to learn from them. ... Who is stepping up defensively?
•••
• Big personal news today. Kim and I have been married 37 years (1979 to 2016, that's 37, right?) We've been married so long we had to go back to the wedding album to make sure we had the right date. Yep, it's today. Luckily I bought roses at Costco yesterday and picked up a card last week. I'm covered. I'll write something sweet – and sappy, just like I do here – in the card, give it to her at dinner and be golden. ... In a sadder note, those of us who worked at The Spokesman-Review over the years lost a trusted colleague Tuesday. Mike Lynch died at age 86. Jim Price has his obituary. Until later ...
---
---