It would be nice if everyone could show class in defeat but it's a hope that's not always going to be fulfilled
A GRIP ON SPORTS • Win. Win. Win. Win. Lose. Say something dumb. Such is the usual cadence of the Olympics. Read on.
••••••••••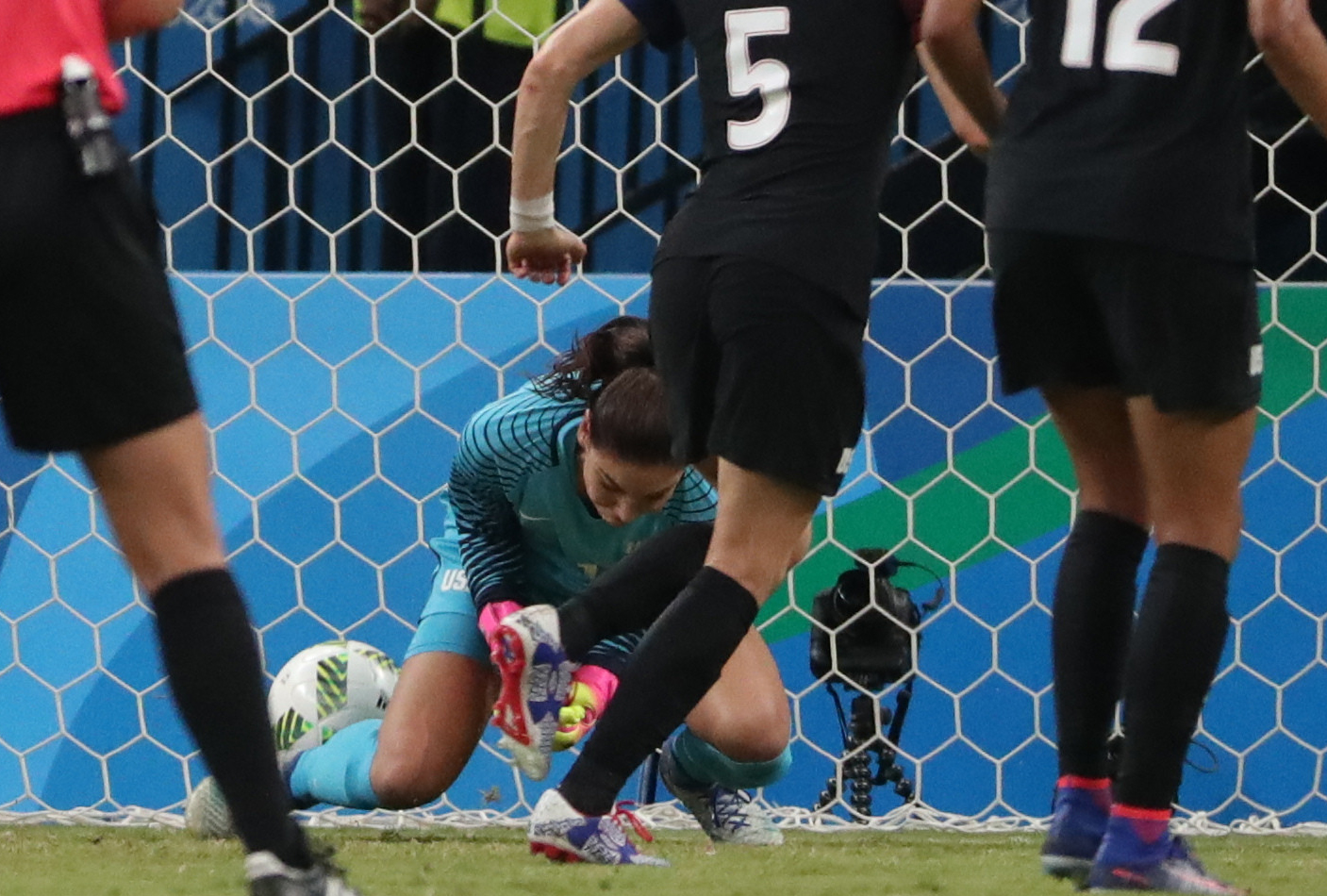 • OK, I'll admit, the latter part isn't always true. It's just that Richland's Hope Solo made it so yesterday. Was it the biggest story on Friday? Nope. But her coward remark made me wonder if she ever watched Jamie Moyer pitch for the M's while growing up in the Tri-Cities. Moyer never challenged hitters with his mediocre-to-slow fastball. But he did what it took to win. Isn't that the point of a competition? Winning? That's what the Swedish women's soccer team did yesterday against the heavily favored U.S., whatever it took to win. And it did. Win, I mean. Prompting Solo to call the Swedes cowards. Open mouth, insert foot. And mar a pretty interesting day for the United States. For the first time a U.S. woman won gold in the shot put. Katie Ledecky showed what young speed can do in the pool. Anthony Ervin showed what old speed can do. And Michael Phelps ended his seemingly endless Olympic adventure with a silver medal, not the gold everyone expected. But that's OK. He was smiling on the medal stand. Maybe he was happy to share. After all, when it comes to Olympic gold medals, he's been pretty selfish the past 16 years.
• I sat down to watch the second half of the U.S. men's basketball game with Serbia yesterday hoping to see Klay Thompson do something I've never seen before. I did. He never got off the bench. That's something that I can't recall ever seeing. Thompson started the first two games for the United States. He struggled shooting. He came off the bench the last two. He's struggled shooting. So yesterday, in a tight contest with Serbia, he didn't play after halftime. And he didn't look as if he was happy about it. Look, I understand Thompson is 4 of 26 from the floor in the tournament and was 1 of 6 in the first half against Serbia. And that of the three WSU players in these Olympics, he's third in scoring (at 2.8 points per game), behind Aron Baynes (10.0) and Brock Motum (5.0). (If you thought that would happen before the Rio Games started, raise your hand.) But Thompson is an anomaly for the U.S. A player who will share the ball. And needs his teammates to do the same to score. This United States team is playing selfish, one-on-five offense. That's not Thompson's game. In reality, it's not the Americans' best game either, but they can't help themselves. It has to stop if they are to win gold. And if Thompson is going to get off the bench.
•••
• WSU: The Cougars were back at it yesterday in the heat of Lewiston and though there were no Gabe Marks mentions, there were mentions of a quarterback-turned-defensive-back. Jacob Thorpe has a story on Justus Rogers (pictured) switching sides of the ball. ... Jacob also has his usual practice summary, videos of interviews with Mike Leach, defensive coordinator Alex Grinch and players Robert Taylor and Darrien Molton. ... Around the conference, the defensive backfield seems to be in the forefront, with stories from Arizona State, USC, Arizona and Colorado. ... It's Saturday, so we have the mailbag from Ted Miller of ESPN.com's Pac-12 blog. The blog also has a list of players who could break out this season and a quick look at the importance of this year's Apple Cup. ... The guys up front on defense at Oregon and Washington are also featured this morning. ... Oregon State had its first scrimmage. ... Utah does want to throw the ball – some.
• EWU: Jim Allen covers the two major sports with a feature on Shaq Hill (pictured), the Eastern receiver is trying for a second time to get through his senior year healthy and an advance of the Eagles' basketball team's upcoming trip to Australia.
• Indians: It was fireworks night at Avista Stadium though they all had to wait until the game ended. There certainly weren't any in the Indians' 1-0 loss to Eugene in a matchup of first-half division winners. Josh Horton has the game story. ... Josh also has a notebook on the blog this morning.
• Golf: It's Saturday so Jim Meehan has his weekly column, this one on longtime professional Kirk Triplett and his continued success on the Champions Tour.
• Mariners: Most losses can be pinned to the players. But some have to be worn by the manager. Last night's 6-3 defeat in Oakland goes squarely on Scott Servais' shoulders. He received five competent innings from emergency starter, and minor league call-up, Joe Wieland. The M's rallied to tie the A's at three in the top of the sixth. Instead of saying thanks for the effort and handing the ball to the bullpen, Servais sent Wieland out for the bottom of the inning. He didn't get anyone out. Servais had his excuses, of course, but the bottom line is he made a mistake. And now the M's are two back of Boston in the wild-card race. ... Wieland was starting because James Paxton's elbow is still puffy from the line drive he took off it in his last start. ... Even major league players have heroes. ... Alex Rodriguez's legacy. Discuss.
• Seahawks: The Hawks are back on the field today for their first preseason game. There are a bunch of veterans who won't be playing in Kansas City and a bunch of young guys who will try to get enough on video to impress the Hawks or someone else. ... The offensive line is already in a state of flux.
•••
• Just checked the weather forecast for the day. It's supposed to be in the 90s. It would be a great day to take a dip or two in the lake. Any one want to offer? I'm a pretty good conversationalist. Until later ...
---
---