Sun., Aug. 14, 2016
The Olympics work as a metaphor in some cases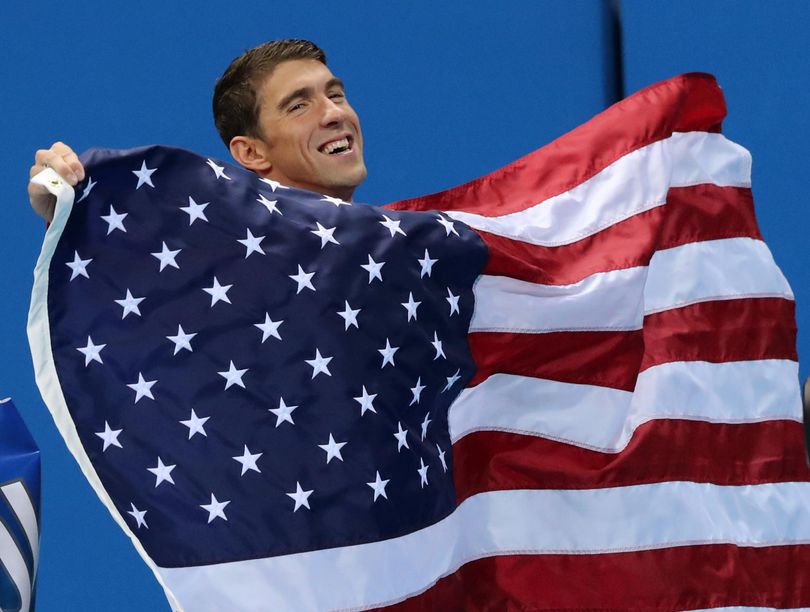 A GRIP ON SPORTS • Sorry, but the Olympics brings out the patriot in me. If you can't abide a little national pride for the next few hundred words, skip down to the links. We're about to get a smidgen jingoistic. Read on.
••••••••••
• Watching Michael Phelps swim last night was awe-inspiring. Then reading about his accomplishments this morning was flag-waving-ly inspirational. Not because of his medals, but because of where he's traveled And we're not talking frequent-flyer miles here. We're delving into the Olympian world of metaphor. Phelps is the most accomplished Olympic athlete of all time. No one has come close to the success he's had in the pool from Rio to London, from Sydney to Bejing. The guy wins. But Michael Phelps is also a great example of what being an American means, with all the ups and downs that carries with it. Phelps won 23 gold medals over five Olympic Games. He's won 28 medals overall. Records. But over the past 16 years, he's also failed. He has two DUIs on his record. A couple of swimming suspensions. There's a picture available on the web of Phelps with a bong. He was, and is, despite all the gold medals and lucrative endorsements, a typical up-and-down American. Success may have spoiled him. It certainly led to excess. It led to failure. It led to a rehab clinic. But Phelps grew. He matured, found a companion, fathered a child, got engaged. And he found peace in what he does best. Between times in the Olympic pools were hard. Swimming for gold? He made that look easy. And made all of us proud. Yet, the troubles of his past also serve as a reminder. He's part of us, one of us and we are, as a nation, a lot like him. The United States is the Michael Phelps of countries. It wins most the time. It's intimidating. And it makes a whole hell of a lot of mistakes. Our country isn't perfect. We have our problems. Our past lifts us, sure, but it also haunts us here at home and abroad. But we continually try to improve. To examine our flaws and correct them. Even as we continue to dominate the world stage, we deal with issues here. We struggle. There are disagreements and, at times, dysfunction. So be it. They can be overcome. America, and Americans, have been overcoming them for more than 200 years. At times it looks dark. Bleak. But the future is always bright. Golden in fact. As long as we keep working. Trying. Finding a way. For Michael Phelps, he's reached that point. He says he's finished with the race. The struggle. For the rest of us, it continues. Like Phelps, we are searching for success. And peace. With ourselves and others.
• The best part of the Olympics? It has to be track and field. Once every four years America cares about our runners and jumpers and throwers. And they come through for us more often than we do for them. Oh sure, there are places like Eugene, Portland and possibly isolated patches of Arkansas, where track and field is still more important than football, though those spots are rare. But thank goodness they exist. Or the U.S. would be in trouble. Do you remember Bob Beamon? He flew into our consciousness in 1968, leaping so far beyond what anyone had ever done in the long jump many thought it was a mistake. A fluke, maybe, but no mistake. It took decades for the rest of the world to catch up. And never for that memory of Beamon's jump, and his unbridled joy, to leave my memory. Which is why I paid close attention to the long jump final last night. Beamon's Olympic record wasn't going to be broken, of course, but it could be. That's what makes track and field so exciting. Mo Farah, who trains in Portland, can stumble, hit the track and still get up and win the 10,000 meters. A Jamaican sprinter, and right now only a Jamaican sprinter, can come through in the women's 100 meters. An American can win bronze in the pentathlon and still seem happy. And America's Jeff Henderson, from Arkansas, can win the long jump by one centimeter. Then tell us his mother will never know. She has Alzheimer's and doesn't recognize him. It's heartbreaking. And it's part of the tapestry of the Olympics.
•••
• WSU: Back to football. The Cougars will hold a scrimmage today in Lewiston, so yesterday's practice was a bit truncated. Jacob Thorpe has a summary, however, that also includes recruiting news. ... There are also interviews of Parker Henry, Eduardo Middleton and Mike Leach. ... And, lest I forget, Jacob has a story in today's paper you shouldn't miss. It concerns preseason camp and what the goal is, besides on-field improvement: Combining a bunch of diverse personalities into a team. ... Around the Pac-12, Arizona and Colorado are trying to get more out of their defense. ... Don Pellum is a class act, though maybe not a defensive coordinator. ... When will Oregon name a starting quarterback?... Arizona State scrimmaged yesterday. ... USC is struggling with a basic football fundamental. ... A Utah offensive lineman is trying to turn his life around. ... Preseason rankings are a bit of a guess. OK, a lot of a guess. ... A prized UCLA freshman is not around right now.
• Gonzaga: What of the Big 12 decides to pass on BYU this time? What will the school do?
• Idaho: Don Verlin's involvement with Coaches vs. Cancer has its roots in a personal connection. Jim Allen has the story.
• Whitworth: The Pirates are about to begin their quest for another NCAA Division III playoff berth. Tom Clouse covered last year's and has a look at the Whits as football season begins again.
• Indians: If Spokane and Eugene meet with the NWL title at stake, the Indians better hope they do better than they are right now. Josh Horton has the coverage of Spokane's 9-3 loss to the Emeralds last night at Avista. ... Everett had its five-game winning streak ended.
• Mariners: Hisashi Iwakuma did not pitch all that well. The M's didn't hit all that well. But once again the bullpen was nails, the long ball made an appearance and the Mariners won, 4-3 at Oakland. ... James Paxton is trying to get his elbow loose enough to start Tuesday.
• Seahawks: Can we all agree preseason results don't matter? Except, maybe, when you rally from a big deficit late, coming all the way back with a Hail Mary at the end and cap off a 17-16 win with a two-point conversion? Then the win matters, right? ... Trevone Boykin, trying to become the Hawks' backup quarterback despite being a rookie, led the comeback over the Chiefs. He was smart enough at the end to send his last-ditch effort toward his 6-foot-6 wide receiver, Tanner McEvoy, who made the catch. It was a routine win, right Pete? ... The Hawks like their running game. ... A lot of players were out for this one.
• Sounders: For the Sounders to get back into the MLS playoff picture, they have to be more consistent. And have more consistent scoring from their big two. They host Real Salt Lake this evening. ... Portland has yet to win a road match.
•••
• Though I love watching the Olympics, I may have to miss some today. There is other warm-weather endeavors beckoning on this beautiful Sunday. Yesterday Kim and I took a nice hike in Dishman Hills, so I'll have to figure out something even better today. Maybe mowing the lawn? Pulling weeds? Sleeping in the hammock? Or all three? Until later ...
---
---