Fri., Aug. 19, 2016
The Hawks fall but did the thump make a sound?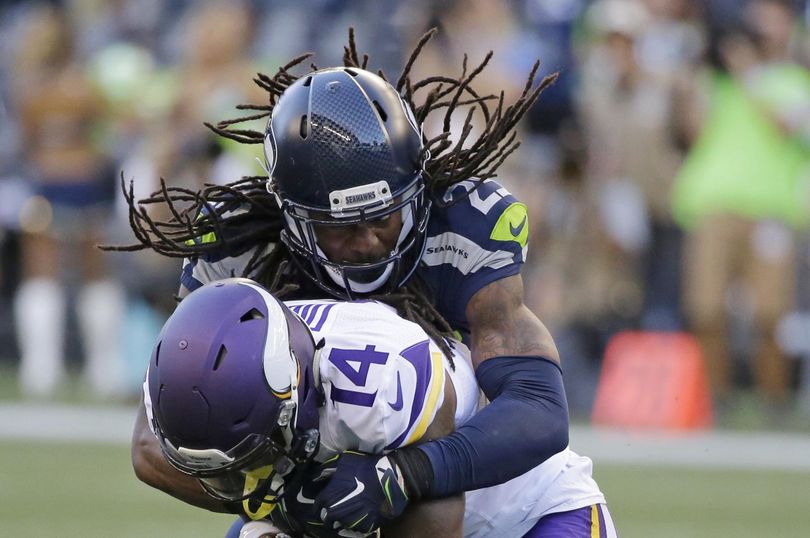 A GRIP ON SPORTS • Are preseason NFL games important? It's a question as old, seemingly, as the one about trees falling in the forest. And just as hard to answer. Read on.
••••••••••
• There are aspects of preseason games that are important, sure. Ticket prices for one. And health. No one wants to lose a key player for the season while playing a meaningless August game. And make no mistake, the end result is meaningless. Teams that go 4-0 in the preseason can end up 3-13 in the regular season just as easily as teams that go 0-4. But every NFL teams have areas that need fine-tuning during the preseason. For the Hawks, that's been the offensive line the past few years. That group has had an "under construction" sign hung on it for longer than the North/South Freeway. (Was that a rim shot I just heard?) The mad tinkerer, Tom Cable, has once again been asked to make chicken salad out of, well, you know. And last night the group laid a rotten egg at CenturyLink in an 18-11 loss to the Vikings. Minnesota has a tough front seven, though not as tough as the Los Angeles Rams (I just love writing that; it takes me back to my youth), the Hawks' second regular-season opponent. And the Vikings slapped away the Seattle o-line like a cloud of mosquitos en route to Russell Wilson. Afterward, Mr. Positive, Pete Carroll, calculated which needed the confidence boost more – the beleaguered offensive line or the guy married to the superstar singer – and criticized Wilson, saying he needed to help the guys up front more. Wilson agreed. But you can only fall on your sword so many times before someone slips in the blood and gets hurt. It's obvious the Hawks' Achilles heel is their offensive line. If the group was just average Seattle may be the Super Bowl favorite. But it isn't. And no amount of tinkering is going to completely fix it. There just isn't enough talent. Cable and Carroll ­– sounds a bit like a law firm you see on a billboard in Vegas, doesn't it? – will probably be able to figure out how to make do, matching some veterans on their last legs with a couple of youngsters, but it's always going to be a question mark. Until either it solidifies or Wilson, god forbid, pays the price with his health. If either happens in the next two weeks, then, yes, you can say preseason games are important. As important as the rabbit hole that theoretical tree fell on out in the philosophical forest.
•••
• WSU: I caught a Cougar fan doing a happy dance yesterday after she found out Gabe Marks was back at practice, though the news about possible beer sales was passed on at the same time, so there is some question there. Anyhow, Jacob Thorpe has the Marks news in this story and in his practice summary. Jacob also has a his position preview piece on the running backs as well as video interviews with Marks, River Cracraft, and assistant coaches Dave Nichol and JaMarcus Shephard. ... If you like your season previews in video form, Jacob teamed with KHQ's Lindsey Joy for one yesterday. ... Jacob also put together a quick story on the newest basketball recruit, a 6-foot-9 forward who will be eligible this season. ... Around Pac-12 football, there is a guy with great football genes helping out at Oregon. ... Offense is the point of emphasis today at UCLA, Arizona State and USC. The other side of the ball is at the forefront at Arizona, Utah and Oregon State. ... ESPN.com's Pac-12 blog rates the conference's offensive lines while San Jose's Jon Wilner tries to pick every game for every conference team. We pass along Arizona and Arizona State today. ... Washington is taking to the road.
• Gonzaga: Ben White has been selected as a preseason all-WCC soccer selection.
• EWU: Call it a September to remember. Or one to forget. That's still to be determined. What is for sure is Eastern's September schedule includes four tough games, three of which are on the road. Jim Allen has the lowdown on the risk/reward aspect of September's tough schedule.
• Empire: Spokane signed a defensive lineman.
• Indians: The offense disappeared last night in Vancouver as the Indians were shut out 4-0. ... Josh Horton has an interview with Leody Taveras on the blog. ... Eugene has tied the Northwest League record with 14 consecutive wins.
• Mariners: A crucial unearned run and another poor relief outing from Nick Vincent added up to a 6-4 loss to the lowly Angels and a 2-2 split of the road series. Hisashi Iwakuma pitched OK but the M's couldn't get him enough runs to overcome the mistakes. ... No more Howard Lincoln to make fun of. The M's ownership change was approved and John Stanton is now the guy in charge. Send all concerns and complaints his way.
• Seahawks: Besides the points we touched on above, there were some good things from last night. Christine Michael continued to impress, as did Trevone Boykin. ... On the other side of the scale was the effort by the veterans and the long-snapping. Yep, the long-snapping.
•••
• You know who I would love to be? Ashton Eaton. Olympic decathlon champion and star – along with his wife – of those Visa commercials. The world's greatest athlete two times over and a TV star? That's my idea of perfection. Until later ...
---
---