Sat., Aug. 20, 2016
When sports reaches beyond the wins and losses, it can touch us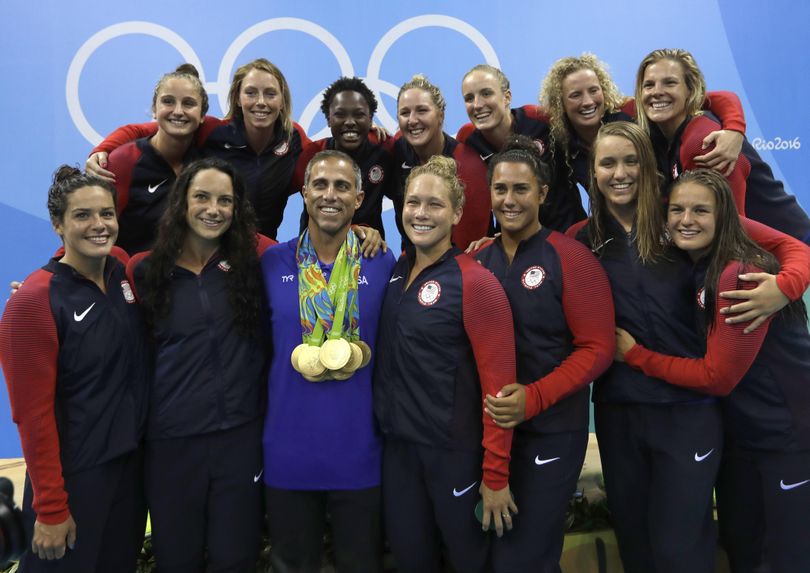 A GRIP ON SPORTS • It is easy to love the competition aspect of sports as displayed in the Olympics. Or lack of same (thank you, Usain Bolt). But what it really easy to love are the stories behind the stories. Read on.
••••••••••
• If you had a chance to watch the Olympics yesterday, you may have caught some of the U.S. women's water polo team's gold medal rout against Italy. Or possibly you saw the medal ceremony after, when the women crowded the awards stand and spilled their tears all over it. Nothing unusual about the latter, male or female. Winning an Olympic gold medal is the be-all and end-all for most of the athletes in Rio. But what was unusual was what happened just after the ceremony. All of the women on the U.S. team lifted the symbol of their crowning achievement, their gold medal, from their necks and draped them over the neck of coach Adam Krikorian. Guess what? Krikorian started crying as well. As well he should. Just days before the Olympic competition was scheduled to begin, Krikorian received news everyone hates to hear. His brother had gone paddle boarding off a California beach, got back to his car and died of a heart attack. He was 48 years old. Krikorian had to leave Rio, bury and say goodbye to his older brother and then head back. Heavy heart or not, he had to be there. Why you might ask. He told the Los Angeles Times' Kevin Baxter his answer. "The thing I kept coming back to was it would be very selfish to let what happened to me personally affect this group and what we have set out to do," Krikorian said. "These girls have worked so hard for four years. Some have worked for their entire lives for this moment. So who am I to ruin that for them? I realized that it's not about me, it's about the team." He put others before himself. And then the women put him first. They spoke afterward of understanding how tough the past couple weeks had been on Krikorian, of how they appreciated his support. It's a cliché that's rarely true to say they tried to win for him, but in this case it just might be the crux of their effort. It didn't hurt the U.S. is probably the best women's water polo team ever. But when your coach makes it clear your sacrifices, your effort, your goals are appreciated and then models that appreciation in action, there surely is even more in the tank. It leads to a golden effort. And for Adam Krikorian, a heavy weight around his neck probably helped lift, if only a little, the heavy weight on his heart.
•••
• WSU: The Cougars are scrimmaging today, with practice starting at 2:30, followed by the pad popping. They took yesterday off, but that doesn't mean Jacob Thorpe doesn't have a story for you. His piece today is on the wide receivers, the Pac-12 best and deepest group and one of the best in the nation. ... Around the conference, we can offer ESPN.com's weekly mailbag courtesy of Ted Miller and stories from Tucson to Seattle, from Corvallis to Tempe. ... There are stories from Los Angeles and stories from Boulder and Salt Lake City, home of the Utes. ... Though there is nothing from the Bay Area, there are a lot out of Eugene, which makes up for it some.
• Gonzaga: I bet you have been wondering how Przemek Karnowski is doing coming back from his back surgery. I have. Well, Jim Meehan tells us today in this story. Spoiler alert: Karnowski's ahead of schedule.
• EWU: The Eagles will scrimmage today as well, starting before 10 a.m. Down the road, will the Big Sky lose its eastern-most member due to financial difficulties? ... The Eagle soccer team opened its season with a win.
• Golf: It is Saturday, so Jim has a column on an 87-year-old who had his first hole in one this summer. And his second. On the same hole. There is hope for all of us without an ace yet.
• Indians: Spokane lost again in Vancouver, continuing a tough stretch. ... Eugene hasn't lost in seemingly forever. The Emeralds set a Northwest League record last night with their 15th consecutive victory. ... Everett picked up a win over Tri-City.
• Mariners: It got a bit hairy in the end as Edwin Diaz channeled his inner Fernando Rodney, but he and the M's held on for a 7-6 win over the Milwaukee Brewers. Before the game, the Mariners continued their season-long roster shuffling, sending fan darling Dae-Ho Lee to Tacoma in hopes the big first baseman can regain his stroke. Lee has been mired in a slump since about the All-Star break.
• Seahawks: Christine Michael is a changed man. At least that's how he's explaining his increased productivity. ... The offensive line could use some increased productivity. ... Two preseason games are over. Who is in position to make the roster?
• Sounders: The rivalry with the Portland Timbers is pretty darn important. And is important to Jordan Morris, who grew up in Seattle and knows all the ins-and-outs. ... Houston went into San Jose and picked up a 2-1 win.
•••
• The author of the Times' Olympic piece referenced above has two things in common with yours' truly: We both worked at the Orange County Register and we both worked at The Spokesman-Review. Yep, Kevin is a friend and colleague from back in the day. Until later ...
---
---