Mon., Aug. 22, 2016
We all know how Robinson Cano felt in the ninth inning last night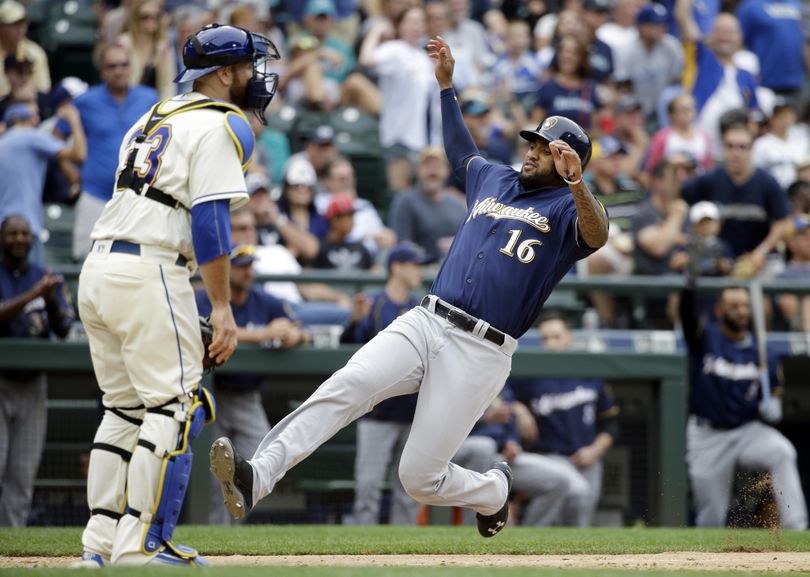 A GRIP ON SPORTS • Want to know why being a Mariners' fans is so frustrating? Look no further than yesterday's ninth inning. And the look on Robinson Cano's face. Read on.
••••••••••
• The Olympics ended yesterday, leaving us with four more years before we can fall in love again with team handball, Mongolian wrestling coaches and tape-delayed events. But watching the Olympics, with all its ups and downs, is nothing compared with trying to be an upbeat Mariner fan. God bless you folks who can sustain the good feelings through an entire season. I can't. Heck, I can't sustain the good feelings through an entire week. It certainly seemed as if I could for six days and eight innings. Then the ninth inning happened yesterday. The M's were en route to a 6-3 win over the Brewers. They were about to pull basically square in the wild-card race. I had survived Scott Servais trying to bunt Ketel Marte with a 3-1 lead early in the game (Marte failed and struck out), another start by a guy who was doing a great imitation of a Band-Aid, and about a half-million Star Wars references. But the ninth inning happened. Sure, we all know Edwin Diaz was being given another day off. The youngster is not only the closer of the present – a year when there is every opportunity to snap a 15-season postseason drought – but also the closer of the future, so there is no reason to overwork him. But Tom Wilhelmsen has been pitching so well, how hard will it be close out the game with a three-run lead? Impossibly hard it seems. The difference may not have been a fastball that missed here or a long ball that just eluded Shawn O'Malley there. But, instead, a fly ball that Leonys Martin probably should have caught – Servais said so afterward – that changed the complexion of the ninth inning. When you have the talent of a Wilhelmsen – read, borderline – then every little thing has to go right for you to be successful. It didn't last night. Diaz can overcome a couple walks or a dropped fly ball by just throwing a 99-mile-per-hour fastball by someone. Wilhelmsen can't. The Brewers rallied for four runs, the M's saw their chance to sweep fly away and we can only hope the same thing doesn't happen again for four years. But we know it will. It's part of rooting for the Mariners.
• As for the Olympics, we entered the Rio Games with our fingernails in our teeth, right? Worried about the mosquitos and the water. Worried about the Americans' chances. Worried. And everything turned out, well, OK. Not great. Not in a country that shouldn't have been spending $12 billion on games when the cops and teachers need to be paid – and the water is this bad. But OK. The U.S. had a great showing on the track, in the pool, just about everywhere. And there were enough displays of sportsmanship to gloss over the idiots who strutted on stage for a few minutes. After it ended yesterday there was just one thought: I can't wait for Tokyo.
•••
• WSU: The Associated Press preseason poll came out early yesterday morning and there was an expected No. 1, Alabama, and a not so expected No. 29, Washington State. It is the first time the Cougars have received votes in the preseason poll since 2002 – or, basically, since the M's have been in the postseason. Jacob Thorpe has a story on the poll as well as his position preview piece on the offensive line. ... Elsewhere in the Pac-12, injuries and defections give others a chance to step up at Colorado and Oregon. ... The Huskies are ranked 14th in the AP poll. ... With most season openers less than two weeks away, it's a good time to assess progress. ... Hair isn't the most impressive thing about UCLA's fullback. ... Most junior college transfers need a year to acclimate. Some don't. ... Arizona has a young freshman quarterback who it is high on. ... But what's next for a young USC quarterback?
• Gonzaga: A trip to Hawaii didn't result in a soccer win over Oregon as the Zag women lost 2-1.
• Idaho: The Vandal women's soccer team earned its first win of the season.
• Indians: Spokane lost its fourth consecutive game, this one 6-2 at Hillsboro. ... Everett is making a mockery of the North second-half race, winning again at Eugene. ... Tri-City ended a losing streak.
• Ironman: Despite smoke from some local fires – one south of us was menacing enough that it made us prep just in case the wind changed and we had to flee – the Ironman Coeur d'Alene finished up just fine. Jim Meehan has the winners' story.
• Mariners: We may look back at the 7-6 loss and remember it the same as we do the crushing loss to Cleveland back in the 2001 regular season. It may hurt – the Cleveland comeback ultimately cost the M's a solo shot to post the most regular season wins ever – but it didn't affect their playoff seeding. Or we may remember it in the same way as a handful of tough losses in 2014, games that eventually cost Seattle the postseason. ... James Paxton will be back soon. Promise. ... (By the way, the Cano grimace was so priceless, I had to show it from two different angles.)
• Seahawks: The offensive line is not doing all that well and changes may be coming. But they won't come without a fight. ... Speaking of change, there could be one at long-snapper. ... Thomas Rawls expects to be ready for the opener.
• Sounders: Believe it or not, the Sounders' 3-1 win over rival Portland means Seattle is right back in the playoff hunt. Clint Dempsey (pictured) scored twice yesterday as the Sounders continue to turn around their season.
•••
• The next couple days are busy. I've got some personal business in the morning and then some radio business in the afternoon. Yep, I'll be on the air from 3 to 6 p.m. today with Keith Osso and Rick Lukens. You can listen to the show on 700 ESPN if you like. Until then ...
---
---