Tue., Aug. 23, 2016
Don't panic, but college football season is closer than you think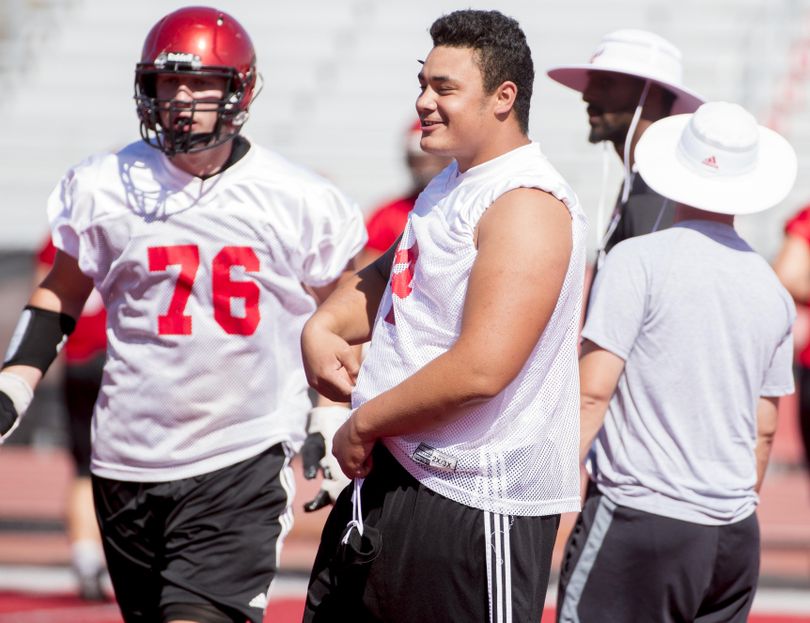 A GRIP ON SPORTS • You may not be ready, but the college football season begins Friday. It may be a billion miles away – California and Hawaii face off in Sydney, Australia – but still, it begins Friday. Hide your valuables. Read on.
••••••••••
• Yep, our long national nightmare – or dream, if you aren't beholden to the football gods – is about to end. Heck, the Eagles and the Cougars take to the Martin Stadium turf in just 12 days. By then we might have an idea who is going to be adding depth to the defensive line for WSU and on the offensive side for Eastern (see below for possible answers to those questions). Or we may not. One of the nice things about college football is its unpredictability. Wait, what? Alabama, Ohio State, Notre Dame are all ranked highly every year. How is it unpredictable? Well, in most of the 500 or so campuses football is played on in this nation, it is. The unpredictability comes from the transitional nature of college sports – and the large roster. Every year about a quarter of a college football roster, more than 100 guys, either graduates or leaves. And every year the fellas on the coaching staff have to figure out how to blend the remainder and the new players into a seamless, cohesive group. Some years that is easier than it looks – last season in Pullman is an example – and the group exceeds what could be expected of the individuals that make it up. Of course, the opposite happens as well. Hence, the unpredictable nature of the game. It's why preseason polls are such a load of malarkey. We really don't know what we have in front of us, for the most part, until a few weeks into the season. Take the Northwest's four Pac-12 schools. Conventional wisdom tells us three of them are going to be pretty-to-really good this season. The other one is going to suffer through an awful season. Makes sense considering past results and returning players. But are you sure? One hundred percent sure? Even if everyone stays healthy on every team – it's not going to happen and I'm 100 percent sure of that – one of the four Northwest Pac-12 schools will not meet expectations. My money is on Oregon State. The Beavers may be better than everyone thinks. Then again, four wins is probably better than everyone thinks, so the bar isn't Olympic high-jump high. No matter. We begin to see if our predictions come true, or fall flat, Friday. Yes, Friday. Where did the summer go?
•••
• WSU: Jacob Thorpe continues his long march through the Cougar positional groups with the defensive line today. Today is also the last day practice is open to the media this season, so we won't be seeing anymore of the post-practice player videos until next August. ... There are a couple Cougars – Luke Falk and Gabe Marks – on ESPN.com's preseason all-Pac-12 team. ... How will Colorado and Utah do this season? ... The Utes have picked their captains. ... Washington is happy with its right tackle. ... Yes, the season begins soon. But some schools, including powers Oregon and Stanford, are still trying to figure out their quarterback roles. ... UCLA has its starter. ... Arizona State has its tight end. ... USC has a daunting schedule, starting with Alabama. How the Trojans do could affect them for years to come. ... One school's loss is another's gain. ... The same can sometimes be said about position groups.
• Gonzaga: Volleyball is also underway and Jim Meehan previews the seasons for our four local Division I schools.
• EWU: As we said, Jim Allen has an idea of which five players will make up Eastern's new-look offensive line. ... The Eagles' practices are now being aimed at getting ready for WSU and, as Jim says, have the feel of game week. ... Others (read, the national media) are beginning to discover what those of us in the Inland Northwest have known for a long time. Cooper Kupp is really good. ... The women's soccer team picked up a win.
• Whitworth: The Pirates begin their season the first Saturday of September. They are getting ready. Tom Clouse watched them get ready yesterday. He has this story.
• Indians: Spokane managed just four hits and fell 1-0 at Hillsboro last night. ... The two hottest teams in the Northwest League met again and this time Eugene defeated Everett. ... Tri-City picked up a loss.
• Empire: Spokane's starting quarterback from last season is coming back.
• Preps: The Seattle Times has its preseason bigger-school football rankings. If you really want unpredictability, follow high school football.
• Mariners: Three-run homers are always good. Two three-run homers are even better. The M's needed both and then some last night to outslug the Yankees, 7-5, and stay within a game of Baltimore in the wild-card chase. ... The roster continued its season-long churn yesterday. One of those who has benefited from the ups and downs is Mike Zunino, who began the year at Tacoma and is now a mainstay behind the plate.
• Seahawks: K.J. Wright may be overlooked by NFL commentators, but not by the Hawks. ... Michael Bennett says he is enforcing the unwritten rules of professional football practice. He also says Pete Carroll reminds him of Willy Wonka. Of course, Bennett would love to have the Hawks give him a golden ticket.
•••
• Another day of radio from 3 to 6 p.m. today with Keith Osso and Rick Lukens on 700 ESPN. You can listen to the show here if you want. It's my last day this week. Promise. Until later ...
---
---