The dart board received a workout this morning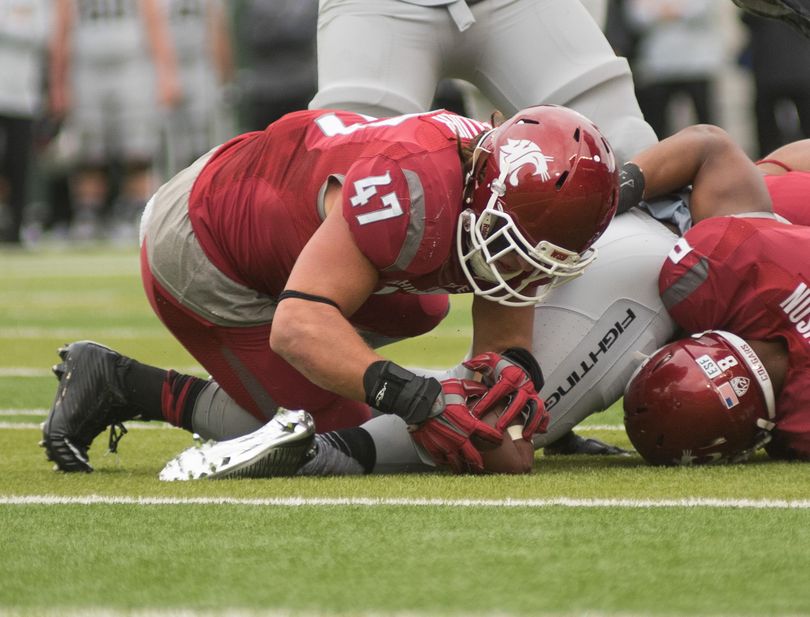 A GRIP ON SPORTS • It's time. Time to make some picks. To try to figure out the un-figure-out-able, so to speak. Who will win the Pac-12? Read on.
••••••••••
• I don't think it will be Washington State. Sorry, Cougar fans (or, considering my track record over the tears, "you're welcome") but I can't see WSU making the leap to the top of the North. Not with the depth at quarterback. See, I like to figure in that stuff. Injuries happen. To every team. One of the Pac-12 North contenders will lose a key player for some period of time. Which one? Who knows, but I try to calculate which team would be most hurt by a key injury and that seems to be the Cougars or Stanford. Luke Falk is more important to WSU than Jake Browning is to Washington or Royce Freeman is to Oregon. Christian McCaffrey is even more crucial to the Cardinal, especially with the quarterback situation yet to be determined. (I know this sounds a bit gruesome and no one roots harder for no injuries than I do – I have always said a little pray for the health of the players before every game I've covered – but they have to be accounted for in any season-long prognostication.) With that in mind and taking into account the returning players, I see the North this way: 1) Oregon; 2) Washington; 3) Washington State; 4) Stanford; 5 and 6 are immaterial. Why the Ducks? There is way too much talent in Eugene to discount them. And I think new defensive coordinator Brady Hoke is an underrated addition. When it comes to college defensive football, there is no one whose opinion I rate higher then Bill Doba. And the former Washington State head coach and defensive coordinator felt Hoke was, in Doba's vernacular, darn good. That's high praise from an Indiana guy. Of course that was before Hoke's head coaching career flat-lined in Michigan, but Hoke is now back on the side of the ball he excels at. And he has under-utilized talent at his disposal. No matter who runs – the operative word here is "runs" – the Duck offense, for once they won't have to score 50 each game to win. Across our state, the Huskies have a strong defense returning as well, and a non-conference schedule that should let them mature a bit before Pac-12 play begins. The Cougars' defense has to play to last year's second-half-of-the-season level for another nine-win season to be a possibility, and it should. But winning the whole enchilada would take some luck and a lot of health. Stanford has the best player (though possibly the second-best running back) returning but it needs its quarterback to be decent. We have no way of knowing if that will be true. The defense lost a lot of key parts and the early season schedule is brutal. If anything happens to McCaffrey, the Cardinal could be in for a long year. California and Oregon State will be OK, which, for the Beavers is an improvement, and both have a shot at an upset or two. But that's about it.
• The Pac-12 South? I like Utah's defense, especially its front-seven, to be good enough to win a division with a lot of holes. USC may suffer through a long season due to lack of depth while UCLA has to prove some day it can win a conference title. This isn't the day – or year.
•••
• WSU: Yesterday was the final day the Cougar players could speak to the media after practice – during the season, they are only available in Monday media sessions attended by three designated players – so Jacob Thorpe grabbed Gabe Marks, Jamal Morrow and Parker Henry, three well-spoken guys, and put them on video. He also has video of Mike Leach. ... The linebackers are the subject of Jacob's position preview and the main element of his story, speed, is the biggest difference Leach's recruiting has brought to the Palouse. ... Around the Pac-12, the most interesting piece I read in the past 24 hours is this Ted Miller story on the conference's scheduling and how it hasn't evolved to keep up with the evolving nature of the college football playoffs. ... The Senior Bowl has a watch list. There are lots of local players on it, including three each from WSU and EWU. ... It seems to be a day of predictions, what with this one for the conference, a look at Arizona State's predicted finish and Jon Wilner's on Stanford and California. There are also previews of the Cardinal's and Bears' seasons. ... Speaking of injuries, Washington lost a linebacker for the season. ... Yes, Utah is pretty good defensively. The quarterback depth is a question mark though. ... The first games loom, so scout-team jerseys are popping up everywhere, including Oregon State and Colorado. UCLA faces reliable Texas A&M in its opener. ... At least Arizona knows who BYU will be using at quarterback. ... USC's players have Max Browne's back.
• EWU: The Eagles secondary, while more experienced than last season, still is young. And it will be tested early. Jim Allen has a look at the backline of the Eastern defense. ... Jim also has a story on the scheduled times for this year's football games. If you plan on going to games, don't expect to have a lot of your Saturday evenings and nights free.
• Idaho: The Vandals are on their way to becoming an FCS school and because of that have to fill some scheduling holes. Washington State will plug one of them as the schools agreed to meet in 2020. Jacob Thorpe has the story.
• Chiefs: Camp officially begins today with Spokane hoping to parlay a bunch of experience gained last season with some new additions into a winning season. Tom Clouse has a preview of training camp.
• Indians: Spokane dropped into the North cellar after another loss at Hillsboro last night. The second half hasn't been kind to the first-half champions. ... Division leaders Eugene and Everett squared off again. ... Tri-City picked up a win.
• Mariners: We were talking on the radio yesterday about Taijuan Walker's start and what would happen. One of the guys sitting to my left got it almost exactly right. Good on you Keith Osso. And, also, "crud." Walker was good early, faded and the M's never got going against C.C. Sabathia, losing 5-1. ... The Mariners never seem to phased by tough losses. Could it be because they have had to deal with a lot of them? ... The roster churn continued yesterday. ... Hisashi Iwakuma will be back for another year after his outing today.
• Seahawks: If I told you the biggest questions remaining for the Seahawks are about Thomas Rawls as well as the offensive tackles and guards, would you be surprised? ... Or if I told you there was another brouhaha at practice? How about if I told you Michael Bennett wasn't the instigator, it was Doug Baldwin? That's sort of new, right? ... This award is a cool thing for the Hawks to do. And a well-deserved honor. ... The Cowboys new "star" is no surprise to this Hawk.
• Sounders: An injured player is back to help Seattle in the stretch run. ... Cristian Roldan has made a career out of defying doubters.
•••
• I freely admit my predictions for Pac-12 football have never been spot on. But then again, whose have? The conventional wisdom has Stanford or Washington winning the conference. I don't like conventions. Especially this year. Until later ...
---
---